Are you looking to diversify your portfolio but don't want to pursue traditional real estate investments? If so, investing in farmland might be the perfect option for you.
AcreTrader and FarmTogether are two of the leading services for farmland investing. Both platforms are open to accredited investors, but they differ in multiple ways.
Our AcreTrader vs. FarmTogether comparison looks at the strengths and investment options of each platform so that you can choose the better service for your investment goals.
What is AcreTrader?
AcreTrader is a relatively new platform that supports farmland investing. Several members of its senior leadership come from multi-generation farming families.
The site partners with farmers across the United States to raise funds from individual investors in order to afford a multi-year lease.
Investor's funds can also help fund land improvements to increase productivity. Depending on the offering, AcreTrader may help farmers transition to organic farming for added sustainability.
This crowdfunded real estate platform has farmland and timberland offerings that allow fractional ownership with investment minimums as low as $10,000. The estimated minimum holding period is usually five years.
In addition, AcreTrader strives to add up to two new listings per week. This means you have plenty of opportunities to pursue farmland investing.
Unfortunately, the service currently only accepts accredited investors due to SEC regulations.
Non-citizens who are legal residents in the United States are eligible to invest.
How Does AcreTrader Work?
After joining AcreTrader, investors can commit cash to open offerings and attend webinars for upcoming listings.
The farmland real estate is located across the United States.
It grows these cash crops:
Row crops (corn, cotton, potato, soybeans, wheat, etc.)
Permanent crops (almonds)
Timber
Being able to invest in timberland as real estate investment opportunity is a unique alternative investment that provides additional diversification and long-term income potential.
Most farmland investing offerings have a target holding period of five to 10 years. However, some farmland investments may require up to a 20-year commitment.
So far, the platform has successfully exited three property investment cycles (as of September 2022) allowing investors to redeem their shares for a profit.
You can invest in AcreTrader's offerings through a taxable account or self-directed IRA.
Investment Offerings
It's essential to do your research when it comes to any potential investment. This involves understanding the potential rewards and risks.
With AcreTrader, visiting the offering page for each opportunity is an excellent first step to analyze the property.
The offering page lists these details:
Property name and location
Farm map and photos
Financial assumptions
Types of crops grown
Gross cash yield
Net annual return
Minimum investment
Target investment period
The minimum investment varies by offering and depends on the cost per acre. Additionally, the estimated ownership duration can vary.
That said, this is generally a long-term investment idea.
After making an investment pledge, the invested funds go into an escrow account until the fundraising goal is achieved. Then, the cash is invested, and you can start earning income.
AcreTrader tends to offer a great deal of diversity when it comes to investment options. This is because investment opportunities are spread across the United States, including the southern states.
How Investors Make Money
Investors primarily make money by collecting rent from the tenant farmer before the planting season starts. As a result, your investment performance doesn't rely on crop performance, which can be volatile.
Depending on the agreement, investors may also share profits from the annual harvest. However, most deal structures don't require the tenant farmers to split the profits from their labor.
In addition, you will receive your initial investment back at the end of the holding period when the property sells. Your shares can increase in value if the property sells for a higher price.
The estimated holding time period is typically five to 10 years. Keep in mind that there isn't a secondary market to sell your shares early when it comes to farmland investing with AcreTrader.
AcreTrader Rating
All potential offerings must pass a three-part screening process that involves an on-property inspection and a comparison to similar farms.
For farms that pass the test and qualify for investment, the platform assigns an AcreTrader Rating to highlight potential risks. This helps you determine if an investment is right for you.
In a nutshell, the higher the AcreTrader Rating, the higher the risk. The lower the rating, the lower the risk.
Farm Value Tool
AcreTrader offers a farm value tool that makes it easy to compare the estimated investment returns to historical returns for a particular state.
Some of the research factors include:
Average annual returns
Price per acre
Rental rates
You can view farming details for specific states as well. For example, you can see county-level data or evaluate a state's most common crop.
How Much You Need to Invest in AcreTrader
It's free to join AcreTrader, and you only pay fees on active investments.
The minimum investment varies by property but is usually between $10,000 and $20,000. Each share is 1/10 of an acre, so buying 10 shares means you hold a full acre.
Most offerings require purchasing up to four acres of shares to open a position.
Some of the investment fees include:
Annual servicing fee: 0.75%
Selling fee (when the property sells): 5%
These fees are similar to other crowdfunded real estate platforms for accredited and non-accredited investors.
Another hidden cost of this crowdfunding platform can be the potential long-term investment commitment of up to 10 years and the lack of secondary trading.
Once you've invested in an offering, you can't pull your money out if a more lucrative opportunity comes along since there is no secondary market.
Investing in farmland can be less volatile than stocks. However, it lacks the flexibility to redeem your shares early for assets with higher growth potential.
AcreTrader Returns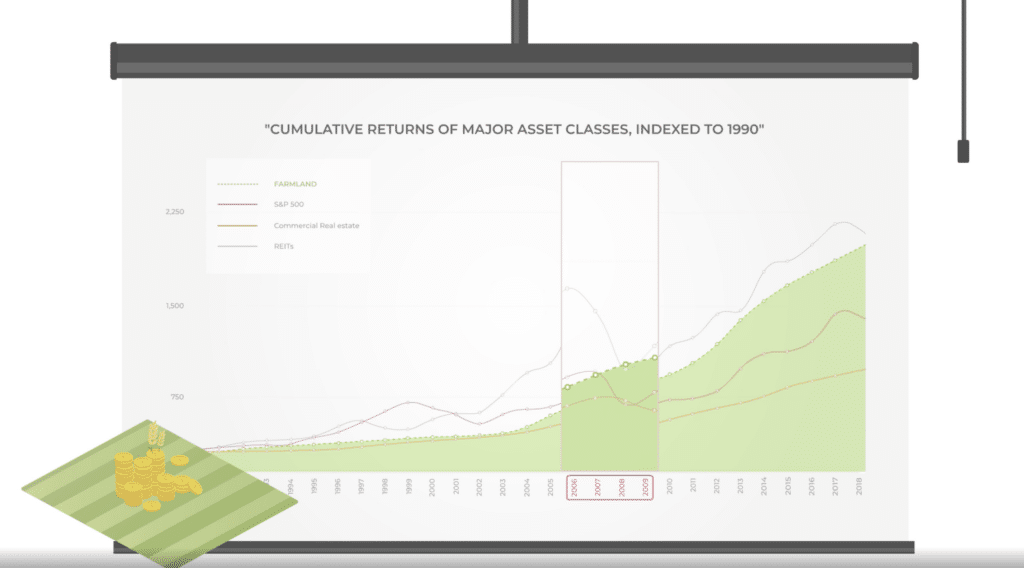 Investors can anticipate earning an annual cash yield dividend from 3% to 6%. Cash dividends are distributed in December and are subject to income taxes.
The platform estimates an average net annual return of 6% to 9%. That said, you may not realize your actual return until the platform sells the farm.
Projected annual yields err on the side of caution since the historical rate of return for farmland investing is approximately 12%. AcreTrader states they have smaller projected returns due to lower commodity prices and conservative underwriting.
According to AcreTrader, annualized returns on select projects have been as high as 15%. So, it's possible to outperform the historical return under ideal conditions.
AcreTrader Pros and Cons
These are the positives and negatives of investing in farmland through AcreTrader.
Pros
Invest in farmland and timber
Unique alternative to traditional real estate investing
Holdings across the United States
Can attend pre-funding webinars
Self-directed IRAs and taxable accounts available
Cons
Dividends distribute once a year
No secondary marketplace
Accredited investors only
AcreTraderDisclosure: "This is a sponsored promotion for the AcreTrader platform. Well Kept Wallet may have investments in companies represented on the AcreTrader platform. This informational article is by no means a promotion, solicitation, or recommendation of any specific investment."
What is FarmTogether?
FarmTogether provides multiple opportunities to invest in farmland for accredited and international investors from Financial Action Task Force (FATF) countries. This platform was founded by agricultural finance experts.
The site currently only offers the ability to invest in land that is growing permanent and row crops.
Investment minimums can be as low as $15,000 per crowdfunded offering. However, it's possible to access specialized offerings if you can invest $100,000 or more.
This lets you have a permanent investment horizon or direct ownership.
FarmTogether's extensive personalization is one of the best reasons to consider using this crowdfunding platform if you're flush with cash and want to acquire a sizable position in farming.
How Does FarmTogether Work?
You can join FarmTogether to browse the available and previous offerings. Taxable accounts and or a self-directed IRA are supported.
FarmTogether focuses on farmland investments in:
California
Illinois
Nebraska
Oklahoma
Oregon
Washington
You must be comfortable investing in a company that only provides exposure to row crops and permanent crops.
The platform aims to launch at least one offering per month. This fundraising frequency is slower than AcreTrader.
Additionally, your investment options depend on how much you're willing to invest.
While you can invest in individual properties or crowdfunded projects, there isn't a secondary market and you must hold until the platform decides to exit the investment.
Crowdfunded Farms
Most offerings have crowdfunded shares. This deal structure is similar to AcreTrader and other investments for accredited investors.
The minimum investment starts at $15,000, but it can be higher depending on the investment opportunity.
Most offerings have a target holding time of seven to 10 years. Once again, this approximate investment horizon is similar to other crowdfunded real estate offerings.
Investors will find many details on the investment page, including:
Farm overview
Operator history
Investment Deep Dive pre-investment video
Value Drivers (what FarmTogether likes most)
Financial summary
Risk ratings
Investment-specific FAQs
The cash yields can be from 2% to 12%, depending on the offering's risk level and long-term potential.
Sustainable Farmland Fund
The Sustainable Farmland Fund requires a minimum investment of $100,000. It also doesn't have a target holding period.
As a result, you can potentially hold this position for a lifetime but also maintain more flexibility with selling your shares since the fund termination date is open-ended.
This fund has more inherent risk than crowdfunded investments since the offerings can use debt financing to optimize potential investment returns. Its target leverage loan-to-value ratio (LTV) is up to 30% of the property appraisal value.
The target annual distribution yield is up to 6%. Unfortunately, this isn't as high as some of the crowdfunded offerings available.
The fund's target asset allocation for crops includes:
50% tree nuts
25% tree fruit
15% citrus
10% row crops
This fund emphasizes permanent crops as they tend to have higher annual yields than row crops.
Another key difference with this farmland investment option is the ability to invest in multiple properties since it's a managed fund. While you have a higher investment minimum, you can get an instantly diversified portfolio.
The minimum investment is two years before you have withdrawal rights. There are quarterly selling limits once the lockup period ends.
Plus, you can receive help building your portfolio.
Bespoke Offerings
If you happen to have at least $3 million in assets ready to invest in farming, you can schedule a call so that FarmTogether can help you build a curated portfolio.
Some of the customization options include:
1031 Exchange
Leverage debt
Organic or regenerative farmland
How Investors Make Money
Investors earn income from lease agreements as tenants pay rent. Farming revenues from successful harvests may also be split with investors. These yields are part of the target net cash yield.
Property appreciation can even boost the annualized average return. However, these profits are not realized until the project terminates and FarmTogether liquidates all outstanding shares.
The cash investment gains are distributed quarterly, semi-annually or annually into investors' bank accounts. Distribution frequencies depend on the offering agreement.
Risk Rewards Spectrum
Each crowdfunded offer on FarmTogether includes a risk rating and farmland investment potential.
Most either rank as:
Low risk and lower returns
Medium risk and higher returns
There are several factors that determine the rating, including the crop type, water rights and operating structure.
How Much Does FarmTogether Cost?
FarmTogether is free to join, but you will incur several one-time and ongoing fees on your invested cash.
The fees vary by offering, but here are estimates for crowdfunded offerings:
Up to 2% upfront fee on new investments
1% annual servicing fee (or higher)
Up to 5% of net operating income
Up to 1% selling fee
Additional fees can apply to the Sustainable Fund and Bespoke offerings, including acquisition and incentive fees. Future funding rounds may also be necessary, but you can voluntarily add new contributions after the initial investment.
The investment minimums differ by offering type and can include:
Crowdfunded offerings: $15,000
Sustainable Fund: $100,000
Bespoke offerings: $3 million
FarmTogether Returns
The annual net cash yield is between 2% and 12% from rent and crop income. Permanent crops tend to have higher target yields than row crops.
After factoring in land appreciation, the target annualized return is from 6% to 12%.
These returns can be higher than AcreTrader since the platform appears to be more receptive to leveraged offerings. While these deals can have higher yields, they can also carry more risk.
FarmTogether Pros and Cons
If you still aren't sure whether or not FarmTogether is the right platform for you, these pros and cons could help you make a decision.
Pros
Individual offerings and managed funds
Evergreen funds with flexible commitments
Permanent and row crops
Self-directed IRAs and taxable accounts available
Cons
No timberland investing
Can only invest if you are an accredited investor
One listing per month
AcreTrader vs. FarmTogether Comparison
| | | |
| --- | --- | --- |
| | AcreTrader | FarmTogether |
| Fees | 0.75% annual fee, 5% selling fee | Varies |
| Minimum Investment | $10,000 | $15,000 |
| Returns | Up to 15% | Up to 12% |
| Secondary Market | No | No |
| Open to Unaccredited Investors | No, you must be an accredited investor | No, you must be an accredited investor |
| Geographic Focus | Nationwide | Limited to certain states |
| Crop types | Permanent crops, row crops and timberland | Permanent crops and row crops |
Summary
If you are looking for an alternative to investing in traditional real estate, you can successfully invest in farmland through AcreTrader and FarmTogether. The better option for you depends on your investment objectives and cash balance.
AcreTrader only offers individual deals but provides row crops, permanent crops and timberland. Its minimum investment can be as low as $10,000, and you can anticipate new deals on a weekly basis.
FarmTogether may only offer one new deal per month and has a higher investment minimum of $15,000. The Sustainable Fund is an easy way to diversify your portfolio, and the individual offers can provide higher returns for aggressive investors.