If you're new to taking online surveys for some extra cash or gift cards, it helps to understand what to expect and how the process works.
Generally speaking, most survey sites are free to join. Here's how it works: You sign up, take some surveys and earn points that you can redeem for cash, gift cards or prizes.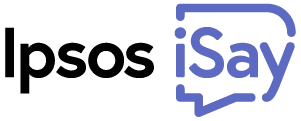 Summary
Ipsos i-Say is a fun survey site that pays you for your opinion. If you have the patience to wait for survey invitations, then Ipsos could be worth trying out.
Pros
Easy to navigate
Earn money
Cons
Limited surveys
Possible technical issues
What is Ipsos i-Say?
Ipsos i-Say is a survey site that is owned by the market research company Ipsos. The site is definitely legit, so any fears you have about it being a scam can be put to rest.
i-Say caters to you as a consumer and empowers you to share your opinions about various products. They mostly want to figure out the "why" behind purchases you make.
You can join for free but before you do, you need to provide some demographic information, such as your age, income, ZIP code and how many people reside in your household.
Keep in mind that you may get turned away if they aren't looking for your particular demographic.
It's unclear how frequently this happens, but the company looks for certain kinds of people to answer questions about products.
Besides demographics, you need to be from the U.S., Canada or UK and be 18 years or older.
Can you make money with Ipsos i-Say?
Let's make one thing clear. Using a survey site won't earn you a realistic income. You'll be able to earn a few $5 gift cards here and there. Or maybe you'll get lucky and win a prize if you enter a drawing.
Of course, there are the handful of intense survey takers who accumulate a lot of points, but it takes a lot of time filling out surveys to get to this level.
When you complete a survey, you can expect to earn anywhere from 45 to 90 points. You'll need to earn 500 points to have enough for a $5 Starbucks gift card.
Survey sites can be fun, especially if you're an involved consumer. Perhaps you like answering survey questions or want something to do if you have some time to kill.
Setting the proper expectations when filling out surveys is important, so you don't end up feeling disappointed that you wasted your time.
If you're looking to make a real side income, look beyond survey sites. There are many side income opportunities that will earn you more money than survey sites.
How Ipsos i-Say Works
After you sign up and receive your email confirmation, you need to log in to start taking surveys. You receive invitations to surveys in your inbox or mobile push notifications if you download the i-Say app.
The number of invites you receive depends on your background and how many surveys i-Say needs.
You can expect to receive at least one survey a month, with an average of eight surveys per month. Again, the amount of surveys you receive really depends on your profile.
If you have a profile that is desirable for the products and services that i-Say needs survey responses for, you'll likely be emailed more frequently than someone who does not. It's a bit of a lottery.
Tip: If your goal is to earn money, consider a side hustle instead. We have the top ways you can a side income: online income for creatives, and even make money on the weekends.
Answer Qualifying Questions
Once you're invited to a survey, you need to answer a few qualifying questions first. This ensures that i-Say isn't wasting your time. They don't want to have you answer questions about a product that would most likely not interest you.
If you meet the criteria, you can take the survey. If you don't, you'll still be entered into their Monthly Click Draw and receive up to five points for your time. Monthly Click Draw is a contest that you can enter for a prize.
You can expect to receive your points a few minutes after completing a survey.
Tips to Make i-Say Worth It
If you decide you like Ipsos, here are some ways to make it worth your time.
1. Only take surveys where you can clearly see how long it will take and how many points you will receive.
2. A good rule of thumb is to spend 10 minutes to receive 45 points and 20 minutes for 90 points.
Create Polls or Answer Others For Prizes
i-Say has a polls section where you're invited to play each time you complete a survey.
The Poll Predictor won't earn you any extra points, but you can earn chances to win a prize by guessing what percentage of people answered "Yes" to a certain question.
Polls are a fun way to break up the monotony of taking surveys. You can also create your own polls.
i-Say encourages members to engage on social media as well.
You can follow other i-Say members by clicking on their profiles and leaving comments or sharing their polls on Facebook or Twitter. They also have an instagram page.
i-Say's loyalty program
The site also offers a loyalty program. If you join, you can earn extra points based on the number of surveys you complete. The more surveys you finish, the more you can earn.
For example, if you complete five surveys, you can earn 25 bonus points. Ten surveys earn you 50 bonus points.
If you complete 200 surveys within a calendar year (Jan. 1 to Dec. 31) you can earn an extra 600 points.
How to Redeem Your i-Say Points
When you receive points on i-Say, 100 points is equivalent to $1.
You can receive a few gift cards like:
$5 Starbucks Card (500 points, instant delivery)
$10 Amazon Gift Card (1,000 points, instant delivery)
$15 Target Gift Card (1,500 points, instant delivery)
$15 Paypal Funds (1,530 points, added to your account in 1-3 weeks after redemption)
$20 i-Say Virtual Visa Prepaid Card (2,000 points, instant delivery)
If you choose digital gift cards, you can expect to receive them immediately, while other rewards may take longer for you to receive them.
Compared to other survey sites (in particular, Toluna) Ipsos feels easier to earn points on.
In my opinion, 500 points isn't a crazy amount to earn $5, especially since some surveys give you up to 90 points in one sitting.
If you're unsure how many points you have, just sign into your account and click on Points Balance at the top of the page near the star icon.
You can also select the Sweepstakes Entries tab to see if you've won any prizes.
Featured rewards
i-Say's rewards page tells you which gift cards you can redeem your points for, including:
Virtual Visa®️ Prepaid Card
PayPal Funds
iTunes®️ Code
Target e GiftCard™️
How to redeem for cash
i-Say uses PayPal to allow members to redeem their points for cash. As you can see from their points list, you'd need quite a few points to redeem it for cash.
i-Say explicitly says that using surveys to earn a lot of money is not realistic.
If you've received anything from i-Say claiming you can make a lot of money taking surveys, it's spam or a fraudulent claim.
To give you an idea, here are how points translate to dollars:
| | |
| --- | --- |
| Points | PayPal Amount |
| 102,000 | $1,000 |
| 50,100 | $500 |
| 10,200 | $100 |
| 2,550 | $25 |
Donate your points
i-Say gives you an option to donate your points to non-profit organizations such as UNICEF, Habitat for Humanity®️, Nature Conservancy, Doctors Without Borders, to name a few.
Another way to redeem your points is to enter a sweepstakes. It costs 200 points to enter. You can win things like a travel package or an eGift card.
Is Ipsos i-Say Worth It?
For a survey site to be worth it, it all boils down to the time it takes to complete the surveys and how quickly you can accumulate points.
i-Say's point system is pretty straight forward, and if you take a handful of surveys, you'll probably have enough to get you a $5 gift card to Starbucks.
While you wait for an invitation to take your survey, try signing up for a few others. They're free to sign up, so why not?
Alternatives to survey sites
There are a number of alternatives to doing surveys including "scanning apps" that earns you points you can redeem for gift cards. You earn points by walking into a store or visiting an online store.
If you're going to be at the grocery store anyway, why not use Shopkick? You can scan certain items on your Shopkick app and earn points for a gift card.
There are also app-based games where you can earn money on your smartphone to earn some extra cash.
Summary
If you have the patience to wait for survey invitations, then Ipsos could be worth trying out.
i-Say makes it pretty easy to earn points from taking surveys.
The $1 to 100 points conversion isn't that bad, so test iSay out and see how long it takes you to earn enough points for a gift card.
Since there are a number of other survey sites out there, it makes sense to try different ones and find out which ones you like best.