Online surveys are a quick way to make small amounts of cash on the internet.
GrabPoints is a legitimate site that pays you for surveys and other online tasks. But, is this the best online side hustle for you?
This GrabPoints review shows you all the ways you can make money. We'll also go over your payment options and discuss whether GrabPoints is worth your time and effort.
After giving GrabPoints a try, I'll share my thoughts on this platform, too.
Summary
GrabPoints pays you points to take surveys, watch videos, and test products and apps. You can redeem points for Amazon gift cards or PayPal CASH, starting at just $3. There are many ways to earn points, but some other sites offer higher-paying surveys or reward you for even more tasks.
Pros
Payout minimums
Easy to use
Limited fun
Cons
Low earning potential
Survey qualifying delays
Survey only platform
What is GrabPoints?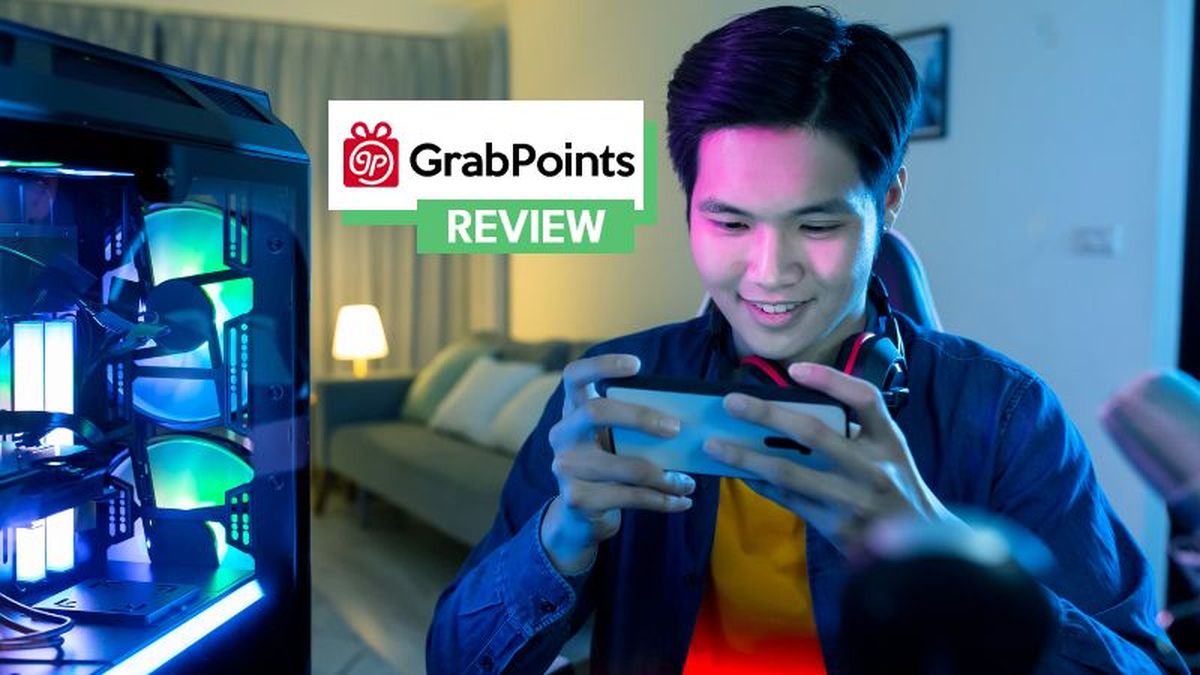 GrabPoints is a get-paid-to (GPT) platform. It's free to join, and they pay you rewards points when you complete these online activities:
Surveys
Watching videos
Downloading apps and games
Signing up for free and paid offers
Referring friends
How much you earn depends on the type of task and how long it takes to complete.
Every 1,000 points you earn are worth $1. You can redeem your rewards points for gift cards or cash. Point redemptions start at 3,000 points, which are worth $3.
Right now, this easy redemption minimum is one of the lowest (meaning, best) among GPT sites.
GrabPoints is a legit company. You're not going to get rich from the activities. But, you have plenty of options to earn some side income.
These tasks require minimal skill, so you can complete them easily. When you only have a few minutes at a time to hustle, any money can be better than nothing.
Who Can Join GrabPoints?
Membership is open to almost anyone 13 years or older. So, adults and teens from most countries can join.
When you log in, the live feed shows recent earnings from other members. This feed also lists which country they are from. You will see countries from several continents.
There are three ways to access GrabPoints:
Website
Android app
Downloadable desktop platform
At this time, GrabPoints doesn't have an iOS app. If you're an iPhone user and really want to use a mobile app, you might try a different mobile survey app instead.
To earn the most points possible, GrabPoints recommends you download the desktop platform. With it, you can receive live updates when new offers and invites arrive.
However, you can still earn plenty of points with the Android app. Visiting the GrabPoints website in your browser gives you full access, too.
How to Make Money With GrabPoints
You have six different ways to earn points with GrabPoints. Surveys are the primary way to make money. But as you will see, they're not the only way.
Online Surveys
The best and most consistent way to make money is with online surveys. GrabPoints connects with many of the same survey networks that other survey sites do.
In fact, the current survey invites are the first thing you see when you log into GrabPoints. To find the best survey invitations, look for TapResearch surveys.
These particular surveys tend to pay more than the other GrabPoints survey options. And, you are guaranteed points even if you don't qualify for the survey.
You can also filter TapResearch surveys by time and payout. To find the best surveys you might qualify for, click the "Best Match" button.
For other survey invites, you click on a survey router. These routers take you to different survey networks like LifePoints or SaySo Rewards. While these surveys can pay more, you don't earn anything if you don't qualify.
For example, I spent 15 minutes answering screener questions on one router survey, only to find that I didn't qualify. And, I didn't earn any points.
My thoughts? Focus on the TapResearch Surveys first. You at least earn partial credit if you don't qualify for the full survey
The TapResearch survey payouts are comparable to other survey sites. On the best surveys, you can earn at least 5,000 points ($5 per) survey.
Many other surveys pay between 200 and 2,000 points per survey. Most of these surveys require between 10 and 20 minutes of time.
Watch Videos
Another way you can earn a few points is by watching videos. The payout potential isn't as high as with surveys, but it's a way to diversify your income streams.
There are three different video networks you can choose from. These three networks are Jun, Adscend and GrabRewards Videos.
Jun Videos
The highest paying video network is Jun Videos. With each video, you earn between 5 and 20 points. On average, I earn 15 points per video.
To me, Jun Videos is the next best way (after taking TapResearch surveys) to earn GrabPoints. Each video takes less than a minute to watch.
You can still earn more with surveys. But, this can be a better option than taking surveys because the videos are three minutes or less, so you earn more points per minute.
GrabPoints decides what video to show you. Mine have been investing and health-related commercials. I answer two quick questions before the video starts to help GrabPoints choose the best video. Then, watch the entire video to earn points.
S'Mores Videos
One of my favorite video networks is S'mores Videos. Their content is relevant and engaging. Plus, you can watch unlimited videos with GrabPoints.
But for S'mores and other non-Jun videos, you have to watch three videos plus ads to earn points. So, you earn seven points in about three minutes. With Jun Videos, you earn up to 60 points in the same amount of time.
On the plus side, you can choose which topic you want to watch. Some options include app trailers, food and lifestyle.
Download and Test Apps
Another fun way to earn points is by downloading and testing apps. Most app downloads pay 1,000 points or less. But, some offers pay up to 9,600 points. And, you don't have to spend any money to get these lucrative offers.
Before you pick an app, read the offer details. Some apps require you to achieve a certain level before you earn points. Other apps pay you just for downloading the app and opening it.
Also, make sure you cancel any free trial you sign up for if you don't want to keep the app. Otherwise, the cost can exceed the rewards you earn.
There's a large variety of apps and games you can download. Some current examples include Disney Heroes and War Robots. After playing these apps, you can earn up to 840 points per app.
Other apps may ask you to join other survey platforms, such as InboxDollars. Or, they may ask you to try different shopping apps or home business apps.
Complete Product Offers
In addition to testing apps, you can also try different products to earn points. These offers may pay more than the other earning options. Most offers pay 5,000 points or less.
You may have to pay for some services to earn a reward or cancel before the free trial period ends.
Once again, read the offer details to see if the effort is worth the reward. You can see the offer details by clicking the exclamation point next to the offer box.
There are offers for magazine subscriptions, as well as for home services like BarkBox, Home Chef and Winc.
You can also earn points by donating to charity. One example is you can earn 7,800 points for giving to Feeding America.
Refer Friends
Another sweet incentive is the refer-a-friend bonus. You can earn up to 250 points for each friend you refer to GrabPoints. Although you have to invite your friends, this action takes minimum effort.
Other GPT platforms let you earn a recurring bonus for each friend you refer. That means you earn a small percentage of whatever they earn on the platform.
While the GrabPoints system has less long-term potential, 250 bonus points per friend is still a good offer.
Promo Codes
At times, GrabPoints sends promo codes that you can redeem for bonus points.
In other cases, GrabPoints pays bonus points when you complete special tasks. Some of these tasks include linking your email account and taking profile surveys — questionnaires that ask about your personal information and interests.
Profile surveys help GrabPoints match you with relevant surveys so you're less likely to fail screeners.
Redeeming GrabPoints Rewards
The earning options for GrabPoints are similar to most get-paid-to sites. Thankfully, GrabPoints has some easy-to-reach prizes.
Like a few other platforms, prize redemptions start at $3 — though most gift cards require either a $5 or $10 balance. For many other platforms, your balance has to be at least $10 for any reward.
In some cases, you need a $25 balance. So, only needing $3 (3,000 points) is one reason to consider GrabPoints.
What I like about GrabPoints is that you can get cash payments for $3, too. Other platforms such as Swagbucks only offer store and dining gift cards for this value. If you prefer cash payments, this is a huge benefit.
Starting at 3,000 points, your redemption options include:
Amazon gift cards
PayPal CASH
Skrill (3,600 points)
Digital check (5,000 points)
These are three popular and flexible payment options. After all, Amazon is the largest online retailer. And, PayPal and Skrill are both popular mobile wallets.
If you're looking for something else and are patient, you might hold out for a gift card that requires more points before you can cash in. Many restaurant gift cards cost 5,000 points for a $5 gift card.
A few options include:
Domino's Pizza
IHOP
Olive Garden
Red Robin
Texas Roadhouse
If you want to save your money for the most well-known brands, be aware that most options require 10,000 points. There is a large selection of stores and restaurants you might enjoy.
Some examples include:
Nike
Old Navy
Regal
Starbucks
The $3 options might be best. Not just because you can redeem your points sooner. But, you also won't have a problem finding a way to spend your Amazon gift card or PayPal CASH.
What We Like About GrabPoints
There's a lot to like about the GrabPoints platform. If you join, these are some of the best benefits:
$3 balance minimum to start redeeming points
Daily survey invites
Possibility to earn points by watching videos and testing apps
Android app makes it easy to earn on the go
Also, GrabPoints is free to join. And, you only need to be 13 years old. So, both teens and adults can earn and make money.
What We Don't Like About GrabPoints
These are a few reasons why you might avoid GrabPoints:
Don't earn points on every survey if you don't pass the screener
Can spend a lot of time completing screeners before you get matched with a survey
No Apple iOS mobile app at this time
It goes without saying, but any survey app isn't the most profitable side hustle. After all, these are low-skill tasks. If you need extra income to make ends meet, you should consider a different side hustle.
Also, the non-TapResearch surveys can be a time waster. That's because you don't earn points if you don't pass the screener. You don't earn points for partially completing surveys, either.
Personally, I've had better approval odds on survey sites like Survey Junkie, Harris Poll, and YouGov. where you can receive personal invites. The screener questions seem less repetitive, which means you can spend more time taking the actual surveys to earn points.
To reiterate, the TapResearch surveys on GrabPoints are good. You always earn points. And, their payouts are competitive with other survey sites.
GrabPoints Reviews
The app is very popular and has great mixed reviews. For the most part we found it had great reviews. The site is user friendly so you do not have to download and app from any of the app stores.
Grabpoints is great i love them quick and easy to use and very fast and reliable at rewarding your efforts. – Mike

Thank you so much for my reward. I am very happy to be on the GrabPoints Panel and participating in the surveys you have to offer. 🙂 – Patricia

Lots of surverys and easy to cash out points. My only complaint would be some offers on the offer walls don't seem to pay out after being completed. – Eric J.
Alternatives to GrabPoints
You can earn consistent income with GrabPoints, but these are two alternatives you might like more. One is another well-known get-paid-to site. The second option focuses on surveys only.
GrabPoints vs. Swagbucks
For an "apples to apples comparison," look at Swagbucks. You will see many of the same offers to test apps, games and products. And, both sites also pay you to watch videos, though GrabPoints pays more for most videos.
Also, both platforms let you begin redeeming points for $3 gift cards. If you want Amazon gift cards, either platform offers those at the $3 level. But, Swagbucks requires a $25 balance to request PayPal CASH. So, PayPal fans might prefer GrabPoints.
Swagbucks is better than GrabPoints in these areas:
Get 1 point for each survey screener you don't pass
Earn points shopping online
Print and redeem paper coupons for cash
Regular contests to earn bonus points
If you shop online and only want one app to earn rewards points, Swagbucks can be better. Its shopping portal lets you earn points for each $1 you spend at most online retailers. And, you get rewards points for taking surveys, watching videos and testing product offers. The shopping bonus helps you redeem points for gift cards sooner.
GrabPoints vs. Survey Junkie
When you want to focus entirely on surveys, look at Survey Junkie. This is a survey-only website. So, you won't see chances to watch videos or complete product offers for points.
But, you have chances to earn more points from surveys. Also, I find myself spending less time taking survey screeners on Survey Junkie than other GPT platforms. Fewer survey screeners means more time for taking surveys that pay money.
With Survey Junkie, you can also participate in focus groups and product testing groups. Both of these options might be invite-only. If they choose you, you can earn more than you would taking regular surveys. And, you earn more than with the regular product offers that GrabPoints offers.
Three downsides to Survey Junkie include:
Reward payments start at $10 for PayPal and gift cards
Survey-only platform
No mobile app for Android or Apple iOS (yet)
Even though GrabPoints only has a mobile app for Android devices, it's still better than Survey Junkie. Also, having to accumulate $10 in rewards means longer intervals between payouts. If you don't enjoy taking surveys, you might quit before you reach the $10 threshold.
Summary
You earn real money with GrabPoints. And, the payment per task is similar to other sites. The $3 redemption options are one of the best reasons to join.
However, you must be willing to take surveys, watch videos, and test apps to earn consistent income.