Audio and video transcription jobs allow you to work from almost anywhere and have a flexible work schedule. It's possible to find consistent work on Rev as a new or experienced transcriptionist and get paid weekly.
You might be wondering how much you can make by transcribing for Rev along with the basic requirements to start making money.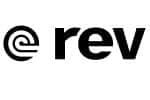 Summary
Rev pays you to transcribe audio or write video captions while earning a competitive rate. You can claim multiple assignments and decide your working hours. All freelancers receive weekly PayPal payments.
Pros
Multiple tasks per day
Flexible schedule
Weekly payments
No special equipment
Cons
Need strong English skills
Lower pay if inexperienced
Not for California residents
Must apply and pass exam
What is Rev Transcription?
Rev is an online platform with part-time freelance jobs for captioning, subtitling or transcribing audio and video recordings. It's free to join and you can apply for open requests as companies upload media files that need to be put into words.
Transcriptionist jobs require the ability to convert audio into text with accurate grammar and tone. Regarding this platform, you must be proficient with the English language and will complete a brief competency exam. There are opportunities to make foreign subtitles too.
Membership is open to freelancers at least 18 years old in the following countries:
Australia
Canada
Ireland
Mexico
Netherlands
New Zealand
South Africa
United Kingdom
United States (excluding California residents)
After passing the exam, you can start accepting assignments that are paid by the audio hour. Longer files pay more as there is more content to transcribe or caption. Complex topics and rush assignments may also have higher payouts.
For example, when I filled out a basic application for this review, I provided my contact details, work history, and interests. I also encountered a few brief essay questions to evaluate the proficiency of my written communication.
After passing this initial step, you will caption or transcribe a sample recording and a reviewer will grade it for accuracy.
You can apply even if you have no experience and it takes approximately one hour to see if you're eligible for this gig economy job.
Experienced users can earn more as they are more proficient and may be eligible for advanced tasks that may require a specialized background.
Unlike other transcription jobs, there are minimal barriers to entry as you don't need special equipment such as a foot pedal or pricey software.
You only need a computer with functional speakers and internet access. Headphones can also be useful for more clarity and distraction-free work.
How Does Rev Work?
You can apply to transcribe or caption audio or video uploads and receive weekly payments through PayPal. The responsibilities and income potential can vary by position.
Transcriptionist
Transcribing audio can be the easier of the two entry-level freelancer positions as you are simply writing down what you hear as you make money with your computer. The recording length can be from several seconds up to two hours long.
You might transcribe the following audio:
Conversations
Meetings
Phone calls
Podcasts
I recommend starting with short recordings to improve your proficiency and confidence as it can take longer to transcribe complex conversations and draft a readable dialog.
Periodically, I would transcribe audio recordings for my previous job and would listen to certain radio transmissions several times for the accuracy of words and blocking out non-verbal noises.
Additionally, new members are limited to entry-level jobs but can unlock advanced recordings as they receive positive ratings and have quick turnaround times.
Most Rev transcription jobs provide audio-only recordings that you can listen to through your web browser. You can pause, rewind and adjust the playback speed as you jot down the text in proper formatting using the web-based editing platform.
In addition to accurately writing down the conversation, you are responsible for labeling each speaker. The client may also have you notate inaudible sounds and create paragraphs as needed so the script is easy to read.
Depending on the task and your experience level, Rev pays transcriptions between $0.30 and $1.10 per audio minute. So, a 20-minute recording at $0.50 per audio minute pays $10 but your effective hourly wage depends on how long it takes you to complete the file.
Captionist
Generating captions for video recordings can require more effort as you transcribe the audio and also summarize the setting and non-verbal noises.
For example, you include captions for critical sounds like wind, thunder or when a particular song plays. This extra detail is necessary as you are helping hearing-impaired viewers enjoy a similar experience as other viewers.
Instead of providing the conversation in a Microsoft Word document like audio transcription, you overlay FCC and ADA-compliant closed captions that appear at the top and bottom of videos syncing with when the audio occurs.
Another key difference from transcribing is the type of content that you review which can run from 30 seconds to several hours.
Most captioning jobs are for these media:
Commercials
Educational videos
Marketing videos
Movies
YouTube videos
TV shows
Rev captionists earn from $0.54 to $1.10 per video minute which is a higher starting pay than transcribing.
You may prefer captioning to transcribing if you enjoy watching videos more than listening to audio. Additionally, you may enjoy visual text in a sterile Word document for a conversation.
Subtitler
A primary requirement for any who does subtitles for Rev is to possess strong English skills. You can expand your skill set if you're fluent in a second language as you can write foreign language subtitles for international viewers.
Content needing subtitles can include:
Commercials
Interviews
Lectures
Movies
Podcasts
The minimum pay rate per video minute depends on the language and ranges from $1.70 to $4.00 per minute. Challenging projects can pay more.
Subtitles are in demand for the following languages:
Arabic: $2.50 (per minute)
Chinese: $1.80
Czech: $2.20
Dutch: $2.70
French: $3.30
German: $3.50
Hindi: $2.20
Italian: $2.50
Japanese: $4.00
Korean: $4.00
Polish: $2.30
Portuguese: $2.50
Russian: $2.50
Spanish: $1.70
Turkish: $3.20
There are many other ways to get paid to type in addition to translating videos into different languages.
Weekly Payments
The platform pays on Mondays through PayPal for assignments you complete during the previous week. There are no additional processing charges or transaction costs and you receive the entire published amount when you claim a task.
Like most side hustles, the service doesn't withhold income taxes and you may need to set aside a percentage of your income to cover your tax liability.
How Much Money Can You Make?
Most paid tasks award from $0.30 to $1.10 per audio or video minute with caption jobs usually paying more. Adding foreign subtitles can pay a minimum of $1.50 to $4 per minute as these tasks require additional skills.
Remember that audio minutes are different from your hourly rate. For example, it typically takes four hours to transcribe one audio hour. I can attest from my own experience as you usually replay a clip multiple times and sometimes battle thick accents and poor audio quality.
These rates are competitive with transcription agencies but can be low for entry-level and highly-experienced transcriptionists as the industry average is between $0.50 and $3 per audio minute.
The good news is that it's an excellent platform to gain experience and you can complete projects for multiple companies.
Rev shares how much the average user earns each week based on experience level and freelancing frequency.
Average Weekly Earnings By Skill Level:
Beginner
Intermediate
Advanced
Casual
$22
$37
$60
Occasional
$65
$111
$181
Seriously
$108
$185
$301
You can make money to pay bills and save for upcoming goals on a part-time basis.
Is Rev Legit?
Rev is a legitimate company that has a 4.2 out of 5 on Trustpilot.
Although most of the reviews are from people who pay for the service, you can find out more about working for them on this Reddit thread.
It also has a 2.7 out of 5 on Indeed, with mixed reviews. While some say it is low-stress and flexible work, others complained about the pay being too low.
Alternatives to Rev.com
You may also explore these side hustle apps to access more transcription side gigs and other on-demand short tasks.
These platforms are also worth considering if you live in an area that Rev doesn't accept freelancer applications from, including California.
Fiverr lets you create gig packages and set your own rate. There are many transcriptionists and captioners with repeat buyers to earn recurring income.
As you must wait for customers to contact you, experienced transcribers can have more success with this platform by sharing their relevant experience in their portfolio.
You can advertise additional services that can also add value and help you build a side hustle stack.
Upwork is another option that lets freelancers bid on open assignments and receive application invitations from interested customers.
There are many one-time assignments but clients may agree to a long-term relationship when they like your work.
The platform's highest-rated transcriptionists earn at least $20 an hour and as much as $50 before the 10% service fee. Many also offer additional services to make money when projects don't need to be transcribed or captioned.
Transcribe Anywhere lets new and experienced people improve their skills by starting with a free workshop. There are paid courses for general transcription, legal transcription and court reporting.
These courses help teach the essentials to become more competitive transcriptionists within two to four months. There is also guidance to find higher-paying jobs to earn more for your time.
Frequently Asked Questions
Here's a look at common questions readers want to know:
How much does Rev actually pay?
The average transcriptionist earns $245 per month at $0.30 to $1.10 per audio minute. Captionists make $1,570 monthly on average with a pay range from $0.54 to $1.10 per video minute. It's possible to make $1,000 a month or more if you're active and experienced.

While it's a unique niche, transcribers adding foreign subtitles can earn from $1.70 to $4.00 per minute. On average, a subtitler makes $958 per month on this platform.
How much money can you make in a day at Rev?
Your earning potential depends on the job length and the number of assignments you accept each week. Beginners can anticipate earning between $15 and $20 a day which is comparable to minimum wage while experienced members can earn nearly $60.

It's possible for active users to make $50 per day and earn $1,000 monthly by working at least five days a week. You will most likely need to accept several short assignments or one long one per day to achieve this income goal.
Is transcribing for Rev worth it?
Becoming a Rev transcriptionist can help you earn a reliable side income without any startup costs although you need a distraction-free environment to hear each word accurately.
The schedule flexibility is ideal for stay-at-home parents and full-time workers who need a few extra dollars without committing to a traditional part-time job.
Summary
Rev is a legit way to make money transcribing as it's one of the most well-known and active services.
You can help numerous businesses with an easy work-from-home job if you excel at transcribing. Additionally, you qualify for more lucrative tasks as work more often.