For many reasons, people are more actively seeking out legit ways to make money while being a stay at home mom.
Fortunately, more and more companies are recognizing this fact and are adjusting their job position qualifications to accommodate the growing number of people who want to earn money while working from home.
Whether your a stay at home mom or just looking to work at home, the opportunities are endless. However, you need to be cautious.
Top Stay at Home Jobs for Moms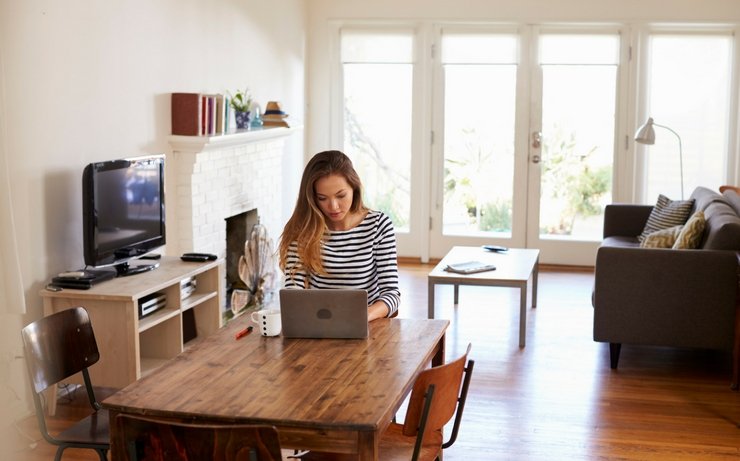 While there are some jobs for stay at home moms that are scams, there are also plenty of legit jobs available that allow you to work from the comfort of your own home.
If you are looking to find real jobs that you can do from the comfort of your own home, be assured that there are plenty available.
The key is to learn which jobs for stay at home moms are legit, to find out what jobs are available and learn how to apply for those jobs.
For most jobs for stay at home moms, you'll need to have a computer, a good Internet connection, and possibly a land phone line and a headset. Keep this in mind as you search for stay at home jobs.
With this list of legitimate jobs for stay at home moms, you can search out the many options available to you if you are looking to work from home and find out which types of work are best suited for your skills and interests.
1. Data Entry Jobs
If you have great typing skills (a minimum of 45 and sometimes 60 words per minute, along with a high accuracy level) you might be a good fit for a work-from-home data entry position.
People working in data entry basically input text from one document into another document. There are a few companies that share available openings for data entry jobs. Here are some that we found.
Axion Data Entry Services
Axion Data Entry Services is a company that outsources data entry needs from other companies. Although the company is very busy, they have a low turnover rate and are not always hiring.
People wishing to work for Axion can register at their website and have their name on a list of people available for work.
They pay per piece for data entry jobs and if you gain work with them you will be considered an independent contractor responsible for keeping your own income records.
Apply here: https://axiondata.com/
Dion Data Solutions
Dion Data Solutions is a nationwide company with in-house data entry employees as well as work-from-home data entry employees.
As of this writing they are currently accepting applications from people wanting data entry from home jobs, but that could change at any time.
Apply here: http://www.diondatasolutions.net/opportunities.htm
Xerox
Nearly everyone has heard of this well-known company. Xerox often hires at-home workers in a variety of areas, data entry being one of them.
If you are looking for more opportunities to work in data entry from home, just search the phrase "data entry jobs from home" and search for more legitimate companies hiring in this area.
Apply here: https://www.xerox.com/en-us/jobs/work-from-home
2. Customer Service Jobs
If you like working with people, helping them with orders or customer service issues and problem solving, you might like working a customer service representative job from home.
There are lots of customer service jobs for stay at home moms.
Companies hiring for customer service jobs from home generally have certain available shifts that they want employees to work.
With your computer, land phone line and headset, you are then connected into the company's phone system and included on the loop of incoming customer service calls.
When people call the company's customer service phone number, they'll be connected to you or one of the other work-from-home customer service reps.
You can then help them with their problem or answer their question.
Concerned you won't know what to do? No worries: most companies hiring work from home customer service reps include access to an online or downloadable employee manual.
The manual will allow you to search quickly for answers to all customer concerns.
Here are a few companies that hire customer service reps to work remotely:
U-Haul
U-Haul, the well-known moving company, often hires customer service reps that can work from home.
To find potential jobs with them, just go to Uhaul.com and select the category that says "Company Info" about half way down the page.
Under "company info" you'll find a tab that says "Career opportunities" that will show you how to apply for a customer service rep job with U-Haul.
A neat fact about U-Haul and their online customer service jobs: They hire customer service reps as young as age 16.
Check out our article with legitimate online jobs for teens for more ways teens can make money online.
Apply here: https://www.uhaul.com/
Xerox
Just as they hire for data entry positions from home, Xerox hires for call center reps that can work from home as well.
They also hire for a few other positions that you might want to consider for at home work.
Quality Control
Software Programming
Administrative/Business Support
Systems Development
Just click on the link above to find out more about the opportunities that Xerox offers.
Apply here: https://www.xerox.com/en-us/jobs/work-from-home
Sykes
Sykes is an outsourcing company that specializes in hiring customer service reps to work from home.
They are one of the more popular work from home companies, offering a number of additional benefits to call center reps besides a regular paycheck.
Apply here: https://www.sykes.com/jobs/work-at-home/
3. FlexJobs
FlexJobs is a job site specifically designed for remote, work-from-home and other types of flexible jobs. They advertise a variety of different types of jobs.
What's nice about this site is that they vet the companies that want to post jobs on the site. That means you can be confident you'll be searching through high quality job postings.
Some of the jobs they were advertising for when I searched the site for this article included:
Art/Creative jobs
Computer/IT jobs
Call center jobs
Retail jobs
Manufacturing jobs
And a long list of jobs in other genres as well. This site can help you find work no matter what hours or days you have available.
4. Talent Based Opportunities
If you want a stay at home job that isn't so nine-to-five oriented, you might want to consider doing talent based, short-term jobs or consider working to make money by selling your creations online.
Web sites such as Fiverr allow people to work from home doing a wide range of jobs such as business based gigs, art based gigs, writing based gigs and more.
The pay for the jobs starts at $5, and then moves up from there depending on the amount of time and effort the job might take.
For instance, if you like and are good at data entry, you might offer to do data entry work for an hour for five or ten dollars. Or three hours of data entry work for twenty dollars.
If you have skills in the area of graphic design, you might offer to create a company logo for twenty dollars. If you are a poet, you might offer to create a poem for a person's loved one for $5.
The length of the job and difficulty of the services you offer is entirely up to you.
As a provider on sites like Fiverr, you simply offer your services and decide whether or not to accept any offers for work that might come your way.
5. Make Designs
Similarly, sites such as CafePress allow you to create and showcase your designs on their website, where they offer those designs for purchase on any number of items.
Once you create an account and upload your designs to that account, CafePress offers those designs for sale on items such as:
T-shirts
Travel mugs
Wall art
Baseball caps
Bumper stickers
Shower curtains
Comforters
They offer many other items for sale with your designs on it as well. When someone purchases one of your designs on an item, CafePress pays you via a PayPal deposit.
To help increase your chances of a sale, you can help spread the word about your designs on your social media accounts.
Apply here: https://www.cafepress.com/
Jobs for stay at home moms on sites such as Fiverr or selling designs on Cafepress may not offer a regular paycheck like the other jobs listed here.
However, they do provide you for an opportunity to potentially earn income without the obligation of a traditional job.
They're also great for stay at home moms that need flexibility in their work schedule.
6. Health Care Industry Jobs
Do you have experience working in the health care industry or simply like the idea of working in health care?
If so, there are several companies that hire work from home employees to do different jobs such as medical coding, medical billing and medical transcription.
Medical Coding
Medical coding involves converting medical procedures, services and equipment into standardized alphanumeric codes. This helps health providers ensure that billing is done correctly.
Medical Billing
A medical biller's job is to process claims sent to health insurance companies for reimbursement.
Medical Transcription
Medical transcriptionists listen to recorded dictation of a doctor or other health care professional, and then transcribe that information on to other documents.
Want to learn more about how to become a transcriptionist? Check out Transcribe Anywhere!
In today's virtual employment world, there are several companies that are hiring for these types of health care industry jobs in a work-from-home environment.
Here are links to a few companies that may be hiring at this time.
Steno Med
Steno Med hires medical transcriptionists who can work at home. Know that they do have a list of requirements for potential employees that includes extensive knowledge of medical terminology.
Apply here: https://www.stenomed.com/careers.htm
Aviacode
Aviacode hires medical coders to work from home. Their website explains all of the job details and contractor or employee requirements.
Apply here: http://www.aviacode.com/
There are also other work from home jobs available in the health care industry, such as RN consultants and customer service jobs for healthcare companies.
Related: 10 Ways to Make Money Fast As A Woman
7. Bookkeeping or Accounting Jobs
If you're a numbers person, this could be a good way for you to make money by working from home.
As with customer service reps, there are lots of jobs for stay at home moms in the bookkeeping industry.
Bookkeepers help businesses keep track of income, expenses and other financial information by inputting financial transactions on computer programs such as QuickBooks.
Since all you need is the numbers and access to the program the company is using to do this, many companies will allow their bookkeepers to work from home.
Many companies want bookkeepers to have a thorough knowledge of the accounting program they are using in order to qualify for the job.
However there are online tutorials that explain how to use many popular accounting software programs.
If you have a degree in Accounting or are a Certified Public Accountant, you might also be able to find work from home jobs in your industry.
Here are some of the companies that look to hire bookkeepers, accountants and similar types of finance professionals.
AccountingDepartment.com
AccountingDepartment.com provides services in bookkeeping and accounting to other companies. You can visit their website through the link above in order to search currently available jobs and to put in an application.
Apply here: http://www.accountingdepartment.com/careers#fullcharge
Assurance Financial Management
This company helps businesses outsource financial management tasks through their team of remote independent contract workers in the bookkeeping and accounting field.
Check out www.assurancefinancialmgmt.com for more information.
Apply here: https://www.assurancefinancialmgmt.com/
8. Tutoring Jobs
If you like working with people and helping them learn, an online tutoring job might interest you. There are several options available when it comes to online tutoring jobs.
Traditional School Subject Tutoring
Many companies hire online tutors to help students of all ages with traditional school subjects. Some students might need help with math.
Others might need help with reading or English, and still others might need help understanding science.
If you like helping others learn and understand, here are a few companies that might be a good fit for your career as an online tutor.
Know that some online tutoring companies require a 4-year degree or current enrollment in college to be accepted.
Tutor.com
Tutor.com requires tutors to have a degree and to pass a test in their area of expertise. They also ask applicants to submit a writing sample.
Apply here: https://www.tutor.com/apply/tutoring-faq
Chegg
Chegg tutors help teach middle and high school students, college students and professionals as well. Tutors must have a four-year degree or be currently enrolled in college.
Apply here: https://www.chegg.com/career-center/explore/tutor
Enroll
Enroll also helps students to learn subjects through the use of online tutors, but the requirements for tutors aren't as strict as with some companies.
Know that you will have to teach your first two lessons with Enroll for free as a way to build up credibility.
Apply here: https://enroll.com/
English Language Tutoring
There are also online tutoring jobs available where tutors can help people become better at speaking the natural English language. The requirements for these types of tutors are often more lenient.
Here are three companies that hire people to have conversations with students to help them become more proficient at speaking the English language.
VIPKID
VIPKID hires U.S. citizens to teach English online to children in China. The curriculum is based on U.S. Common Core State Standards, you have to have a bachelor's degree to work for VIPKID.
Contracts last for 6 months and can be renewed at the end of the term.
To teach, you need to have a computer or other device, a camera, and a headset with a microphone.
Classes are one-on-one, so you won't be teaching an entire classroom of students from thousands of miles away.
Plus, you don't have to prepare your own teaching materials and lesson plans since the curriculum is prepared by VIPKID.
You can earn between $14-22 per hour, which is direct deposited into your bank account each month.
Apply here: VIPKID
Samespeak
Samespeak hires tutors to speak natural conversations with those hoping to better learn English by supplying a manual containing conversations for use.
Tutors are paid $10 for every half hour of conversation they teach. Samespeak may or may not be hiring at the current time depending on their tutor needs.
Apply here: https://www.samespeak.com/
SkimaTalk
SkimaTalk works similarly to Samespeak, helping people to better learn the English language through natural conversation.
The pay scale is less than what Samespeak pays, but it's a great way to gain experience in teaching the English language and making money at the same time.
Apply here: https://www.skimatalk.com/en
9. Freelance Writing and Editing Jobs
One of the best jobs for stay at home moms is in the freelance writing field. As a stay at home mom myself, I can guarantee this is a workable side hustle.
If you like to write and you're good at it, you may be able to find work in the writing field that you can complete as a stay at home mom too.
Sites such as Upwork have a variety of types of writing jobs available, from blogging jobs to copy-writing jobs.
On Upwork you might find a job writing a work manual for a company, or copyediting a book that is in the process of getting ready to be published.
Or, you might find a job writing articles for a website or blog. Blog and website writing jobs come in a variety of areas of interest such as personal finance, parenting and family, beauty and fashion, health, hobby and many more.
If writing is of interest to you or you are good at grammar and finding grammatical errors in written documents, these types of jobs might be a great way for you to make money from home.
You can also learn how to make money as a freelance writer with a course like Earn More Writing.
10. Website Testing Jobs
If you like the idea of analyzing and giving feedback on the functionality and performance of websites, you might like a job as a web site tester.
As a professional in field of web site testing, you would be given a web site name and a set of instructions that help you to test the usability and performance of a site.
The goal is to identify and report any broken links, online shopping malfunctions or other issues that may make the website difficult or unpleasant to use.
Companies such as User Testing and What Users Do hire remote workers to test web sites, mobile apps and other web access avenues in order to help companies ensure users are getting the best possible experience when visiting their sites.
One nice thing about this type of work from home job is that most of the job tasks are relatively short and each web site is different from the next.
For that reason, it can be a great job for those who like to have more variety in their work.
11. Graphic Design Jobs
Work-from-home graphic designers can be hired to do several types of jobs.
As a graphic designer, you might be hired to create a logo for a business, to design a client's website, or possibly to create a magazine ad or poster.
You don't necessarily need a degree in graphic design to be hired as a graphic designer.
While some online companies require that their designers hold a degree, others are content to hire you as long as you are good at what you do.
There are websites that can teach you about graphic design too, so that you can learn what a graphic designer does and how they do it.
Companies such as 99 Designs and Design Crowd are often searching for designers to fill client needs or to add to their roster of available graphic designers.
This could be a great job for you if you have a degree in graphic design or you have a talent for designing logos, etc. and are willing to learn about the field.
12. Proofreading Jobs
Are you great at catching mistakes on written documents? If so, you might like working as a proofreader.
Companies such as Proofreading Services often hire proofreaders to work from home both on a full time and a part time basis.
The pay is decent: as of this writing the Proofreading Services website says they are currently hiring for jobs ranging in pay from $17 to $45 an hour.
If this is a job you might be interested in, know that a proofreading professional should be very detail oriented and have a thorough knowledge of English grammar rules.
If you need a little training, check out Proofread Anywhere.
Apply here: https://www.proofreadingservices.com/pages/careers
13. Virtual Assistant Jobs
As a virtual assistant, you might be hired to do a variety of business, secretarial and administrative tasks.
A company hiring for a virtual assistant may expect you to do some data entry, to do some light bookkeeping or to manage their social media accounts.
You may be expected to make phone calls or help with basic technical tasks. There are several companies that advertise for virtual assistant positions.
Belay Solutions offers virtual assistant work for companies from their pool of qualified virtual assistants.
You would apply to be on their team, and if accepted, would work as a contracted virtual assistant for a designated hourly wage.
Apply here: https://belaysolutions.com/services/assistants/
Time Etc. works similarly to Belay, hiring virtual assistants for a variety of different companies and tasks. They focus on mostly part-time jobs, providing short and long term virtual assistant positions.
Apply here: http://timeetc.com/us/be-a-virtual-assistant/
If you are good at being organized and helping people with a variety of different tasks, a virtual assistant position might right for you.
My friend Kayla is a virtual assistant who works from home and earns $10,000 per month. She's even started a course to help others do the same.
14. Translation Jobs
If you are proficient in a language other than English such as Spanish, German, or Italian, you may be able to find at-home work as a translator.
Translator jobs can consist of a variety of working capacities such as:
translating conversation during a phone call or conference call
converting written documents from one language to another
or translating in a virtual capacity during meetings or conferences.
Responsive Translation and Abercap are two of the companies that may be hiring work-from-home translators.
For others, you can do a Google search of "work from home translation jobs". Just make sure to check reviews before taking work from any online company.
Apply here: https://www.responsivetranslation.com/
Apply here: https://www.abercap.com/careers/
15. Resume' Writing Jobs
If you have a gift for writing persuasive, well-formatted resumes, you may want to consider working from home as a paid resume' writer.
Companies such as Indeed often advertise available positions for freelance resume' writers.
Apply here: https://www.indeed.com/q-Freelance-Resume-Writer-jobs.html
A professional resume' writer should have a thorough knowledge of the English language, and a gift for taking a person's work and education experience and turning it into an impactful, stand-out resume'.
For this type of job, impeccable grammar skills and strong communication skills are a must.
This is because the goal of your writing when creating a resume' is to convince potential employers that the applicant is the best person for the job.
16. Chat/Email Support Jobs
Some companies hire people to work from home to chat with customers or answer emails for their business.
The primary goal of a chat or email worker is to help a customer with questions about an order they placed, a product they need or a service they need.
With chat and email support jobs, you can work directly for a company as a chat advisor, such as with Apple.
Or, you can work for a company like Site Staff that provides chat services for other companies.
Apply here: https://www.apple.com/jobs/us/aha.html
Apply here: https://sitestaff.com/about
Summary
With the progressive environment that is today's working world, there are increasing opportunities for stay at home moms who are wanting to earn money from the comforts of home.
One of these legit jobs for stay at home moms could be just what you need in order to find your perfect work/life balance.