Delivering packages and hauling cargo can be an exciting way to earn extra money as you can have more variety than a standard delivery job involving passengers, meals or groceries.
Being a Roadie Driver lets you enjoy unique income opportunities for local and long-distance deliveries. If you want flexibility, you may like this side hustle app and can deliver by car, truck or van.
Our review can help you learn how to make money and if this app is worth your time.
Summary
Roadie lets you get paid weekly to haul packages by car, truck, van or trailer locally or over a long distance. Your delivery schedule is flexible and the app can help match you with relevant requests. You may like this service if you want to operate a personal courier service
Pros
Flexible schedule
Weekly or instant payments
Can receive customer tips
Only haul packages and goods
Cons
Must apply for each gig
May require heavy lifting
No rideshare insurance
Requires a car, truck or van
What is Roadie?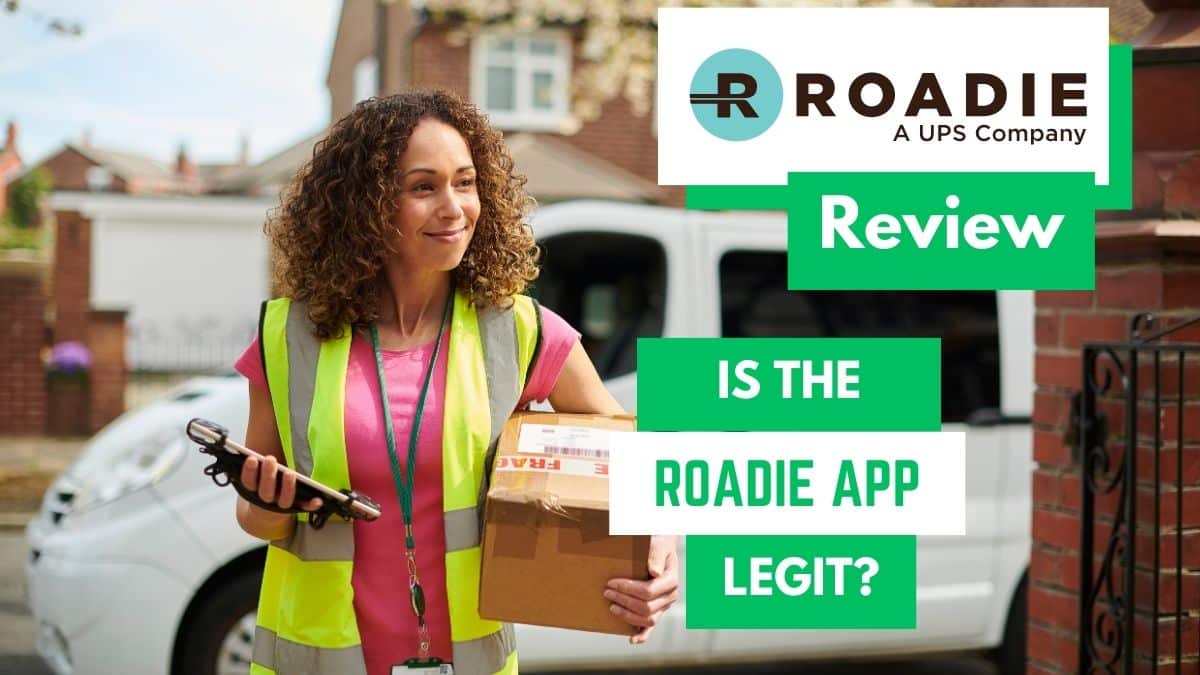 Roadie is a side hustle app owned by UPS where independent contractors make on-demand package deliveries for business clients. This service also has a special relationship with Delta Cargo to assist with same-day air cargo deliveries.
This platform is available nationwide and has flexible driver and vehicle requirements. You're eligible to drive if you're at least 18 years old, have a valid driver's license and own a reliable vehicle.
You can accept delivery gigs in the Roadie mobile app for Android and iOS devices to start making money in your free time. The app may also match you with relevant assignments to increase your income potential.
Anticipate delivering small or large items such as:
Appliances
Cookies
Exercise equipment
Flowers
Furniture
Luggage
Packages
Prohibited items include alcoholic beverages, explosives, illegal items, people and items weighing more than 400 pounds.
How Does Roadie Driver Work?
Here is what to expect as a delivery driver for this platform with getting assignments and getting paid.
Driver Requirements
You can start driving after satisfying these basic guidelines:
Are at least 18 years old
Have a Social Security Number
Have a current and valid U.S. driver's license
Can pass a background check
Maintain auto insurance that meets or exceeds your state minimums
The platform also requires you to obtain all necessary licenses and permits that can be required for certain vehicles or delivery gigs. For example, you might need a special license for your trailer or heavy-duty truck to comply with local or state regulations.
It's free to apply and the platform covers the consumer report inquiry fee to review your personal history. You will also receive a copy of your copy of the consumer report within 30 days.
You can have companions ride with you as you deliver. For instance, they may help you load or unload in addition to just being a friend or relative spending their free time with you for fun.
Vehicle Requirements
There are no minimum vehicle standards such as a specific model year or cargo capacity. However, you must have one of the following four-wheeled vehicles:
Your potential delivery assignments hinge on the size of your vehicle. Open assignments list the product dimensions and weight to help you decide if it's a good fit.
Roadie is one of the best ways to make money with a truck because you can be eligible for more delivery requests when you have a special driver certification.
Certain Roadie gigs require one of the following qualifications:
Cargo Trailer: Use a trailer to haul oversized, long-dimension, or heavy items. Delivery examples include lawnmowers and large timber.
Extra Equipped: The sender may require additional equipment such as a dolly, cart, ramp, blankets, or straps to safely deliver a heavy or fragile product like appliances or electronics.
TSA Certification: Have completed training from the Transportation Security Administration (TSA) to deliver air cargo. Certified drivers can deliver goods to an airport cargo facility.
When applying for a delivery request, you can list your qualifications and special equipment which can help convince the sender to choose you.
Choose Delivery Gigs
You will see open delivery requests in the app or online dashboard. Applying for one delivery or multiple assignments is possible when the routes overlap.
Each proposal includes your guaranteed payout, delivery route, package details and special instructions.
The gig size helps you estimate the package size:
Small: Size of a shoebox
Medium: Fits in the front seat of a car
Large: Fits in the backseat of a car
X-Large: Requires an SUV or a hatchback
Huge: Needs a pickup truck or similar capacity
Senders making the delivery request can review your profile experience and current location before approving your proposal. After receiving confirmation, you can head to the pickup location and start making the delivery.
In addition to applying for open gigs, Roadie implements a gig-matching feature to recommend your account for special requests.
The algorithm considers several profile factors to suggest ideal routes:
Vehicle size
Time of day
Previous delivery preferences
What you're currently delivering
Your current location
The app tries to offer an efficient experience for senders and drivers to minimize wait times and boost your effective hourly rate.
Weekly Payments
You will get paid weekly by direct deposit on Tuesdays. It typically takes from one to three days for the funds to appear in your checking account.
The Instant Payout feature is available to drivers that have completed at least five deliveries and have been an active driver for at least seven days. Same-day payouts cost $1.99 per transfer to a linked debit card when you have a minimum balance of $5.
Drivers won't pay any hidden fees and the guaranteed payout is your take-home pay. Senders may also include a tip that can increase your payment amount. You get to keep 100% of customer tips.
Depending on the gig, senders may reimburse tolls and parking during the active delivery time. You can request reimbursement starting 15 days after completing the gig.
Canceled Orders
Unfortunately, there are times when the driver or sender will cancel an order after it's been accepted by both parties.
Drivers receive compensation when the sender initiates a cancellation. The consolation amount depends on the size of the gig:
$4 for small, medium or large gigs
$6 for XL gigs
$8 for Huge gigs
Customer support is available 24/7 and drivers can cancel orders due to unforeseen circumstances or an unsafe environment. You can receive a courtesy payment when the sender or recipient is at fault.
However, drivers can receive poor feedback for canceling an accepted order for personal reasons. Too many poor ratings can cause your account to be suspended.
Insurance Coverage
The app doesn't provide complimentary liability coverage for most assignments and drivers must have adequate car insurance. Drivers should consult with their insurance carrier to determine if additional coverage needs to be added.
One exception is that California-based drivers are eligible for Proposition 22 Injury Protection Coverage.
You may consider other apps that pay you to drive if you want complimentary insurance. As a tradeoff, Roadie drivers have the ability to purchase discounted insurance products.
How Much Do Roadie Drivers Make?
Roadie discloses that the local gigs earn $13 on average. Reports from various drivers indicate that local deliveries earn from $8 to $30 and long-distance orders can earn up to $650.
The pay per gig depends on the item size, distance and the desired delivery speed. Some active drivers report earning over $300 per week but it depends on how often you're accepted for gigs, delivery details and your city.
It's possible to receive customer tips on orders. Additionally, canceled orders earn up to $8 in compensation.
How to Make More Money on Roadie
Here are several ways to increase your income and get accepted for more deliveries.
Bundle Deliveries
When possible, you can accept or get matched for multiple delivery gigs in the same trip. Prioritizing which order gets delivered first can help increase your driver rating.
If you have multiple vehicles, you can also choose a larger truck or van to carry bigger orders or several packages.
Have a Flexible Schedule
Flexibility can increase your acceptance rate when you're able to complete orders that other drivers are unable to. Demand varies by time of day and you might deliver during normal working hours. Other drivers have success by running errands during their daily commute.
Fast Delivery Speeds
Making quick deliveries means you're more likely to receive positive ratings and optional customer tips. Speedy service also helps you automatically get matched for higher-paying and urgent assignments.
Be Close to Pickup Locations
Senders usually receive multiple proposals and may choose the closest driver to minimize delays. Browsing the in-app map shows where most delivery routes are so you can stage yourself and quickly drive to the pickup location.
Alternatives to Roadie
These delivery app side hustles can provide extra opportunities to make money delivering food, groceries and packages.
Amazon Flex
Consider Amazon Flex if you live near one of the online retailer's distribution centers or Whole Foods. You will deliver multiple packages in a specific community. Your hauling capacity depends on your vehicle size.
As a driver, you can sign up for delivery slots of up to four hours at a time. You earn a flat amount for the delivery block and can receive payments on Tuesdays and Fridays.
DoorDash
DoorDash is one of the busiest meal delivery services in small and large towns across the country. You can choose your delivery hours and decide which restaurants to deliver for.
Similar to Roadie, each gig has a guaranteed payout plus optional customer tips. In select cities, you can also deliver by bike or scooter.
Instacart
As an Instacart Shopper, you shop for orders at local grocery stores and deliver them to the customer. You might like this income stream if you're efficient at buying groceries and know the layout of your local supermarkets.
You are able to deliver single or multiple orders simultaneously. Full-service drivers receive a guaranteed payout plus keep 100% of optional customer tips.
Frequently Asked Questions
Does Roadie Pay For Gas?
No, drivers are responsible for fuel expenses although some senders will reimburse incidental costs like parking and tolls.

Be sure to track the miles driven during active deliveries and unreimbursed commuting costs which can qualify as a tax deduction.
How Much Does Roadie Pay Per Mile?
There isn't a fixed rate per mile as several factors determine how much drivers earn, such as the item dimensions and urgency level. The average local delivery earns $13.

Lance, a Roadie driver, states that many gigs are approximately six miles total, but you must factor in loading times and traffic delays to estimate your hourly wage. Earning from $25 to $30 per hour with fast speeds and customer tips is possible.
Is Roadie Legit?
Yes, Roadie is a trustworthy side hustle app where multiple drivers have earned consistent income for several years. Additionally, its parent company is UPS.
What are the Roadie Driver customer service hours?
Live support is available in the mobile app 24/7. Drivers can contact support when making deliveries or while browsing open offers and updating their account profile.

There can be response delays and you can submit tickets for non-urgent matters.
Is Roadie Worth It?
Roadie is a legit app that can help you earn income by delivering lightweight packages or bulky items.
It can be worth it due to the variety of different offers from restaurant and grocery delivery apps you can make money from. Additionally, you get paid weekly and can receive customer tips.
It's free to join and worth seeing which gigs are available in your area. However, you will need to apply for positions and may need to be comfortable with lifting or hauling heavy items to earn consistent income.