Are you looking for the best places to sell silver flatware? Many people own silver flatware, whether it's a single piece or a whole set, but they never use it.
If your flatware doesn't have any sentimental value, you may want to consider selling it.
We have the scoop on where to sell your flatware, ways to determine if it's valuable and tips on how to get the best price.
Where to Sell Silver Flatware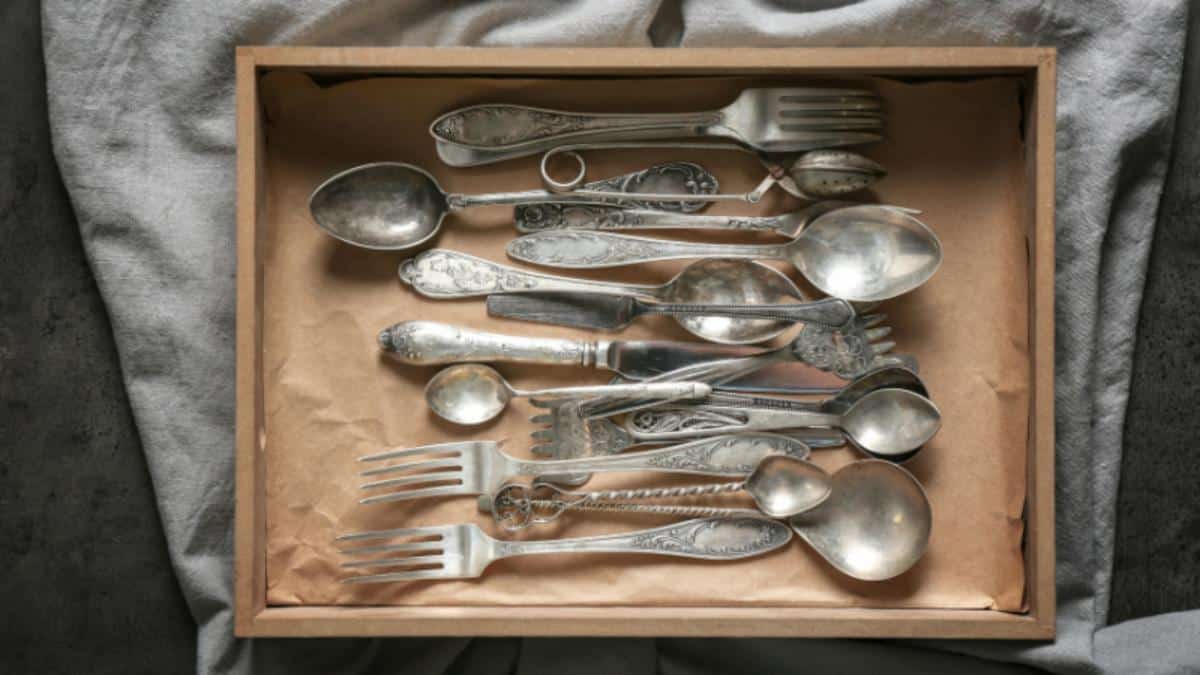 There are many ways to sell flatware. The one you choose will depend on several factors, including how quickly you need money, how fast you want your pieces sold and how much you hope to earn.
In alphabetical order, here are some of the most popular places people use to sell flatware.
1. Auction Houses
Auction houses will sell your silver flatware set when they hold an auction. Typically, this type of flatware sells best at auction houses when it holds value outside the silver's market price.
For instance, an auction house may be a good place to sell flatware if your family silver set is old or was owned by a well-known person in the 1800s.
Sterling silver generally will fetch the best price at auction houses compared to other types of flatware.
Keep in mind that you will pay a fee to sell your flatware at an auction house. 20% is not an uncommon selling fee if you choose to use an auction house.
Also, you could wait a while for your payout depending on when and where the auction house is holding the auction.
Pros
Competition can increase the selling price
Experienced experts determine the value
Cons
Selling fees can be high
Payouts take time
2. CashforSilverUSA
CashforSilverUSA is a company that specializes in purchasing fine silver from private parties.
This particular method of selling your flatware is easy. Whether you have sterling silver, silver plate or another type of flatware, you simply send it in using CashforSilverUSA's free shipping label.
This company insures your shipment, providing extra peace of mind. When they get your shipment, they'll analyze the flatware and email you an offer price.
If you accept the offer, you'll get your money quickly via PayPal or check. For values over $25,000, a bank wire is an option.
Its sister company, CashForGold USA, purchases gold jewelry and other items.
Pros
Get your cash quickly
Easy process
Highest offer guarantee
Cons
Shipping valuables can be stressful
3. Consignment Stores
You can try to sell your silver flatware set at a local or online consignment store. The best consignment stores will help you sell your flatware quickly.
With consignment stores, your flatware will be available for viewing. Potential buyers will have the option to buy or make an offer.
It's important to note that all consignment stores charge fees, some upwards of 40% of the sales price. Do your research and find the consignment store that best fits your needs and charges the lowest fees.
Pros
Online or in-store options
Can sell flatware faster
4. eBay
eBay is another option for selling your flatware. With eBay, you can choose an auction method where people bid during a certain time period.
Alternatively, you can set a flat sales price and hope people will buy your flatware. Fees with eBay vary based on what you are selling.
However, you can expect to pay roughly 15% if you sell your flatware on eBay.
With eBay, you can compare what other types of flatware, ster are being sold. This can help you set pricing for your items, whether they are sterling silver or silver plate flatware pieces.
Pros
Seller has control over the sale
Could get a higher payout
Cons
Seller handles shipping, insurance, etc.
Fees can reduce profits
5. Facebook Marketplace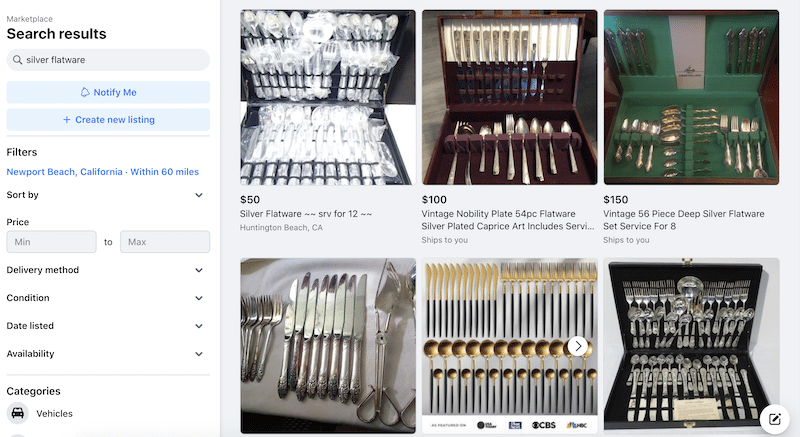 Facebook Marketplace has become a premier venue for selling personal items. As a bonus, there are often no fees at all.
This site may or may not be the best place to sell your silver flatware depending on how you choose to advertise your items.
For instance, if you sell through a community group instead of through Marketplace, you won't pay any fees. However, the reach when selling through a community page will be much lower.
Your reach with Marketplace can be greater, but you may incur fees.
Additionally, as with eBay, you can search to see what other people are listing their items for. Searching for terms like "sterling silver flatware" or "silver plated flatware" can help you price your set competitively.
Pros
Potential for no fees
Selling locally is easier
Cons
Potential fraud
Safety risks
6. Pawn Shops
Pawn shops are another option for selling your silver flatware. While you can find pawn shops near you easily, this isn't the best option for selling your flatware.
These shops buy items in order to resell them and make a profit. For that reason, you can expect an offer price that is much lower than what you'd get from places that specialize in buying silver.
While pawn shops let you sell your flatware quickly, you'll need to evaluate if the lower payout is worth the convenience.
Pros
Quick and easy sale
Widely available
7. Replacements.com
Replacements.com buys silver flatware and other valuable items from private parties in order to resell them on its website.
With Replacements.com, you can get an offer to purchase for your items online. If you are ok with the offer, you send in your flatware. However, you are responsible for shipping and insurance.
After mailing in your items, you'll receive a final offer 14 days after your shipment is received.
8. Silver Matching Services
Silver matching services help people who are looking for silver pieces to complete a set find the missing items for their collection.
Maxwell Silver Matching Service is one website that offers this type of service. If you have flatware you'd like to sell, you can contact this silver matching service directly to inquire about selling your items.
You'll generally receive a quote within one business day. If you accept, you will mail in your flatware. Maxwell Silver Matching Service will reimburse your shipping expenses and pay you via check.
Pros
Buys all types of silver flatware
Reimburses shipping costs
9. Silver Recyclers
Silver recyclers specialize in collecting precious metals in order to recycle them. There are online silver recyclers as well as in-person companies that recycle precious metals.
As with pawn shops, you might be offered a lower price for your flatware than what you'd be offered at a place such as CashforSilverUSA.
However, if you choose a local silver recycler, you can get your cash on the spot. Do an internet search for "silver recyclers near me" to find a location near you.
How Do I Determine What Kind of Silver I Have?
There are several different kinds of silver flatware, from sterling silver items to coin silver and more. Silver value depends on the type, and some types are more valuable than others. Here are some tips to help determine what kind of flatware you have.
Sterling Silver
When it comes to silver value, real sterling silver flatware is the most valuable type of flatware. By definition, sterling silver contains 92.5% pure silver (by weight) and 7.5% other metals (by weight).
Other metals used in sterling silver flatware are typically copper but can also include geranium, zinc and platinum.
Manufacturers use sterling silver flatware because of its hardiness. Fine silver (99.9% pure silver) is much too soft to be used in a flatware manner, making sterling flatware the premium product in this space.
If you are selling sterling silver flatware, take your time and shop around to get the best offer.
Silver Plated
Silver plated defines metal alloy flatware with a sterling silver coating or plating. The underlying metal in silver-plated flatware is often copper-based or nickel-based, combined with other metals.
Silver-plated flatware, including electroplated nickel silver flatware, has little value. Silver buyers won't buy silver plated flatware like they will when it comes to real sterling silver, although you may be able to sell it on sites like Craigslist or eBay.
To get the best value for your silver plated flatware, try listing on multiple sites and be patient as you wait for a buyer.
Coin Silver
The technical definition of coin silver, according to Merriam-Webster, is "the silver of the fineness legalized for coins (.900 in the U.S. and .500 in Great Britain).
You might be wondering what coin silver has to do with flatware. Coins were often melted down and made into flatware and other silver pieces in the late 18th century.
Wealthier families had this done because paper money was unstable at the time and coins were frequently stolen.
Coins were melted and made into family silver flatware and other serving pieces. Then, they were stamped with the purity level contained in the piece, usually around 90% (.900).
While silver flatware made from coin silver isn't as valuable as sterling silver flatware, these pieces are still quite valuable.
Hotel Silver
Hotel silver is silverware that was made specifically for hotels. This silverware doesn't have much in the way of silver value because it is silver plated.
However, you might be able to find some antique silver that has value simply because of its age.
That said, it won't bring the price that you'd get for authentic sterling flatware. But, it might be worth more than regular silver plated flatware.
How Can I Figure Out the Value of My Silver Flatware?
One of the easiest ways to figure out silver flatware value is to use an online calculator to determine silver prices.
In order to use an online silver calculator, you'll need to know the weight of your silver piece and the purity level of the silver.
You can usually find a stamp on the back of your flatware pieces that will indicate the amount of pure silver in the piece.
For instance, sterling silver flatware pieces are typically stamped with a symbol:
.925
.820
An English lion emblem with a raised paw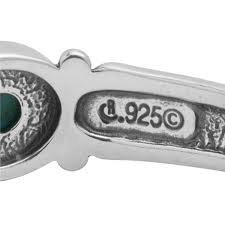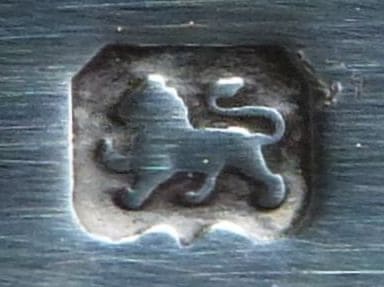 Entering the symbol of your sterling silver on the calculator as well as each piece's weight (use a kitchen scale for accuracy) will allow the calculator to give you an estimated sale price.
Regardless of if it's sterling silverware or another type of flatware, sale price is based on the current price silver is valued at. This does not mean that the price shown will be what you actually get for your silver piece.
Your final payout for the flatware depends on the company that you end up selling to.
You can expect at least a 20% reduction in the value shown due to fees paid to the company that purchases your flatware.
What Type of Silver Flatware is the Most Valuable?
The most valuable flatware is flatware that has the most sterling silver. Sterling silver flatware contains the most pure silver.
A piece of sterling silver flatware will contain 92.5% pure silver (by weight) and 7.5% other metals such as copper.
Fine silver, which is 99.9% pure silver, is very soft and therefore is not used when making silver flatware.
How Can I Get the Most Money for My Silver Flatware?
If you want to maximize your potential profits for your silver flatware, follow these tips.
1. Proper Storage
Storing your flatware properly, especially if it's sterling silver, is important for a couple of reasons.
First, proper storage will help keep tarnishes and scratches at bay. Second, it will help preserve the value of the flatware.
Whether you want to keep your flatware or sell it, preserving the value of your flatware is a good financial move.
But how can you properly store your flatware? Experts recommend only storing silver flatware in a cloth meant for doing so.
Use a silver flatware cloth bag that holds each piece individually. Many cloth bags are designed to roll up and have cloth ties included for efficient storage and space preservation.
Then, store your rolls of silverware in wooden boxes or china cabinets.
2. To Clean or Not To Clean?
How should you clean your silver flatware? Or should you not clean it at all? Does it depend on if it's sterling silverware or another type of flatware?
Cleaning flatware properly is important so that you can preserve it for years to come.
If your flatware is already tarnish-free and you use it during a meal, it is important to clean it as soon as possible after your meal.
Keep in mind that it is never a good idea to put silver flatware in the dishwasher. Instead, wash your flatware in warm water with a mild dish detergent.
If you want to deep clean your silver flatware for the purposes of tarnish removal, you have a couple of options.
First, try to remove the tarnish with a dry silver cloth, rubbing only as firmly as you need to.
If you need additional cleaning options, try this method:
Line a pot or roaster pan with aluminum foil
Place your flatware on top of the foil
Boil a separate pot of water
Pour the boiling water over the flatware (just enough to cover it fully)
Immediately sprinkle a quarter to a half cup of baking soda and two teaspoons of kosher salt into the pot, over your flatware and the water
Let sit for five to seven minutes
Remove the silverware, give it a quick rinse in warm water and dry it thoroughly
A Note About Silver Polish
You might be tempted to clean your sterling silver flatware with a silver polish cream that you find at the store or online.
Most silver experts agree that silver polishes should be used sparingly, if at all. The harsh chemicals in most silver polishes can cause damage to your flatware.
For that reason, it's best to use the methods above for cleaning your silver.
3. Shop Around for the Best Offer
It's important to find the right buyer in order to get the highest dollar for your flatware. This means that you'll likely have to shop around.
Get quotes from a variety of buyers. If you're considering selling to a private party on a site such as eBay, check the buyer's eBay rating.
Be safe when it comes to selling to a private party. Take proper precautions like meeting in a public space.
If you're considering selling to a business, check the business's Better Business Bureau or Trustpilot rating.
Lastly, if an offer seems too good to be true, it probably is. This especially holds true if the offer is from an unknown private party.
Take whatever precautions you need to take to avoid being the victim of a scam or theft.
4. Be Patient
Patience is likely the most important strategy when it comes to finding the best places to sell flatware.
This type of flatware is valuable and expensive, especially if you have sterling silver. There's probably not a buyer around every corner.
For that reason, you'll want to be patient, do your research diligently and be willing to wait for the right buyer to come along.
Summary
The best places to sell flatware will buy with honesty, integrity and offer you a fair price. It will also depend on if you have sterling silver, silver plate or another type of flatware.
Finding the right option will take patience and the willingness to do your research. Avoid pawn shops if you want to get the highest price for your flatware.

Instead, choose a buyer that is willing to give you a good price and deal with you in a professional manner. This can ensure you make the most money possible.