The ReceiptPal app will pay you just for snapping pics of your receipts and submitting them to the company. But can you really earn money this way? And if so, why would a company pay you for sharing pictures of your receipts?
This ReceiptPal Review (similar to our popular Ibotta review) will tell you everything you need to know about the ReceiptPal app so you can decide if it's right for you.

Summary
ReceiptPal pays you for scanning grocery receipts. Although the rewards points aren't going to win you oodles of money, it can help you earn extra money from something you already do.
Pros
Easy to use
Great customer service
Make extra money
Cons
Limited payout
Some limitations
What is ReceiptPal?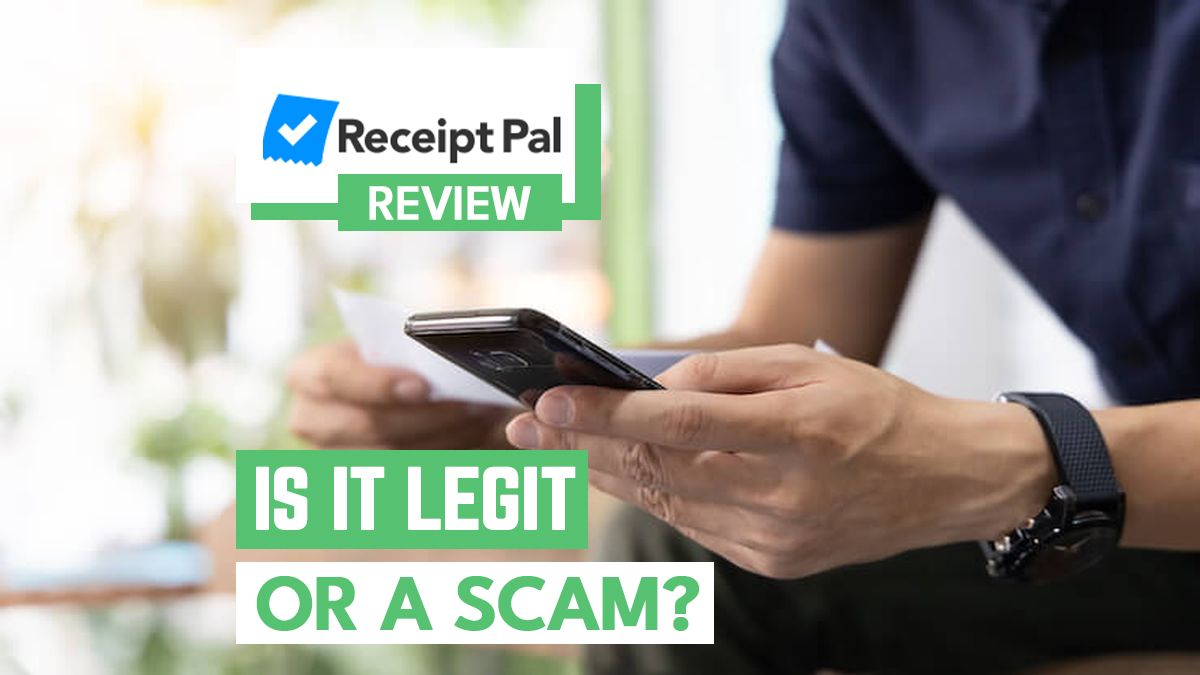 ReceiptPal is an app that lets you earn rewards for simply snapping pictures of grocery receipts and other receipts.
Using the ReceiptPal app is pretty easy, but there are a few things you need to know to maximize your earnings.
How Does ReceiptPal Work?
ReceiptPal is easy to use. You start by installing the app on your smartphone. ReceiptPal works with most Apple/IOS and Android phones.
Then, whenever you shop, you snap a picture of your receipts with your phone using your ReceiptPal app. ReceiptPal will reward you with points every time you submit a receipt using the app.
Typically, ReceiptPal approves your receipts and credits your points within 72 hours of submission.
Note that if the receipt is blurry or missing vital information, you won't get credited for your points. We'll talk more about what information you need on your receipt in the next section.
You can use the rewards to get gift cards from popular retailers. Also, you'll be automatically entered into ReceiptPal's weekly cash sweepstakes drawing giveaways.
What Kinds of Receipts Does ReceiptPal Accept?
You can submit pictures of any receipt from stores where you purchased things. Retail stores, restaurants, pharmacies, gas stations, convenience stores and clothing stores all qualify. Besides, you can even submit pictures from a car dealership purchase.
The receipts have to be from purchases that you or someone else living in your household made. Also, the receipt must include the name of the store, purchase date, the total amount spent and the phone number or zip code of the store.
Only receipts printed in English and paid for with U.S. dollars count. Currently, the store location where you make a purchase must be in the U.S., Puerto Rico, U.S. Virgin Islands or Guam.
Note: You must submit your receipts by the third day of the week after the week of purchase. So, for instance, if you make a purchase on any Sunday through Saturday, your receipt must be submitted no later than Tuesday of the following week.
We suggest submitting them right away for simplicity's sake. That way, you won't forget or miss a deadline.
Bonus: Note that you can earn points with ReceiptPal for online purchases as well. Simply connect your Amazon account or email address when you sign up.
FYI, only certain email providers are linked with ReceiptPal's online shopping rewards system, specifically:
AOL
Gmail
Outlook.com
Hotmail
Yahoo
If you're not using one of the email providers listed above, you may not be able to submit receipts from online shopping purchases. However, the company is continuing to explore the possibility of accepting emailed receipts from additional email providers.
ReceiptPal Makes Getting Points from Amazon Purchases Easy
Do you do a lot of shopping on Amazon? If so, ReceiptPal makes it extra easy to earn points from your Amazon receipts.
All you have to do is follow the ReceiptPal instructions (on the app) for connecting your Amazon account. Once you connect your Amazon account to your ReceiptPal app, points for your Amazon purchases are credited automatically – no snapping or sending receipt photos!
Plus, once your Amazon account is connected for over a month, you start getting access to bigger and better rewards through ReceiptPal.
What Kinds of Receipts Are Not Acceptable?
We thought we'd better share a bit about what's not an acceptable receipt too. That will cut down on any misunderstandings.
These types of receipts are not acceptable with ReceiptPal:
A receipt missing purchase date, store name or total price
Business or company purchases (personal purchases only, please)
Receipts with a $0 purchase value
Receipts used for returns
Lottery ticket or similar purchases
Purchases from third-party payment processors (i.e., Groupon or PayPal)
Dually submitted receipts (i.e., you and your sister both submit your grocery store receipt)
Blurry images
Screenshot images
There are a few other rules about submitting receipts too. For instance, handwritten receipts (for example, from smaller businesses) are not acceptable.
Receipts for money order purchases and bank check purchases aren't accepted. Also, the receipts you get from ATM withdrawals or deposits are not acceptable. See the ReceiptPal website for more details.
Related Article: 10 Places to Get Money Orders
What if My Receipt is So Long I Can't Take a Picture of It?
Sometimes, on a big Walmart run, you might have a really long receipt. For those types of receipts, ReceiptPal suggests taking a higher aerial pic of it. For example, you could place the receipt on the floor and snap it as you're standing up.
Some shopping rewards apps will allow you to send multiple photos of one receipt to get a close-up view of the receipt. But ReceiptPal can't process partial images of receipts.
Therefore, you need to get your entire receipt picture in one shot. If it's a clear photo, ReceiptPal will make it work.
What if My Receipt Gets Rejected?
If ReceiptPal rejects a receipt you provide, they will notify you. You must submit your dispute within 21 days of when you first presented the receipt. Then the company will look into it and guide you from there.
Because receipts can be rejected, it's important to keep them at least until you receive your reward points. You'll want to have them on hand if, during a dispute resolution process, you are asked to re-submit the receipt.
Are There Other Ways to Earn With ReceiptPal?
Every time you submit four receipts, you'll earn what's called a bonus game. Follow the instructions you get for the bonus game to win either rewards points or sweepstakes entries.
Also, from time to time, ReceiptPal offers a referral program. When they do, you can earn point credit for up to 25 successful referrals per month.
But this extra earnings option only works when ReceiptPal has its referral program in place. ReceiptPal will notify you if they're offering referral bonuses.
Do My Earned Points Expire?
Your earned ReceiptPal points will never expire – as long as you are an active member. In other words, they won't expire as long as you are submitting receipts on a somewhat regular basis.
However, if you fail to snap a receipt for 90 straight days, you forfeit all points, and your points "bank" resets to zero.
How Much Can I Earn with ReceiptPal?
When you join ReceiptPal, you'll get five Points Cards; each gives you the chance to earn up to 100 points. Every week after that, you'll get three Points Cards worth 100 points each.
If you fill them all up with receipts, you'll earn 300 points for the week (or 500 points the first week). Every four receipts earn 100 points. So, with twelve receipts for the week, you'll have fulfilled your maximum ability to earn during the week.
You can scan more receipts than twelve, but you won't earn points for those additional receipts. However, you will receive sweepstakes entries for them.
Note: It does take a lot of points to earn a gift card. As an example, it takes 350 points to earn a $1 gift card from Amazon. So it means you'll need 14 receipts to get that $1 gift card.
You do earn more the more that you save, so that is helpful. However, this isn't an app that will make you rich or cover your monthly grocery bill. But if you can get free money just for snapping pictures of receipts, why not do it?
What Are Users Saying?
We did check some trusted online sites for information on ReceiptPal. As of this writing, there is no listing for ReceiptPal on Trustpilot.
However, there is a Better Business Bureau (BBB) listing for NPD Group, the group that owns and runs ReceiptPal. NPD Group has been accredited with the BBB since 1972, but of course, ReceiptPal hasn't been around that long.
NPD Group's rating with the BBB is an A+. There were six complaints on the company's BBB page at the time of this writing. There was no indication as to whether those complaints were resolved or not.
Most of the criticisms listed revolved around technical issues. Plus, two complaints discussed not getting earned rewards.
Summary
ReceiptPal is a great app to earn free gift cards to retailers you love. You're going to shop anyway, so why not make some extra money for doing it?
Your store receipts could help you earn gift cards to retailers and cut down a bit on purchases you're making out-of-pocket. Or you could use your rewards to get an occasional treat for yourself.
Remember that your ReceiptPal rewards points aren't going to win you oodles of money. You won't be able to use it as a viable source of income that will lead to you being ready to ditch your day job. It's just an effortless way to earn a few extra bucks.