Is your old laptop taking up space in your closet or lost beneath a stack of books? Trading your laptop for money is better than letting it sit around collecting dust and it will help you afford a new one too!
How much you can get from your laptop depends on how old it is, the brand and the hardware and software it includes.
There are many options to choose from to sell your used laptop for a fair price. We'll let you know about the top places to sell laptops for cash.
Where to Sell Your Laptop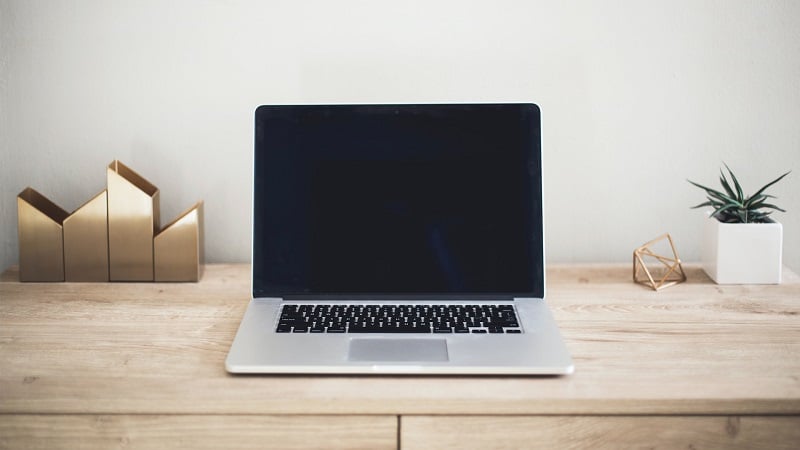 Here are the best places to sell your laptop.
1. Swappa
Swappa can help you sell your laptop for cash. The online community lets you create a listing using pictures and a description. Unlike eBay which charges you a fee, you won't pay a fee to sell your laptop on Swappa.
Instead, the buyer pays the fee as part of the final sale price.
Swappa lets you sell these laptop operating systems:
Macbook
Windows
Chromebook
The platform has a few restrictions on the condition of your machine. For instance, you can't sell your laptop if there is a crack on the screen or if any of the keys don't work or are missing.
You also can't sell a MacBook with a release date prior to 2012.
You can see estimated prices for similar models when listing your items.
In select cities, sellers can meet up with local buyers using the Swappa Local feature.
All in all, Swappa is a great marketplace to list your laptop for sale. Creating your listing only takes a minute, and accepting payment is easy since the buyer pays through PayPal.
2. SellCell
Find out how much your MacBook is worth in seconds on SellCell. While their name suggests you can sell cell phones, they offer the option to sell your MacBook for top dollar.
It's completely free to sell your MacBook on SellCell, and you can advertise your computer for sale to the top buyers. SellCell does all the work, comparing prices the best buyers are willing to pay, allowing you to get top dollar for your computer in one place.
SellCell has over ten years of experience selling electronics and works with top buyers to help you make the most of your computer.
All you have to do to sell your MacBook to SellCell is enter its information on its website, choose a buyer among the options provided, and ship your computer free of charge.
Once the buyer verifies the device, you'll receive payment.
3. Gadget Salvation
Gadget Salvation streamlines trading your laptop for cash. You enter the brand, model and condition of your device and the service will tell you how much it's worth.
The best part is they'll buy it directly from you, so there's no need to list your laptop, take photos or wait to find a buyer.
If you're happy with the amount, you ship the laptop using a free pre-paid shipping label.
You can sell other tech gadgets like tablets and phones too.
When it arrives, you can receive payment within 48 hours in these methods:
Check
PayPal
Venmo
Bank deposit
4. Decluttr
Decluttr can be the best option if you want to sell a variety of items with an instant buyback offer. One downside is the company only accepts Apple laptops built after 2012.
Laptop owners can start the selling process by entering their MacBook serial number and a basic condition assessment to get a quote.
You can also sell these items to Decluttr:
Smartphones
Tablets
Wearables
Books
CDs and DVDs
Lego
After accepting the offer, you receive a prepaid UPS shipping label. After a final inspection, expect next-day payment by direct deposit or PayPal.
Read our Decluttr review to learn more about quickly selling tech items.
5. SellBroke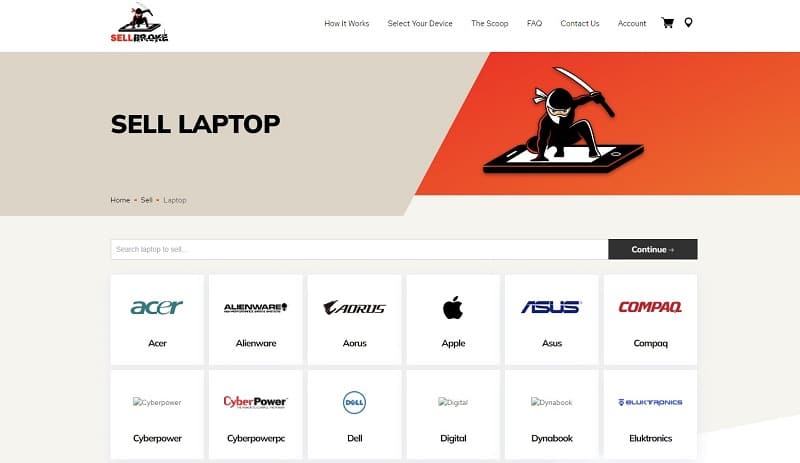 Sometimes laptops come with cracked screens or missing keys. While other places might not accept your damaged device, you can get cash for it at SellBroke.
Describe any problems during the quote process, and you'll get an offer in just a few minutes, even if your laptop doesn't work.
SellBroke will send you a free shipping label to use at UPS or FedEx. Most platforms only partner with one of the shipping companies.
Payment options include:
Google Pay
PayPal
Paper check
In addition to used laptops, SellBroke buys other tech items like phones and desktop computers. The platform also buys drones, gaming consoles and 3D printers.
6. Mac of All Trades
One of the best sites to sell your Apple laptop is Mac of All Trades. They've been a trusted site since 1995 and have paid out over $18 million to buy used electronics.
Like most other places to sell your electronics online, Mac of All Trades provides free instant pricing and free shipping.
You will submit a form and the service provides a custom offer.
To get the best price, make sure you ship all the original accessories with your laptop. Your offer amount could be less than you expect if you can't find the charging cable or the battery is missing.
Where they really shine is in the quick payment process. Mac of All Trades sends payment to you within three business days after your laptop arrives at their facility.
Your two payment options are PayPal and mailed check.
7. VarageSale
VarageSale is a virtual garage sale site that connects you with local buyers to sell your laptop no matter what condition it's in.
Download the app to get started. You'll upload up to five pictures of your laptop and add a description before posting your ad online.
Using the message option built into VarageSale, buyers can contact you if they have questions about your device. Arrange a time to meet to deliver the item, and you'll be on your way to getting cash from your laptop.
You can use this platform to sell your unwanted items from home in addition to your old laptop.
8. Gazelle
You might recognize Gazelle as a leading site for selling electronics. You can ship items for free or drop off at a local EcoATM kiosk.
This site specializes in helping you sell used cell phones, but they also buy tablets and MacBooks and other electronic devices.
The kiosks only accept phones, tablets and MP3 players, so the website is how you'll sell your laptop.
You get an offer in less than a minute and can print off a prepaid label to ship your laptop to them for free.
Payment options include:
Amazon gift card
PayPal
Paper check
It's also possible to buy used electronics on Gazelle to save money on your next upgrade.
9. Amazon
Amazon is a retail giant and is the go-to site for everything from an inexpensive box of Kleenex to a $2 million collection of signed NFL collector's items. But did you know about Amazon's trade-in program?
Check to see if Amazon will accept your device as a trade-in with just a few clicks on their site. The catch is that your device must function perfectly and have no cracks or other damage.
Shipping is free when you send in your item. And, if your laptop isn't accepted, Amazon will return it to you at no cost, too.
In exchange for your used laptop, you could get an Amazon gift card to use toward your next purchase.
10. eBay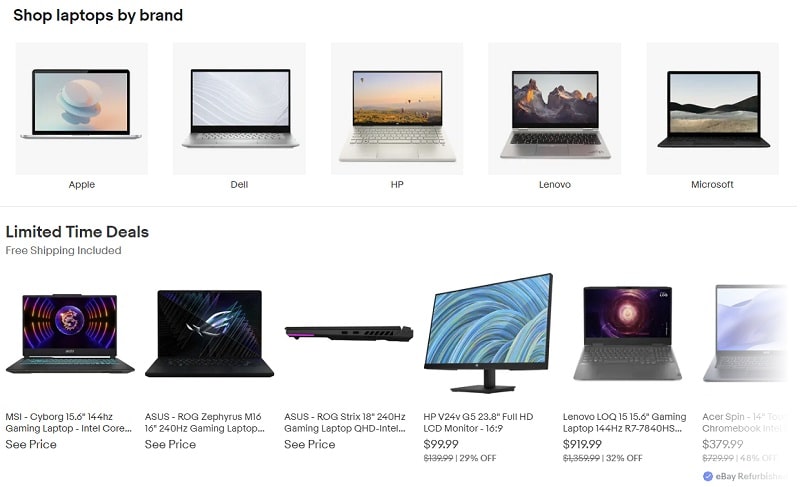 You might not think about selling your old laptop on eBay, but the site is for more than toys and collectibles.
The account is free to set up, and the platform walks you through adding a title, description and photographs.
When you're ready to sell, you pick a fixed sales price or set up an auction to sell your laptop to the highest bidder. You can also accept counteroffers if you wish.
eBay has built-in payment options, and the buyer can pay by PayPal, credit or debit card. Otherwise, if you're delivering the item in person, payment can be made upon pickup.
You will pay approximately 10% of the sales price in seller fees. If you offer free shipping, the seller covers the shipping costs.
Note: There are several other sites like eBay where you can also try to sell your laptop online.
11. Craigslist
Craigslist is one of the oldest local selling platforms and you can sell most items for free. When you want to sell your laptop locally, it's an excellent option to add some cash to your wallet.
There aren't any limits on the condition of your device, making this an excellent option if your screen is cracked or has other damage.
The key to getting a good price on Craigslist is including a detailed description and a lot of photos.
Seasoned sellers recommend a slight markup of the sale price. If you'd like to get $200 for your old laptop, you might set the price at $225 to make room for negotiating with potential buyers.
You can also use the platform to sell your car but you may need to pay a $5 listing fee.
12. Facebook Marketplace
Facebook Marketplace creates a public listing that anyone can see from the Facebook app or website. With over 800 million users, you get access to plenty of buyers.
The platform is one of the best places to sell your laptop locally as there are no fees. This local buy-and-sell app may also get more traffic than competing platforms like Craigslist.
Selling locally means there's no need to worry about packaging or shipping your device. Plus, the buyer can pay you in person when you meet them for pickup.
Buyers can also pay with a debit card and neither person pays fees. Sellers can deposit the cash into a linked bank account for free.
13. Facebook Groups
Before Facebook Marketplace was an option, many people looked to Facebook to make money. It's still available to use and can be a simple way to put cash in your pocket.
When you add your device to a Facebook Group, you can also choose to list it in the Facebook Marketplace. Going with both options means more buyers see your item and increases the chances of it selling for the price you want.
Buyers are usually local to your community or city, which makes arranging for pickup and payment easy.
14. Best Buy
Best Buy's Trade-In program will buy most of the top laptop brands. This can be a good move if you want to buy your next laptop from Best Buy.
The downside is they pay you with Best Buy gift cards instead of cash. Although this isn't a bad option if you need help paying for a new machine.
To start, choose the brand, model and condition of what you're trading in. Best Buy will give you an estimate of how much they'll pay for it.
You can mail the item or stop into a participating location to trade your laptop at a store.
15. OfferUp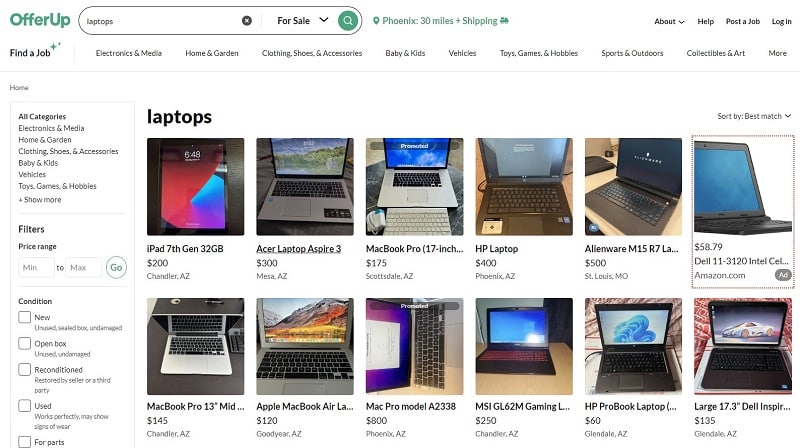 Another site specializing in local sales is OfferUp. You'll connect with buyers looking for a great deal on a laptop in your community or nearby town which eliminates the hassle of packing and shipping your device.
You can also ship items to long-distance buyers and the buyer pays for shipping. However, sellers pay a 12.9% service fee ($1.99 minimum) on these orders.
The online video on their site walks you through the steps to make the most of your listing. Plus, there's a free app that lets you list your item in less than 30 seconds.
What To Do Before You Sell A Laptop
To get a good price, you'll need to locate everything you want to sell with it such as manuals, charging cables, a laptop bag or other accessories.
You also should make a list of any damage to the machine or problems you've noticed with the laptop.
And don't forget to back up and erase all the personal data from your laptop before you pass it off to someone else.
Check out this video on resetting your computer back to factory settings:
Once everything is stored, follow the system settings to reset your laptop to factory settings and list your laptop for sale with one of these top companies.
Be sure to include multiple photos to help your machine sell faster.
Frequently Asked Questions
What is the safest way to sell a laptop?
While selling a laptop can be risky, selling through a platform like eBay or Swappa can ensure that the buyer is legit.
Can I sell my laptop somewhere near me?
You can easily sell your laptop to a pawn shop near you. However, just know that they will not pay you what you could get by selling on the other platforms above.
Why do I need to reset my laptop before selling it?
It is important to reset your laptop so that none of your personal information is accessible by another person. If it was, it could make it easier for identity theft to occur.
Summary
With so many options, selling your laptop for cash is a breeze. The hard part is deciding how much your laptop is worth.
No matter which site you use to sell your device, Gadget Value can provide an instant quote for a variety of different brands and conditions.
You can also do an eBay search to find out a fair price before listing it for sale.
What are you waiting for? Dig out your old laptop and dust it off for a chance to get some extra money.