Most people would love to earn extra cash or a free gift card. Unfortunately, many options to grow your bank account can seem like a trap or a scam.
Luckily, there are legitimate opportunities out there. FeaturePoints is one easy way to earn extra funds in your spare time.
Our FeaturePoints review can help you decide if the platform is a good way to add some cash to your wallet.
Summary
There are several ways to make money with FeaturePoints. It's not an opportunity to get rich, but you can turn your spare time into cash.
Pros
Easy to get started
Low cash out threshold
Many cash out options
Cons
Points can expire
Relatively low pay per activity
What is FeaturePoints?
FeaturePoints is an earning platform that is available as a mobile app in both the Apple App Store and Google Play Store. Better yet, you can access it through your desktop computer.
Make sure to use referral code: C8MNU
You can use the platform to earn money by taking surveys, getting cash back, downloading apps and more. It only takes a few minutes to start racking up rewards for cash or gift card redemptions.
The platform has built a relatively positive reputation among users and lets you redeem your rewards for various gift cards, cryptocurrency and more.
Is FeaturePoints Legit?
Yes, FeaturePoints is a legitimate opportunity that has paid over 5.8 million in rewards since it has launched.
Not only has the platform earned many positive reviews from customers, but it also has an extensive track record of paying out earnings to its users.
Ultimately, FeaturePoints is a legitimate way to earn money online.
How Much Does FeaturePoints Cost?
FeaturePoints is a free app. You'll have the option to earn money without having to pay to access the platform.
Typically, any survey site that asks for a payment is a scam. If you are on the fence about a particular website and it requires a fee to get started, that is a huge red flag.
Steer clear of any survey platforms or other online earning opportunities that require your credit card information to begin.
While FeaturePoints is free to use, it's important to remember that certain opportunities may require you to buy something to get rewards since they contain affiliate partnerships.
The cash back earning option falls into this category.
Luckily, with this opportunity, you can shop at your favorite stores and get cash rewards on purchases you were likely going to make anyway.
How Do You Make Money From FeaturePoints?
Within the app, you'll find several different ways to earn money.
Here are some of the most popular options:
Take surveys: Answer questions based on your experience
Downloading apps: Download apps for free to get points
Offers: Earn points for completing certain offers (may cost money)
Win: Get points from instant win contests
Earn cash rewards while shopping: Earn cash rewards for your purchases
Share the app: Get points for referring friends via the referral program
FeaturePoints Payouts
After you complete tasks with FeaturePoints, you can start cashing in your rewards.
Here's a breakdown of the FeaturePoints payout system.
How Does FeaturePoints Pay You?
As you complete tasks, whether you download apps or complete surveys or choose another opportunity, you'll earn points.
When you have enough points, you can redeem them for a reward of your choice and get paid.
The available rewards include:
PayPal
Visa
Bitcoin via Coinbase
A variety of gift card options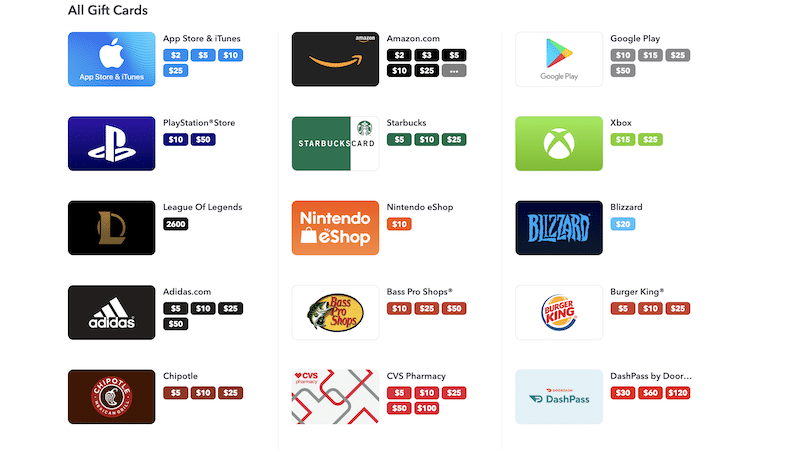 A few of the most popular gift card redemption options include:
Amazon
Starbucks
Playstation
Walmart
eBox
And more
The ability to choose how you receive your rewards is a nice perk. With many options to select from, you'll have no trouble finding something that fits your preferences.
How Many Points Do You Need to Cash Out?
Based on what reward options are available, it appears that the redemption threshold varies.
You'll need at least $2 worth of points for some of the available gift certificates, like Amazon gift cards. However, you'll need at least $5 worth of points to cash out via PayPal cash and $10 for a Bitcoin reward.
A $2 gift card is worth 2,000 points, which means that $1 in rewards is equal to 1,000 points.
Importantly, if you haven't used or visited FeaturePoints in over 60 days, then your free points will expire and you won't get paid.
As a result, you'll want to make sure you remain active on the site so that you don't lose your earnings.
How Quickly Does FeaturePoints Pay You?
In general, you can expect to get paid within five business days. But, in some cases, you might receive your reward in less than 24 hours.
How Much Money Can You Make With FeaturePoints?
The amount you can earn with FeaturePoints varies widely and can depend on if you download apps, take surveys or use the referral program.
Most people can earn $20 to $30 per month with a reasonable amount of effort. If you have a lot of time to commit, you could earn more.
It's important to note that FeaturePoints is unlikely to replace a major portion of your income. But, since extra cash is always nice to have, the platform is still a worthwhile option.
Additionally, users with a large network could earn more with the help of FeaturePoints' referral code system.
Depending on the size of your network, you could potentially see a decent profit from the platform.
How Much Does FeaturePoints' Referral Program Pay?
When you refer friends to FeaturePoints, you'll get paid up to 50% of all the free points they earn. Plus, your friends will get 50 free points when they use your link.
Since there is no limit to the number of friends you can refer, it's possible to earn a substantial amount of points each month if you refer enough people.
With this referral feature, points accumulation can happen much faster and make the platform more lucrative.
What Are the Best Ways to Make Money With FeaturePoints?
The best ways to make extra money with FeaturePoints varies based on your goals and comfort level.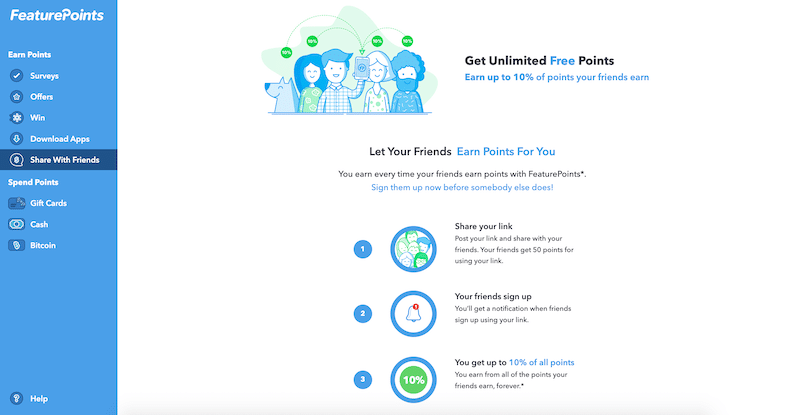 For those willing to share their experience with their friends and potentially a wider audience, that's where the major earning potential is.
With this feature, points you accumulate are almost passive income.
Avid shoppers may find that using FeaturePoints to earn cash rewards is the ideal way to use the platform to maximize their rewards.
Otherwise, for those who enjoy things like taking surveys or downloading apps, completing those tasks could be a great way to make some extra money with the platform.
FeaturePoints Positives and Negatives
Every website has advantages and disadvantages. Here's what to consider when it comes to FeaturePoints.
Pros
Easy to start earning points
Low payout threshold
Potentially lucrative referral program
Several ways to earn
Download via the Apple App Store or Google Play
Cons
Points expire after non-use
Won't replace your day job
FeaturePoints Reviews
Feedback from FeaturePoints users can help you determine whether or not this app is the right fit for you.
Here's how the app stacked up on various review sites:
These are a few excerpts from reviews left by FeaturePoints users:
"Great app. High paying surveys and (only) 1 high paying game. There is only one problem: the "pending" surveys take 15 to 40 days before being available. Take that pending system and the app will be a 5 ⭐ app." – S. Diatta
"Every single Survey I try it always says I'm not eligible. A few of them have even wasted 5 minutes of my time before telling me that. I don't understand why, but I can't complete any of them." -N. Tunnicliffe
"Good company. I have always received PayPal payouts and Amazon gift cards." – S. Younis
"Whenever I try to open and answer your surveys, it always says that I'm not qualified to answer much further and that seems to be intentional. For some reason, this isn't a great app to spend my time on." -R. Garcia
Who Should Use FeaturePoints
If you are willing to commit to relatively small tasks when you have spare time, the free points you earn on FeaturePoints can add up. Plus, it's a useful way for online shoppers to tap into cash back opportunities.
Additionally, it could be a good opportunity for content creators looking to build out an income stream through the platform's referral code program.
Who Shouldn't Use FeaturePoints
Unfortunately, FeaturePoints is not for everyone.
The site will not replace your day job's income. It's a nice opportunity to take advantage of if you have a few minutes to spare, but it's not the right fit if you are looking for a way to replace your income through an online side job.
People who need to earn more money may want to consider opportunities like freelancing, driving for delivery apps or taking on a part-time job.
FeaturePoints Alternatives
If FeaturePoints isn't right for you, there are other survey sites that are worth considering.
Some of the top options include:
InboxDollars: Earn money by completing surveys, surfing the internet, watching videos and more. Read our InboxDollars review to learn more.
Rakuten: Receive between 1% to 40% back on purchases through your Rakuten account. Read our Rakuten review for more details.
Swagbucks: Earn free gift cards for completing tasks like answering surveys, watching videos and more. Learn more in our Swagbucks review.
Summary
FeaturePoints offers a way to earn points that can be exchanged for cash via PayPal or gift cards to popular retailers. Make sure to use referral code: C8MNU
Keep in mind the opportunity won't replace your day job. However, if you are looking for an easy way to turn your spare time into a small payday, then consider giving FeaturePoints a try.