If you're looking for a way to make extra money but aren't interested in working for Uber or DoorDash, you might want to consider Gopuff.
This delivery service lets you make money weekly by delivering convenience items from one central location.
While it's currently not in all cities, it's expanding quickly and may soon be available in your area. Our Gopuff driver review can help you determine if this is the right platform to put some extra cash in your bank account.
Summary
Gopuff can be a lucrative way to make extra money without a lot of driving around to pick up products or people. The pay is lower than other services, but the money saved on gas can be worth it.
Pros
Fast registration process
Only one location to pick up products
Keep 100% of customer tips
Cons
Pay is lower than other services
You must sign up for shifts ahead of time
What Is Gopuff?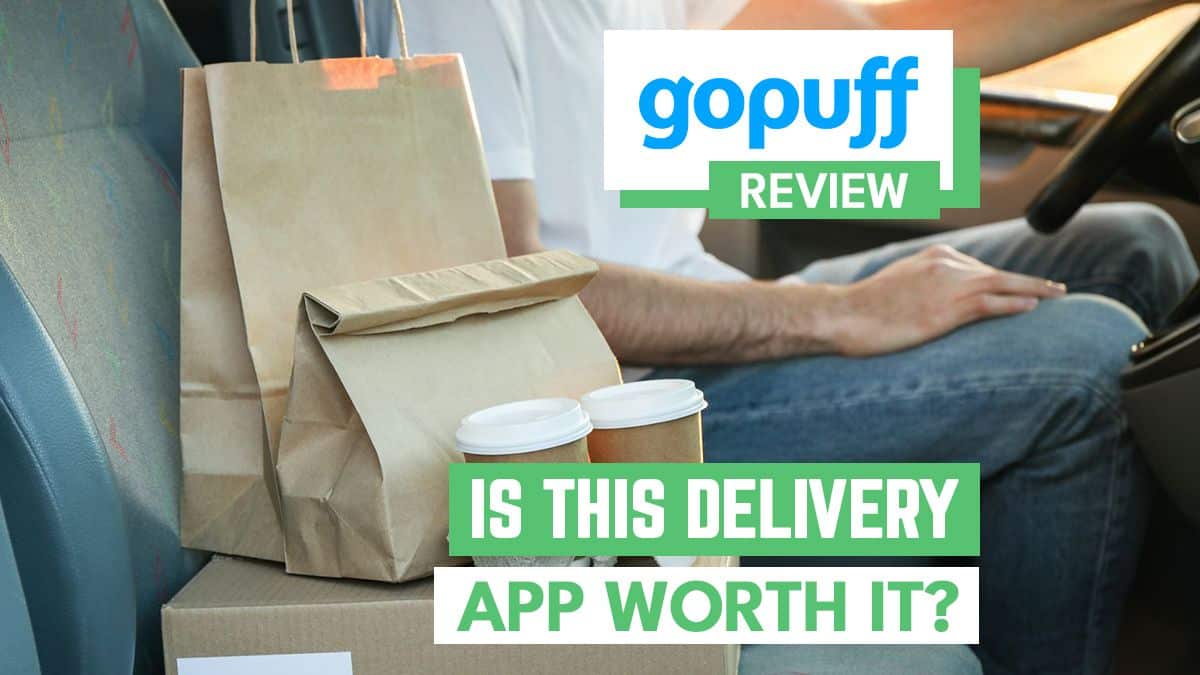 At its core, Gopuff is a convenience item delivery service. It's like an Amazon but focuses on products you'd find at CVS or Walgreens.
Customers order items they need, like food, medicine, grooming, or personal care products. They then pay for them in the app, and a Gopuff driver delivers them.
The nice thing about Gopuff is that drivers don't have to deal with smelly food in their cars or travel to multiple stores or restaurants to pick up orders. Instead, everything is centrally located at the Gopuff warehouse.
Better yet, Gopuff drivers can work solo, so they don't need to worry about picking up people to take them to different places. This can be ideal for introverts who'd prefer to avoid driving for Uber or Lyft.
How Does Gopuff Work?
To drive for Gopuff, you must reserve shifts within the app. This differs from DoorDash or Uber, where you can make yourself available anytime by turning the app on.
In many markets, Gopuff is available 24/7. However, the most popular times for deliveries can vary.
During your scheduled shift, you show up at the Gopuff fulfillment center and wait for orders.
This is another difference vs. most other delivery apps. With Gopuff, you're at the facility waiting for orders. Most other delivery apps only require you to show up at the store or restaurant after you accept an order.
The good news is that you won't drive more than 30 minutes for a delivery since that's their boundary limit.
Who Should Use Gopuff?
If you're the type of person who likes a predetermined schedule and doesn't like driving to a bunch of different locations to pick up items, Gopuff could be a good alternative.
However, if you're a night owl or only have free time late at night, Gopuff may not be the best option since their most popular hours tend to be daytime deliveries.
Gopuff Driver Requirements
To drive for Gopuff, you must meet a few requirements.
These include:
Being at least 21 years old
Having a valid driver's license
Owning a smartphone
Having a reliable car with registration and insurance
Passing an alcohol delivery training course
How to Start Earning With Gopuff
It's easy to start earning money with Gopuff using these steps.
1. Complete the Online Application
Gopuff's online application takes only a few minutes to complete. First, they ask for basic information, including your location and where you want to work.
During the process, they'll ask for documents to verify your identity and set you up to receive payments. This may include your government-issued driver's license, W-9, car insurance and registration.
2. Sign the Independent Contractor Agreement
After completing the application, you'll sign an independent contractor agreement. This says that Gopuff isn't hiring you as an employee and that you are responsible for your expenses and tax reporting.
As with any contract, you should read the entire agreement to make sure you are okay with the terms before signing it.
3. Background Check and Document Approval
Once you've signed the agreement, Gopuff will run a background check. This could take a few days to come back, so be patient.
In the meantime, they'll verify your provided documents and ask for further documentation if necessary.
4. Schedule Orientation
If you're working in an area that delivers alcohol, you'll take an alcohol delivery training course to ensure you understand the requirements.
Drivers who aren't delivering alcohol or have completed that training will undergo an onboarding session and watch training videos to ensure they understand how the job works.
5. Start Working
After approximately two weeks, you're ready to start working. You'll select your shifts, show up at the warehouse on time and wait for orders.
How Much Can You Make With Gopuff?
You won't get rich driving for Gopuff, but it can provide supplemental income. Deliveries pay between $2 and $5 each and vary by location.
Like most delivery apps, they pay a flat rate per delivery, plus you keep 100% of the customer tips. Gopuff also has a guaranteed earnings rate, so they'll subsidize your earnings if you don't reach the minimum threshold.
For example, if their guarantee is $14 an hour and you make one delivery for $5 that hour, they'll subsidize the additional $9 for that hour.
Gopuff often runs promotions or challenges as well, which can increase your income. On average, the platform states that drivers make an average of $14 an hour.
Gopuff Costs to Consider
As a Gopuff driver, you must cover the costs of making the deliveries, which can eat into your earnings.
Expenses will vary for each driver, but you'll generally pay for the following:
Gas
Car repairs
Wear and tear on your car, such as oil changes, new tires, etc.
Tolls
Parking
Car insurance
Also, don't forget that your tax liability will be higher since you are an independent contractor.
Gopuff Payout Terms and Options
Unlike other apps that may have more complicated payout schedules and options, Gopuff is relatively straightforward. The platform pays direct deposit weekly.
It currently doesn't offer any options for immediate payouts.
Gopuff Features
As you consider working for Gopuff, understanding its features can help you determine if it's the right choice to help you make money driving.
Flexible Scheduling
While you must schedule your hours ahead of time, you can choose when you work.
You don't have to fill out an availability sheet or work the hours they schedule you to work. Instead, you choose the hours yourself, working as much or as little as you want.
Micro-Fulfillment Centers
Gopuff has 250+ micro-fulfillment centers, so you don't have to drive around to multiple stores. Instead, you go to the location where orders get fulfilled and take all your orders at once. Then, you create the delivery route that makes the most sense.
Not only can this save you time, but it can cut down on how much gas you have to use. This is particularly beneficial since drivers throughout the country are feeling the impact of high gas prices.
Contactless Deliveries
You have the option to drop deliveries on the customer's doorstep and not have to be around other people while working for Gopuff.
Gopuff Reviews: Is Gopuff Legit?
Understanding the experience others have had with an app can help you decide if it's the right platform for you.
Here's how Gopuff stacks up on the different rating sites:
These are a few Gopuff review excerpts from app users:
"Had an issue with an order. Went on customer service and Lauren sorted it out quickly. You speak to many customer service members and I don't think I've had one as efficient, well informed." – Scot M.
"They need to do a Pin location for the address. Their drivers spend too much time looking for exact apartment buildings/numbers. Don't know why they are late to this, all other major food delivery apps have that feature." – Joshua D.
"Great service… Their customer service is also very helpful and understanding." – Amina A.
"I am a driver and I am owed over $100 by gopuff. They have failed to pay me money I am rightfully owed. I have emailed gopuff asking for my money and they will not even respond to me." – Keith V.
Gopuff Pros and Cons
As with any side gig, evaluating the pros and cons can help you determine whether or not to give it a try. Here are the perks and downsides of Gopuff.
Pros
Set your own hours
No driving to multiple pickup locations required
Offers guaranteed earnings
Occasionally has promotions
Cons
Most popular hours tend to be during the day
Pays less than other delivery services
Only available in certain cities
Gopuff Alternatives
If Gopuff doesn't sound like the ideal platform for you, there are other delivery driver apps you can use to make extra money. Here are some of the best alternatives to Gopuff.
DoorDash
DoorDash is a delivery service that delivers takeout orders from participating restaurants to customers. Drivers set their availability to on and accept orders as they are placed, picking the order up from the restaurant and delivering it to the customer.
The app pays an average of $15 per hour with tips and is available in most U.S. cities. In addition, drivers only need to be 18 years old with reliable transportation to work for the app.
Grubhub
Grubhub is another restaurant delivery service that aggregates orders from multiple restaurants in the same area. It works much like DoorDash and is available in 4,000+ cities.
Drivers choose their own schedules and select the orders they want to deliver. Grubhub drivers earn a flat delivery fee plus 100% of the customer tips.
Shipt
Shipt is a grocery delivery service. Drivers must be at least 18 years old with a valid license and insurance, have a vehicle, smartphone and be able to lift 40 pounds.
Shipt is more work than Gopuff because you must shop for the order, which can take 30 minutes to an hour, plus deliver it. Like most apps, Shipt drivers make a flat fee plus customer tips. Drivers earn an average of $14 to $21 per hour.
Gopuff FAQs
Do you still have questions about whether or not Gopuff is the right side hustle app for you? These answers might be able to help.
Summary
If Gopuff is in your area and you like having only one location to pick up deliveries, the platform can be worth it. The pay is slightly lower than competitors, but you don't have to drive all over town to pick up orders.
While you won't pay the mortgage with your earnings, this is a great side hustle idea that can help boost your earnings and move you toward achieving your financial goals.