Everyone could use a bit of extra money, but finding a side hustle or taking on extra hours at work can be difficult and time-consuming.
In this review, we will look at Misplay and how you can make money playing games.
Summary
Mistplay pays you to play games, but the earnings can be slow. This may be one way to make money but it is not a full-time gig.
Pros
Multiple payment options
Fun games
Easy to use
What is Mistplay?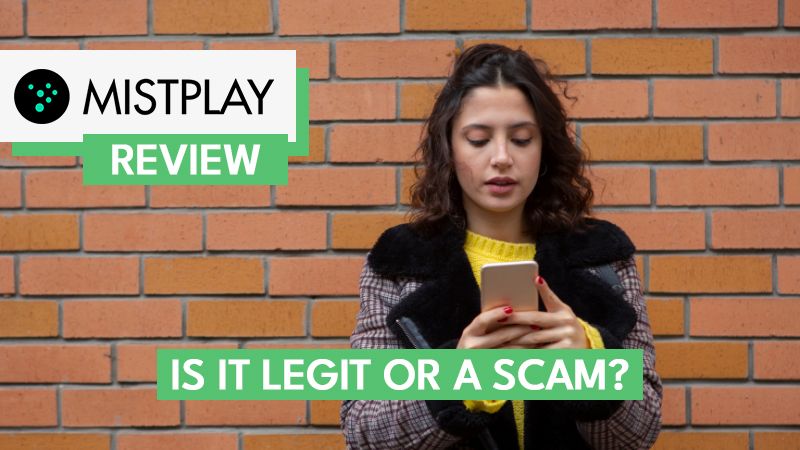 Mistplay is an Android app that you can download from the Play Store. When you open the app, you'll see a list of games available to play. You can select a game and start playing whenever you'd like.
It is similar to other services, such as InboxDollars. As you play, Mistplay rewards you with GXP, PXP and Units, which you can redeem for rewards like gift cards.
You can focus on a single game within the Mistplay app or jump from game to game. That makes it great for focused gamers or those who like to dabble in a variety of genres.
How Does Mistplay Work?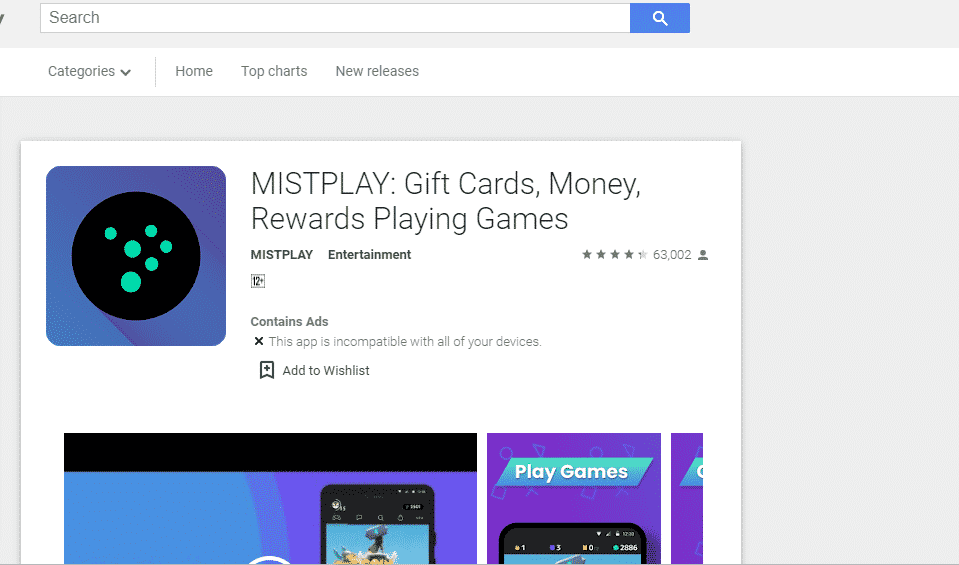 When you download Mistplay, you'll have to set up an account and provide some basic information about yourself.
You'll also have to change a few settings on your phone, including turning off power saving options and giving Mistplay the ability to monitor your app usage.
The app needs to track how you use it to be able to reward you for playing games.
Based on your location, Mistplay generates a mix list of games for you. You can select any number of games to download and start playing.
Who Can Use Mistplay?
Mistplay places relatively few restrictions on who can use the application to play games and earn rewards.
First, Mistplay is only available for devices running the Android operating system. So if you own an iPhone or an iPad, you're out of luck. But, if you really want to use the app, you could try purchasing a used Android to get started.
Second, you must be eighteen or older to download and play games through Mistplay. If Mistplay finds out that you're under eighteen, it will terminate your account and rescind any rewards it provided.
If you own an Android and are eighteen or older, you're eligible to use Mistplay to earn money from your phone. However, your physical location does impact the number and variety of games that you can play.
You'll also have to allow the app access to some of your device information, such as app usage statistics.
Can You Earn Money With Mistplay?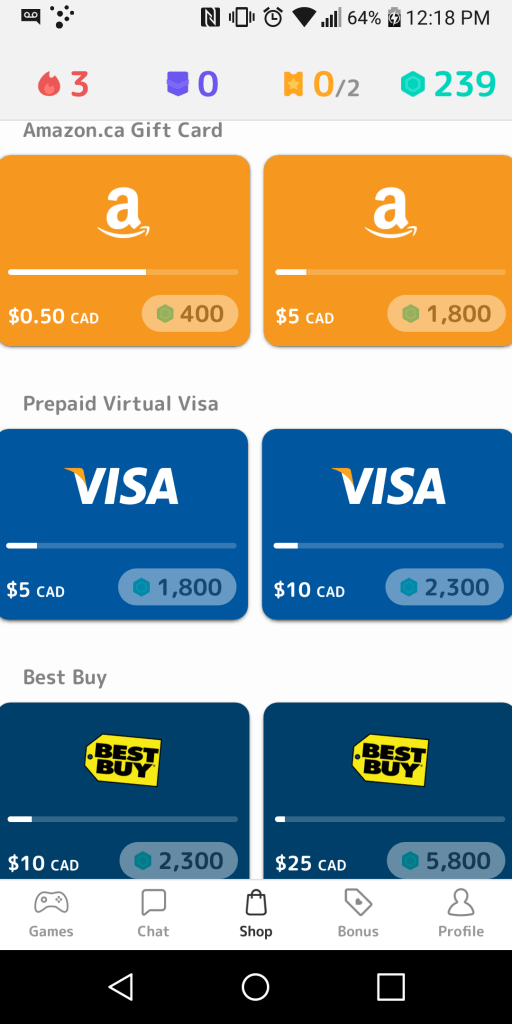 Mistplay rewards its users when they play games with a variety of currencies. Units are the currency that you can redeem for rewards, including Amazon gift cards. In general, you can redeem 1,500 units for $5 worth of gift cards.
Lots of people are frequent Amazon shoppers, so using the Amazon gift cards that you earn is easy. Even if you don't use Amazon, you probably know someone who does, which makes it easy to trade the gift cards for money or give them away as gifts.
Ways to Make Money with Mistplay
Mistplay awards three types of currency, which are based on your use of the app.
1. Units
Units are the currency that you can redeem for rewards like Amazon gift cards. The more you play games through Mistplay, the more Units you earn and the more gift cards you can get.
Keep in mind that the available rewards and the cost of each can change at Mistplay's whim. If you're saving up for a big redemption, you may find that the option disappears or gets more expensive.
You might be better off making smaller redemptions to secure your Units' value.
The number of Units you earn for playing a game can also vary. So just because you received five hundred Units for an hour of gaming yesterday doesn't mean you'll get the same number today.
Mistplay also has a referral program where you can earn units by referring friends to the app.
2. GXP
Mistplay gives you GXP, also called Game Experience Points, whenever you play a game through the app. You earn GXP for each game you play, and the GXP you receive is tied to individual games.
If you spend an hour playing a kingdom building game, you'll earn GXP for that game. But, if you move to a new game, you'll have zero GXP for the new game. However, you'll retain your GXP in the kingdom builder.
The more GXP you have in a game, the more units you'll earn for playing that game. In effect, you're rewarded for focusing on a single game by increasing the speed at which you can receive gift cards.
You earn GXP based solely on the amount of time that you spend playing a game, not on your skill or success. So you can earn GXP with pure dedication, even if you aren't very good at a game.
3. PXP
PXP, or Player Experience Points, are applied to your Mistplay account as a whole and travel with you from game to game, unlike GXP. You earn PXP whenever you play a game through the app.
Like other online games, such as Second Life, Mistplay gives you an avatar you can customize and use to interact with other plays. Earning PXP unlocks modification options so you can make your avatar stand out.
Your PXP level also affects the rate at which you earn GXP. So, the longer you use Mistplay, the faster you can earn Units.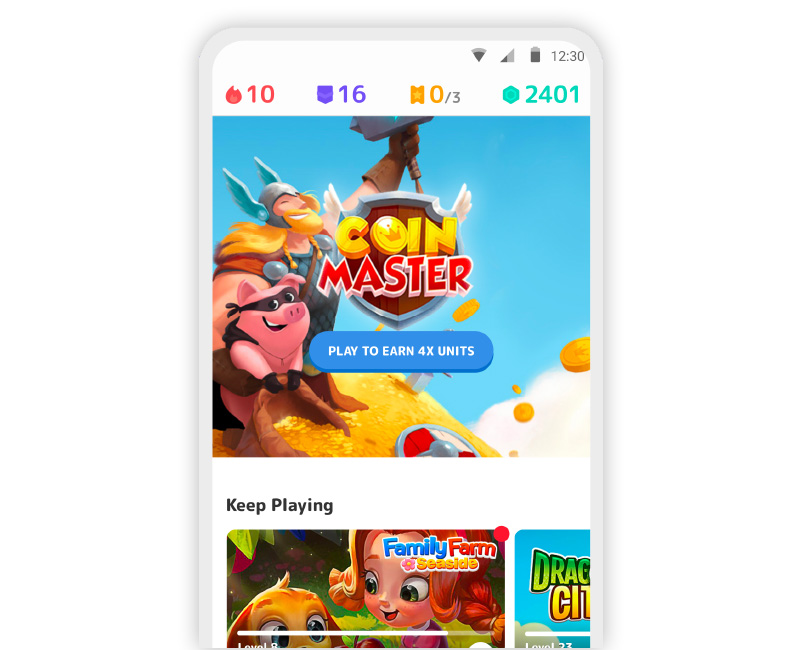 Other ways to earn
Mistplay gives its user some extra ways to earn Units and rewards. You can complete streaks where you play certain games for a set number of days in a row. Once you hit the streak target, you earn a bonus.
There's also a welcome bonus and bonuses available for things like following Mistplay on social media or signing up for the email newsletter.
Mistplay runs occasional contests where you compete in a specific game. The contests can award thousands of Units at a time, making them potentially lucrative for competitive gamers.
Finally, you can redeem Mistcodes that you find on social media or in the email newsletters for small Unit bonuses.
How to Redeem Units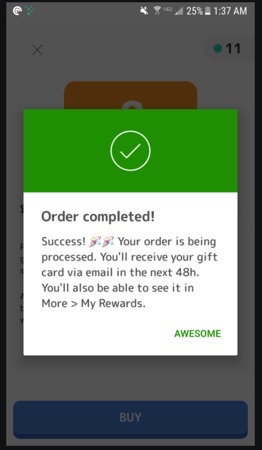 Once you've earned Units, you'll want to redeem them for real-life rewards. You can redeem your units for a variety of gift cards that Mistplay offers. The cards' values range from as low as $.50 to as much as $25 or more.
Some examples of the gift cards available include Amazon, Best Buy and Visa prepaid cards.
The value you get for a single unit varies with the amount you redeem at once and the type of gift card you get. A gift card for a specific store usually gives you more value per unit than redeeming for a generic Visa card.
Larger redemptions are also often worth more per unit.
How Much You Can Earn
The reality is that Mistplay doesn't pay that much. It's a nice way to earn some extra cash if you already enjoy mobile games. And you find a Mistplay eligible game that you enjoy.
However, you're never going to make enough money to make it worth playing games through Mistplay over doing something else to earn money.
Users say they make anywhere from a few dollars to $30 or $40 per month. Although, the people on the high end of that scale are likely avid gamers. They focus on a single game to max out the GXP they earn.
How Does Mistplay Make Money?
It might seem strange that Mistplay is willing to pay people to play games. How does Mistplay make any money when people play games, and why is it ready to pass that money along to its users?
App developers pay Mistplay to show their games in its app and to direct users to its games. App developers make money when people play their games, purchase microtransactions and view in-game ads.
They also get paid when people purchase app subscriptions.
Mistplay advertises games to people, helping developers increase the number of people using their app. In return, those developers pay Mistplay for the advertisements.
Mistplay pays its users because it can encourage more people to sign up by offering rewards, letting it command higher fees from developers. It's like an online shopping portal, but for mobile gaming.
Mistplay Reviews
Every earning opportunity has some advantages and disadvantages, that users quickly point out. It's easy to find out what people like and don't like about an app.
Here's how Mistplay stacks up on rating sites:
While many Mistplay reviews report a positive experience, the negative reviews center around locked accounts.
Here's some feedback that users left on different review sites:
"Complete waste of time. I've spent hours playing games and racking up points, but when I go to redeem them, there is always an error message, saying they can't verify my face. I've never had this problem with other face verification apps, even my own phone's facial recognition. So I'm not able to redeem any of my points. Disappointed." – Gwen
"I have paid out 8x for $10 each. Each time takes about 2 days to go through. I play quite a bit and have found new games I enjoy. No ads in the app itself. Fun and easy. Edit June 2022: still playing, still getting paid. I've tried others and keep coming back to this one. I've probably paid out 15-20x. I usually go for the Amazon gift cards. After I cash out, it takes less than 48 hours to appear in my inbox." – Amanda W
"I have been playing Big Farm for a while now, the game is okay but don't count on getting to cash in the gift cards. I got a code to redeem for amazon, and amazon won't accept it. They said to contact Mistplay and Mistplay said they can't do anything about it." -Glenda
"The app certainly still has bugs. I just got a new phone and now the app doesn't work. It no longer recognizes new games or tracks progress. On my old phone it was hard to get the app to open in the first place (when you would tap on the app it would start to open and then close, took 5 tries to get it open sometimes), but otherwise it worked. Giving up on the app till they fix it 🙁" -Victoria D
Positives and Negatives
We took into account all of the good and bad of making money with Mistplay online and here is what we came up with.
Pros
Mistplay has a few benefits and drawbacks to consider.
Earn rewards for playing games
Mistplay rewards you with gift cards to popular stores for playing games on your phone. You can have fun and earn money from anywhere by playing.
Notably, you also don't have to be skilled at the games you play. Mistplay rewards dedication to specific games or gives you the freedom to move from game to game.
Discover new games
Mistplay lets you earn by playing games from a specific Mixlist it generates based on your location and gaming preferences.
You may even find new games that you enjoy from the Mixlist the app creates for you, helping you discover more fun games.
Cons
Most people don't earn huge sums from playing games through Mistplay. You can expect to make a few dollars a month, with top earners netting between $30 and $40 per month by playing a huge amount each day.
Give access to your phone usage information
The privacy-conscious may be worried about giving up some of their data by using Mistplay. The app requires permission to view how and when you use other apps on your phone.
This factor is necessary for it to reward you for your playtime in the games you download. But it also lets Mistplay see how you use unrelated apps, which may concern some people.
Limited redemption options
You can't redeem the units you earn for cash. Instead, you have to redeem your earnings for gift cards from a specific list. So, if you shop at the stores on the list, it isn't much of an issue.
But, you'll have to find another way to turn those gift cards into cash, if you don't patronize those stores.
Privacy concerns
Some people may be concerned about the level of access that Mistplay asks for. Specifically, Mistplay requires that you turn off power-saving functions and let the app track your app usage.
In theory, this gives Mistplay access to view every app that you use and how often you use it.
Mistplay claims that it only uses this access to track your activity in Mistplay games and to reward you for playing. Still, some people are understandably concerned about giving away too much access to their phones.
You can read the company's privacy policy if you want to know more about Mistplay and how it handles privacy. If you're not willing to allow Mistplay the access it asks for, you won't be able to use the app to earn rewards.
Apps Like Misplay
If you want to find other options than Misplay, here's a few options.
Summary
If you have an Android and enjoy playing games on your phone, there isn't much of a reason not to download the app and see if there are fun games you can play.
Earning some extra gift cards by playing games you already would play isn't a bad deal.
However, your potential earnings through Mistplay are relatively limited. So, if your only goal is earning money, it probably isn't worth going out of your way to download and play games you don't otherwise enjoy.
You might also hesitate to give the app the access it needs to verify your play if you're conscious about privacy and giving up your data.
If you want to earn some extra cash, there are plenty of other ways you can use your phone to make money. You can sign up for something like Swagbucks, which rewards you when you shop or other tasks.