If you like earning money, you have probably heard about Fetch Rewards. Fetch Rewards and apps like Fetch Rewards can be a great source of extra cash when used right.
In this article, we're going to show you how to maximize your extra cash just by doing something you already do: go shopping!
Apps Like Fetch Rewards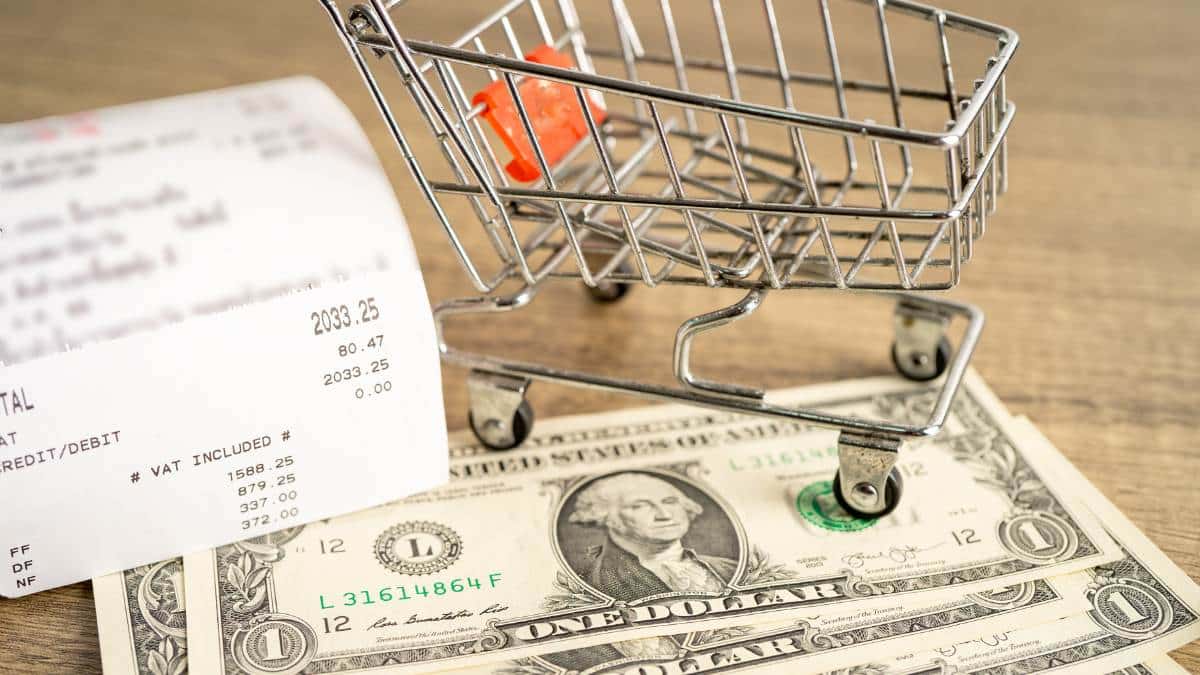 Fetch Rewards is an app that offers you an easy way to earn cash. You can start earning by downloading the Fetch Rewards app for free.
From there, all you really have to do is use your Fetch Rewards app to snap pictures of receipts from your shopping purchases.
You'll get points for every receipt you snap a photo of. And you'll earn extra points when your receipts contain purchases of brands that Fetch Rewards partners with.
Then you can use your earned points to get free gift cards from Amazon and other retailers.
You can learn more about Fetch Rewards by reading our Fetch Rewards review. But in the meantime, check out these other apps that work like Fetch Rewards.
1. Checkout 51
Checkout 51 is an app that will give you cash on gas and grocery purchases. All you have to do after you download the app is to look at the weekly offers.
When you purchase those offers, you'll scan your receipt with the app. Then you'll receive actual cash credit for purchases of offers.
You can also use Checkout 51 to earn cash back when you shop online. Simply access the offers through your Checkout 51 app and make your purchases.
You can earn even more money by taking surveys and by taking advantage of bonus offers that may come your way.
Checkout 51 will do the rest. Once your balance reaches at least $20 you can cash out. Payments are sent via a mailed check or via PayPal.
2. Dosh
Dosh is a cash-back shopping app that gives you cash back on your purchases when you like your debit or credit card to the app.
When you link your cards using Dosh's secured app, you'll get cash back for shopping at participating merchants.
Dosh partners with over 10,000 retailers to give you cash back. You can earn with purchases at stores such as Amazon, Costco, Sam's Club, American Eagle and others.
You can also earn with Lyft and at thousands of restaurants. Once you've earned at least $15, you can cash out via a bank transfer, PayPal or Venmo.
Bonus: Dosh features bank-level security, it doesn't store your card information (it partners with Braintree) and it doesn't sell your data.
Learn more by reading our Dosh review.
3. Drop
Drop lets you earn points when you download the free Drop app and activate your weekly offers. Each offer tells you how many points you'll earn for each dollar purchased.
When you make the purchase offers, Drop credits your account for the number of points you've earned.
In addition, you can earn points by taking advantage of special in-app offers as well. As additional options, Drop helps you earn points when you take surveys within the app and when you refer friends to the app.
When you're ready to cash out, you can use your points in several ways:
Get free gift cards to your favorite retailers
Make a donation to specific charities
Buy entries into contests
Buy Cryptocurrency
Purchase collectibles
Our Drop app review will give you more specific details about the app.
4. Ibotta
Ibotta is a free app that gives you money for shopping both online and in stores. For in-store shopping, you simply browse the offers and select the ones you want.
After you shop, you snap a photo of your receipt with the Ibotta app and wait for your money to appear in your Ibotta account.
When you're shopping online, you access the stores you want to shop at through the Ibotta app or the Ibotta browser extension.
Ibotta will search for offer purchases and credit your account for the cash you've earned. There are also bonus opportunities for earning even more cash.
Once you're ready to cash out, you can get your money via bank transfer, PayPal, or free gift cards.
Check out our Ibotta review for more information.
5. MyPoints
MyPoints lets you earn up to 20 points for every $1 you spend when you shop online with the MyPoints app or browser extension.
The app partners with nearly 2,000 online stores to give you a cash-back percentage on qualifying purchases.
All you have to do is access the store you want to shop at through your MyPoints portal. After you complete your purchase, MyPoints will credit your account for your earnings.
You can also earn points through MyPoints when you take surveys, play games and complete other tasks on the app or website.
When you're ready to cash out, you can use your points to get PayPal money or to get gift cards from your favorite retailers.
Read our MyPoints review to learn more.
6. NCP Mobile
NCP Mobile has an app that works a bit differently than other apps mentioned here. This app helps you earn points when you scan the barcodes of items you've purchased.
You can also earn points when you take surveys and complete other action items. You'll be able to use your rewards to get prizes or to enter sweepstakes for cash and other drawings.
In addition, you can get retailer gift cards with the points you've earned. However, there are no bank transfer or PayPal transfer options.
Get the NCP Mobile app for Android
Get the NCP Mobile app for iOS
7. Pogo
Pogo is an app that helps you earn money when shopping or for completing surveys. One cool thing about Pogo is that it makes earning points for shopping easy.
All you have to do is link your bank account and credit cards to the Pogo app. Then the app scans your recent purchases and gives you points for qualifying purchases.
The app works with Plaid and is secure, and your points accrue automatically. You can also earn points by taking surveys and doing other tasks.
When you're ready to cash out, you can redeem your points for a PayPal transfer or a Venmo transfer.
Receive 300pts FREE when you sign up and link your bank card.
Learn more by checking out our Pogo review.
8. Rakuten
Rakuten is one of the oldest online shopping apps around, with the company being founded in 1997.
You can earn money by shopping online and in stores with Rakuten. To earn online, simply access one of the thousands of partner stores through your Rakuten app or browser extension.
To earn by shopping in-store, just link a card to your Rakuten account and shop offers with that card. You'll earn up to 40% cashback at partner stores, depending on the store.
For example, you might get 40% back at a store such as Sephora, and 1% back at a store like Walmart.
Rakuten sends you a quarterly check to get your cash back. Or if you have a Paypal account tied to your email used with Rakuten, you can receive funds online.
Learn more about Rakuten by reading our Rakuten review.
9. Receipt Hog
Receipt Hog has been turning receipts into cash since 2011. All you have to do to earn is upload your paper or digital receipt to the Receipt Hog app.
Then Receipt Hog will credit you for qualifying purchases. You can use your earnings to get PayPal cash and gift cards from participating retailers.
The Receipt Hog website says it will give you credit for every legit purchase you make, no matter the store.
Receipt Hog is one of the best apps to scan receipts for money.
10. ReceiptPal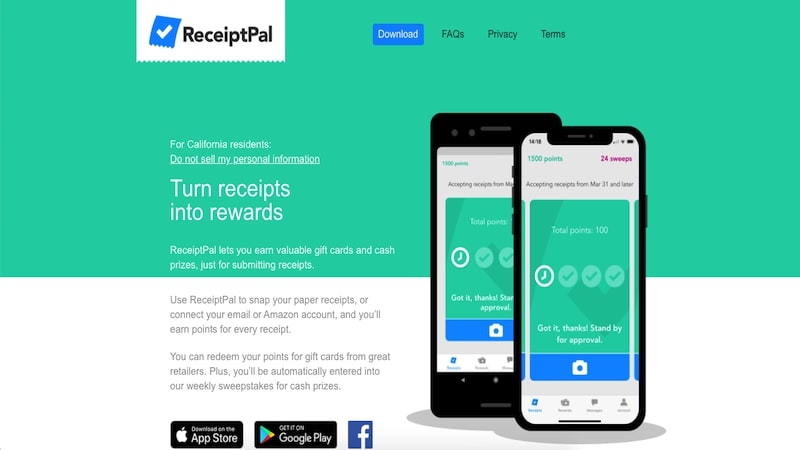 ReceiptPal works a lot like Receipt Hog. You simply download the app and start snapping pictures of receipts from purchases you've made.
As your points accumulate, you can use them to get gift cards to popular retail establishments. The app also has sweepstakes contests where you can win prizes.
Note that in order to earn points from receipts, the receipts have to be whole and clear. If they're missing items, such as the date, the receipt will be deemed ineligible.
Check out our ReceiptPal review for more information.
11. Swagbucks
Swagbucks is one of many get-paid-to sites that will give you points (called SB) for shopping online. You can also earn points for playing games, taking surveys and more.
As one of the most popular online shopping apps, Swagbucks has paid out over $900 million in cash and gift cards to date. They also have coupon codes that you can use to save money.
It's easy to use: simply shop online by accessing stores through the Swagbucks portal. When you complete your purchase via the portal, you'll get points for every purchase.
Earn more by referring friends and completing other activities. Get PayPal cash or gift cards with the points you earn.
Cash back percentages differ based on the retailer you're shopping at.
See our Swagbucks review to learn more.
12. Upside
Upside is a newer app that gives you cash back when you get gas, eat at restaurants and more. You'll earn actual cash with each qualifying purchase.
The app keeps track of purchases when you like your bank card or credit card. Note that you have to activate an offer you want to take advantage of before you make your purchase.
Most cash-back credits appear in your Upside account within 24-48 hours.
When you're ready to cash out, you can choose between a bank deposit, a PayPal transfer or you can get gift cards from popular retailers.
Why Use an App Other Than Fetch Rewards?
Likely the best reason to use apps other than Fetch Rewards is that there's no reason to limit earning extra cash to one app alone.
Yes, use Fetch Rewards. But also use other apps like it and scan your receipts multiple times in order to maximize your earnings.
However, there's another reason to use more than one app, and that's because each app has different offers. Offers to save money or earn cash back.
By using Fetch Rewards and apps like it, you're helping ensure you don't miss out on any offers for items you're buying.
Which Apps Like Fetch Rewards Will You Use?
Apps like Fetch Rewards can help with increasing funds to help pay off debt or even earn money without a job while you shop in stores and online.
In addition, since nearly everyone shops at some point or another, using these apps is almost a guaranteed way to make money.
And finally, using apps like Fetch rewards lets you ultimately reduce the overall cost of your purchases.