It's safe to say that everyone enjoys earning rewards when they shop, especially when they are able to get cash back on purchases they were already planning on making.
Unfortunately, most cash back rewards platforms have limits on which stores you can shop at for rewards. Luckily, the CoinOut app has eliminated that annoying roadblock.
But is the app legit? Our CoinOut app review will help you evaluate how the platform works, its features and more.
Summary
CoinOut offers cash back opportunities for uploading receipts from virtually any retailer. If you want an easy way to get cash back from physical shopping, CoinOut is worth considering.
Pros
No minimum withdrawal limit
Most retailer receipts accepted
Extra ways to earn
Cons
Limited earning potential
Limited variety to cash out
What is CoinOut?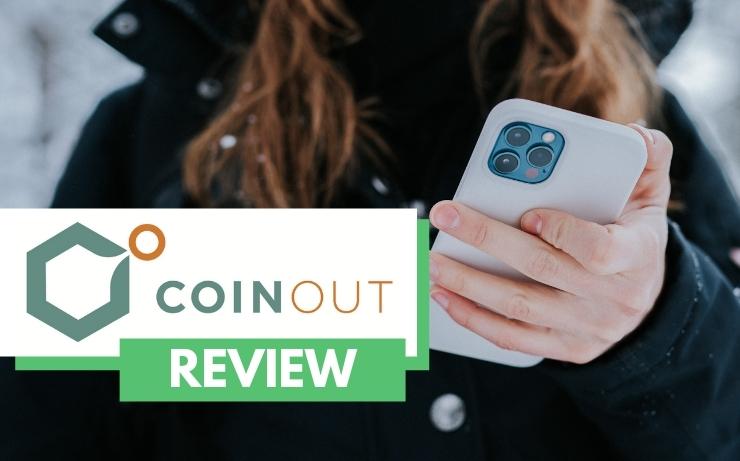 CoinOut is a mobile app that is available for both iOS and Android users. When using the app, you can scan receipts from virtually any retailer in exchange for cash rewards.
You may have heard of CoinOut from its debut on Shark Tank. During his episode, the CoinOut CEO, Jeffery Whitten, struck a deal with Robert Herjavec.
Since that partnership, the app has reached impressive growth. The website claims that its users scan over 3 million receipts per month.
What sets CoinOut apart from other cash back apps is the lack of retailer limitations. You'll essentially be able to scan receipts from almost any retailer to get cash back rewards with every purchase.
In addition to earning cash rewards by scanning receipts, you can use CoinOut as a digital wallet.
How Does CoinOut Work?
To get started with CoinOut, you'll have to download the iOS or Android app on your phone. If you choose to connect your email, you'll earn a $3 reward right off the bat.
Once you create an account, you'll be ready to start scanning receipts.
You can scan receipts from almost any retailer. However, the receipt must be less than two weeks old.
Additionally, it must include the following information:
The date of the transaction
Store name
Total bill amount
Line items with prices
Here's what that receipt will look like:
CoinOut recommends folding the receipt if it is too long. You can fold it to include as much of the information as possible.
Keep in mind that you cannot upload previously used receipts, ATM receipts, lotto tickets, credit card slips, packing slips, money orders or pictures of electronic receipts.
Once the receipt is uploaded, it can take some time to have your cash back approved by the merchant. However, you should see your cash back approved within 90 days.
The amount of cash back you receive for each receipt is randomized. Although the amount will change on a daily basis, it can add up quickly.
You can request a gift card or bank transfer with no minimum amount when you are ready to cash out. It's also possible to cash out via PayPal, but there is a $20 minimum.
Beyond the physical receipts, you can earn cash back for online purchases if you start your purchase through the CoinOut app.
How Much Does CoinOut Cost?
CoinOut is a free app. You won't have to pay anything to use this service, nor will you have to make in-app purchases to receive upgrades or special access to certain parts of the app.
That's great news for anyone looking to stretch their budget further with CoinOut.
Don't forget that in order to get rewards through CoinOut, you will have to make purchases. Fortunately, these purchases can be for goods or services you already planned on buying.
Key Features
CoinOut is one of many cash back apps. That said, its key features truly set it apart from the crowd. Here's what you need to know about CoinOut.
Earn With Almost Any Merchant
If you are looking for a streamlined cash back option, CoinOut is a great choice.
Instead of checking to see if the item you are buying is eligible for rewards before you make a purchase, you'll just have to upload your receipt afterward to earn cash back.
Since the amount of cash back you can earn with each receipt is randomized, there is no motivation to shop with one vendor over another. That's perfect for shoppers already on the hunt for the best deal.
You can stick to shopping at your store of choice without giving up the opportunity for cash back rewards.
Earn With Online Purchases
Your rewards don't have to end with your physical receipts. Through the CoinOut app, you'll have the opportunity to earn cash back with online purchases.
If you want to pursue this option, you can get started right in the app.
Simply click on the badge for the retailer of your choice. CoinOut will then direct you to the merchant's site for you to complete your purchase.
Once your purchase is complete, you'll enjoy a cash back reward!
Surprise Bonuses
The bulk of your rewards will likely come from uploading your receipts. Luckily, you can also enjoy surprise bonuses to boost your rewards.
CoinOut sends weekly surprises to active users. Of course, uploading many receipts will lead to more potential surprises. But CoinOut also claims to reward users that engage with the brand on Facebook, Instagram and Twitter.
Easy Cash Out
Building up cash back rewards is exciting. However, you don't want to jump through any hoops to pull your rewards out. Luckily, CoinOut makes it easy to get your hands on your rewards.
When you are ready to cash out, you can make your request through the app. From there, CoinOut has up to ten days to review your request.
If approved, you'll receive your cash back within two to three business days in your bank account, as a gift card or through PayPal.
No Data Selling
With all cash back apps, there are privacy concerns to consider. The great thing about CoinOut is that the app will not sell your personal information. That's a relief for users who want to avoid a deluge of annoying advertisements.
Importantly, CoinOut does own up to disclosing customer data in some instances. However, CoinOut only discloses aggregate data that is not associated with any individual user.
With that, any third party could not reasonably identify you based on the information.
Additionally, CoinOut won't ask you for any financial information. As a result, there is a limited amount of critical information even available for CoinOut to share.
If you are concerned about keeping your information safe while enjoying a cash back app, CoinOut could be the right choice.
Partner Market
The Partner Market takes CoinOut beyond a regular cash back app. Through the Partner Market, you'll see customized offers for CoinOut users.
Typically, you'll be rewarded with a great deal and potential cash back for making purchases through the Partner Market.
Although this will likely not be the reason you sign up with CoinOut, it is a nice perk if you are already using the app.
Is CoinOut Legit?
CoinOut is a legit app, however, the app has mixed reviews across various platforms. Here is what actual customers think about using the CoinOut app.
Here are a couple of reviews that users posted about CoinOut:
"I enjoy this app a lot. Scanning ANY receipt for money is easy and fast. Customer service is excellent, always quick and friendly." – Maria Blum
"Thought this app was good for a while and then when I tried to cash out, my account was blocked and no answer from customer service, do not recommend." -Amanda
"Just started using this app last month. It's has had a few glitches but they fixed them fast. Love how you can see your receipts turned into cash! Great app!" – Vanessa Waller
"This was a great app until they started linking your email to boost your receipts amount. Now all of a sudden I can't even scan any receipts anymore, and I'm not linking my email." – Shawna Kinsey
Alternatives to CoinOut
CoinOut is not the only option if you want to get cash back on your purchases. If you aren't sure that CoinOut is the right fit for you, then check out these other cash back sites.
Capital One Shopping
Capital One Shopping helps you find incredible deals at jaw-dropping prices and deals.
The platform is free to use, and it offers price alerts, coupons and local offers. Capital One Shopping is always looking to find great coupons and deals.
Most stores that participate in Capital One Shopping give anywhere from 1% to 8% back on your purchases. Sometimes you can even earn up to 20% back.
The platform works with many of your favorite stores. You can easily search for trending deals, featured offers and hot deals.
Rakuten
Rakuten is a popular cash back shopping portal that can help you easily tap into rewards from your online purchases at over 1,800 retailers.
You can get anywhere from 1% to 40% cash back on your purchases when you shop using your Rakuten account. It's also possible to take advantage of a referral program that will pay you $30 for each person you refer.
Keep in mind that Rakuten only sends rewards every quarter, and you must have accumulated at least $5 in rewards in order to cash out. The only cash out option is a check.
Ibotta
Perhaps the most similar option to CoinOut, you can easily earn cash with Ibotta by uploading receipts from over 300 retailers.
Ibotta offers a few ways to earn money, including shopping, referring other users and registration bonuses. Sometimes you can even get bonus coupons to get more cash back.
The app is free to use and can be downloaded onto Android or iOS devices. However, the redemption threshold is slightly high at $20, and some users reported difficulty navigating the website.
Frequently Asked Questions
If you are still on the fence about signing up for CoinOut, here are some frequently asked questions that might be able to help.
How long does it take to get your money from CoinOut?
After you submit a request to withdraw your funds, it can take up to 10 days for CoinOut to provide approval. Once approved, it will likely take two to three business days to receive your funds.
Is there a limit to how many receipts users can upload?
CoinOut does limit users to a certain amount of receipts each day. However, this number varies from day to day.
How much money can you make with CoinOut?
The amount you can earn with each uploaded receipt is random. Based on user feedback, it looks like you can earn anywhere from one cent to 15 cents per uploaded receipt.

Additionally, there is a limit that you cannot earn more than $50 per day or $350 in a month.
What customer service options does CoinOut offer?
CoinOut offers a customer support email address that people can use if they have questions. They also offer a help page within the app.
Are there any receipts that don't earn cash back?
Yes. ATM receipts, lottery tickets, and handwritten receipts are among the types of receipts that will not earn cash back.
Summary
CoinOut offers an opportunity to stretch your budget by uploading your receipts. The amount you can earn per receipt is random, but you'll be able to earn when you upload receipts from almost any retailer.
It is pretty much guaranteed that you won't make a substantial amount of money from using CoinOut. That said, a bit of extra money here and there can add up over time.
If you want to give your budget a small boost or increase your savings with an app that doesn't limit your cash back opportunities to specific merchants, then CoinOut is a great option.