Credit unions are one of the best ways to avoid traditional banking fees. However, most credit unions have strict a membership fee or eligibility requirements.
Consumers Credit Union caters to Chicago-area members, but the institution breaks the mold with nationwide branch access. You can join with a $5 deposit that allows you to open rewards checking and savings accounts for your family.
This Consumers Credit Union review can help you learn about the institution's member benefits and determine whether or not you should join.

Summary
Consumers Credit Union provides several fee-free checking and savings accounts. You can earn rewards by completing monthly activities and also enjoy surcharge-free ATMs. Nationwide branch access is available, but most of the physical locations are in Chicago.
Pros
Competitive interest rates
ATM fee reimbursements
5,000+ shared branches
Cons
Hard to earn highest checking APY
Low savings account rates
Basic mobile app
What is Consumers Credit Union?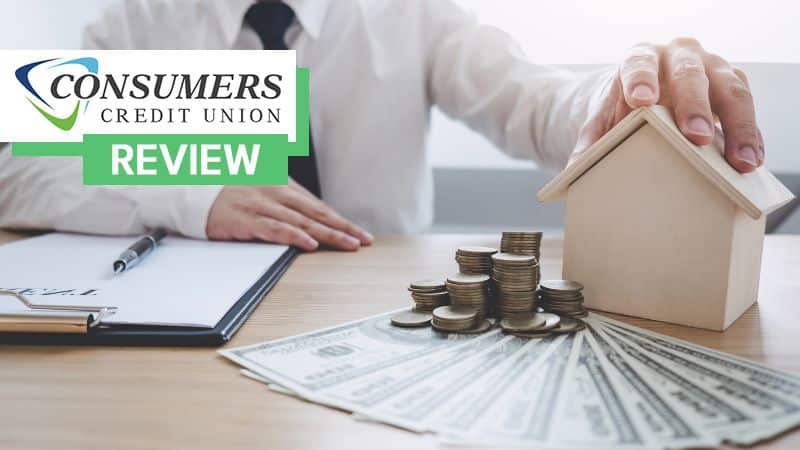 Consumers Credit Union (CCU) is one of the largest credit unions in Illinois. It has 18 branches in the Chicagoland area, along with over 5,000 shared branches and over 30,000 surcharge-free ATMs throughout the United States.
The not-for-profit credit union has flexible membership requirements and only mandates that you be at least 18 years old to join. There is no membership fee, and the institution is federally insured.
After joining, you can open personal and business banking accounts. It's also possible to obtain loans, credit cards and even open a health savings account.
Consumers Credit Union aims to provide customized services for your needs and products that help you achieve your financial goals and improve your personal finance health.
Is Consumers Credit Union Legit?
Yes, Consumers Credit Union is legit. It offers many products and has minimal fees.
The institution has over 178,000 members, and your account balances are federally insured for up to $250,000 in NCUA insurance (similar to FDIC insurance but for credit unions).
While you may need to live in Chicago to maximize your membership benefits, it's possible to have nationwide banking access via shared branches.
The convenient branch access can make this credit union easy to access if you travel frequently or don't have affordable local banking options.
Additionally, Consumers Cooperative Association is the Membership Common Bond for Consumers Credit Union (as required by the State of Illinois).
How Does Consumers Credit Union Work?
If you want to take advantage of the financial products Consumers Credit Union offers, here's how to get started.
Join Consumers Credit Union
You can join Consumers Credit Union online or by making an appointment at a local branch.
The basic membership requirements include:
Being at least 18 years old
Having a Social Security number or Individual Taxpayer Identification Number
Uploading or presenting a government-issued ID
Having no credit freezes on your TransUnion credit report
There are are membership fees to become a member. However, you must make a minimum $5 deposit for each free rewards checking account and savings account.
Open an Account
After your membership application is approved, you can open these federally insured accounts to spend, save and borrow money.
Rewards Checking Account
The CCU Rewards Checking bank account has a $5 minimum deposit to open an account and no ongoing balance requirements. The account makes it easy to complete debit card purchases.
Unlike most free rewards checking accounts, which don't offer many benefits beyond easy bill pay, you can enjoy various perks with this offering.
These include:
Earning interest on deposits
Unlimited reimbursement of ATM fees
30,000+ fee-free in-network ATMs
Online bill pay
Receiving direct deposits up to two days early
Writing unlimited checks
Beyond being able to make the usual debit card purchases with this account, one of the most attractive features of this credit union's rewards checking account is the opportunity to earn high interest rates on your account balance.
Your entire balance earns interest, but your first $10,000 earns up to 80 times the national average, according to CCU.
| | |
| --- | --- |
| Balance Amount | Annual Percentage Yield |
| $0 to $10,000 | Up to 4.09% |
| $10,000.01 to $25,000.00 | 0.20% |
| $25,000.01 and up | 0.10% |
You must complete several monthly activities to earn the maximum annual percentage yield on your first $10,000 in deposits.
These include:
Making at least 12 debit card transactions per month
Enrolling in e-statements and e-documents
Receiving at least $500 in direct deposits and mobile check deposits
Spending at least $1,000 with a CCU credit card
Only completing some of these monthly requirements earns you a lower rate. For example, you might earn only an annual percentage yield of 3.09% or 2.09% on your first $10,000.
Savings Account
Several different savings accounts are available to earn interest on your balance.
These include:
Membership Share Savings Account: No balance required, .05% APY
Smart Saver: Deposit up to $1,000 per month and earn up to 1.50% APY
Money Market Account: Better rate than the Membership Share account
Health Savings Account (HSA): Tax-advantaged health care savings
Coverdell Savings Account: Tax-advantaged college savings account
IRA Savings: Save with an NCUA-insured account, minimum $10 deposit
IRA Money Market Account: Tax-advantaged, minimum $2,000 balance
The Smart Saver account is the most appealing because you can earn a rate that rivals the best high-yield savings accounts.
Unfortunately, you can only deposit up to $1,000 per month in the Smart Saver account. Then, your excess deposits go to the Membership Share account and earn a meager yield.
The money market account offerings are also excellent options to consider. Plus, the accounts are federally insured by the NCUA.
Mortgages
You can apply for home purchase, mortgage refinance and home equity loans through CCU. Conventional and government-insured mortgages are available, and some may require a low down payment.
You can start the prequalification process online to receive a personalized rate. It's also possible to view today's mortgage rates without applying. Better yet, you can call a loan officer when you have questions.
Additionally, it's possible to earn cash rewards when you buy a home through the credit union's HomeAdvantage program. For example, you can earn $1,200 in rewards with a home sale price of $200,000.
Loans
Consumers Credit Union also offers installment loans to help you with your financing needs.
The loan options include:
Auto loans
Personal loans
Business loans
It's possible to receive a 0.25% discount by enrolling in automatic monthly payments.
This is one of the best credit unions that also offers secured debt consolidation loans, which can help refinance your debt at a lower rate than a typical personal loan.
With this loan type, you can use your savings balance or a physical asset such as your car to underwrite the loan.
Credit Cards
Several Visa credit cards are available through CCU. This credit union's cards don't have an annual fee and can earn rewards.
A student credit card is also available to help young adults build credit. Unfortunately, secured credit cards are unavailable if you're trying to repair bad credit and increase your credit score.
How Much is Consumers Credit Union?
It's free to join Consumers Credit Union. Your only "cost" is the $5 initial minimum deposit to open a rewards checking or savings account. There are no monthly service fees or ATM withdrawal fees to worry about.
Interest charges and borrowing fees will apply to loans as well as unpaid credit card balances.
Additionally, there is no membership fee to join.
Key Features
These are some of the best member benefits you can enjoy by opening an account with this credit union.
Resources
Consumers Credit Union provides several financial education tools that can make it easier to tackle life events like retirement or college planning.
Some of the features include:
Consumer financial wellness
Financial planning
Webinars
Insurance
These resources are easy to access directly from the site's navigation bar.
Switch Kit
The switch kit is an interactive checklist that will help transfer your existing bank account to CCU. This feature can also show you how to switch your direct deposit and automatic withdrawal information.
You can receive a printable form that you can mail to the merchant or your employer to update your banking details. Being able to easily switch your automated transactions makes the transition easier.
Car Buying Service
The CCU car buying service powered by TrueCar makes it easier to calculate the fair market value for a new or used car you want to buy. It can also provide an instant buyback offer when you're trying to sell your car.
You may even be able to qualify for a discounted price and get pre-approved for a car loan.
Having auto loan preapproval can make it easier to negotiate with a dealership.
Mobile Wallet
You can connect your CCU-issued credit and debit cards to your Apple Pay, Google Pay or Samsung Pay accounts for contactless transactions.
In addition to the convenience, digital wallets allow you to not carry your physical credit or debit card for extra security against pickpockets.
Better yet, you can deposit paper checks with the app and send money to friends through Zelle.
eXpressPay
You can use eXpressPay to digitally pay your Consumer Credit Union loan or credit card payments using an external bank account. This feature only requires a routing number or debit card number from another financial institution.
Previously, you needed to mail a payment or visit a local branch to cover the monthly payment from a non-CCU bank account.
For transparency, a small convenience fee applies. You should try to pay your bills from your Consumers Credit Union banking account to waive this cost.
Text Banking
Enrolling in Text Banking lets you complete simple tasks by text message.
These include:
Account balance inquiries
Viewing your account history
Transferring funds between your accounts
With this feature, you won't have to log into the mobile app or web platform. This service is free and secure, but your cell phone carrier may charge text message fees.
Consumers Credit Union Reviews
There are many positive reviews about Consumers Credit Union and its online banking products.
However, many of the complaints revolve around its mobile app and lack of features in comparison to other banking apps. Additionally, there are periodic customer service complaints.
Here's how the company ranks on different rating websites:
These are a few Consumer Credit Union review excerpts from customers:
"Very easy to use. Great customer service. Been with this back for 16 years." — Charles C.
"Skip this app and get used to going back to banking on a website if you want a better user experience in which you don't waste time scrolling and looking for things where they should be." — TJG
"I've been a customer for over 20 years, and always use Andigo (now Consumers Credit Union) for my financing needs – mortgage, HELOC and car loans. Attention to customer's needs is top notch! — Marcello
"Stay away from this horrible credit union. I can not explain all the issues that I have had with them but their customer service is HORRIBLE!!!! I have been a member since I was a child in the late 70's." — Kevin M.
Alternatives To Consumers Credit Union
If you are sure that Consumers Credit Union is the right option for you, there are other credit unions you can consider.
These nationwide credit unions may offer account and lending options that are a better fit for your needs.
Connexus Credit Union
Connexus Credit Union only has a handful of physical branches across the country, but it offers over 5,600 shared branches throughout the United States. There are also 67,000+ surcharge-free ATMs within the CO-OP and MoneyPass networks.
One of its most appealing accounts is the Xtraordinary checking account. This can pay up to 1.75% APY on your deposits.
The credit union also offers competitive yields on share certificates when you deposit at least $5,000 into a CD term between 12 and 60 months.
Membership requirements for this institution are fairly lenient. You can make a one-time $5 donation to Connexus Association to qualify. Alternately, living in a specific community or working for participating employers can also work.
Military families may prefer Navy Federal Credit Union. Branches are located near many military bases in the United States and across the world.
It's possible to open an interest-bearing checking account and business checking accounts with this credit union. Many of the banking and loan products offer special benefits to active duty military personnel as well as retired service members.
This credit union has some of the strictest eligibility requirements. You must be currently serving in the military, previously served, a family member of military or DoD personnel to become a member.
If you want to open an account, the minimum deposit is $5.
PenFed
Pentagon Federal Credit Union offers nationwide banking access, although most branches and ATMs are near military bases.
Membership eligibility is open to everyone with a $5 minimum deposit. However, military families could be eligible for more products.
Some of PenFed's best products include a high-yield savings account and the interest-bearing Access America Checking account.
FAQ
If you are still not sure whether or not Consumers Credit Union is right for you, these frequently asked questions might be able to help.
What customer service options does Consumers Credit Union offer?
You can visit a local branch if you're in the Chicago area. Plus, phone support is available Mondays through Saturdays during normal business hours.

For online banking help, 24/7 live chat support is offered via the app or website.
Is Consumers Credit Union safe?
Yes. Consumers Credit Union is a reliable institution with decades of experience. Online and in-branch support is available.

Additionally, your accounts are federally insured for up to $250,000 in NCUA insurance. This is similar to FDIC insurance.
Does Consumers Credit Union offer a mobile app?
Yes. If you need a solutoin aside from online banking from your desktop computer, a free mobile app is available for Android and Apple devices.

You can use the app to make mobile deposits, transfer funds and complete bill payments.
Is Consumers Credit Union worth it?
It depends on your unique financial needs. If you need a checking account, savings account like the Smart Saver or Share Savings account, credit card or loan, it could be a good option for you.

Plus, with no membership fee required to become a member, there's not much risk in giving this federally insured credit union a try.
Summary
Consumers Credit Union might be worth joining if you can use the free rewards checking account or want to avoid common banking fees, including account service charges or ATM surcharges.
This financial institution is ideal if you live near a CCU branch in the Chicago metro area. Nevertheless, nationwide shared branch access can make this platform accessible in many states.