If your prom night is long gone, there's no reason to let your dress collect dust. It's possible to clear space in your closet by turning your prom dress into cash.
But how can you sell your dress? We've found the best places to sell used prom dresses for the most money.
Where to Sell Used Prom Dresses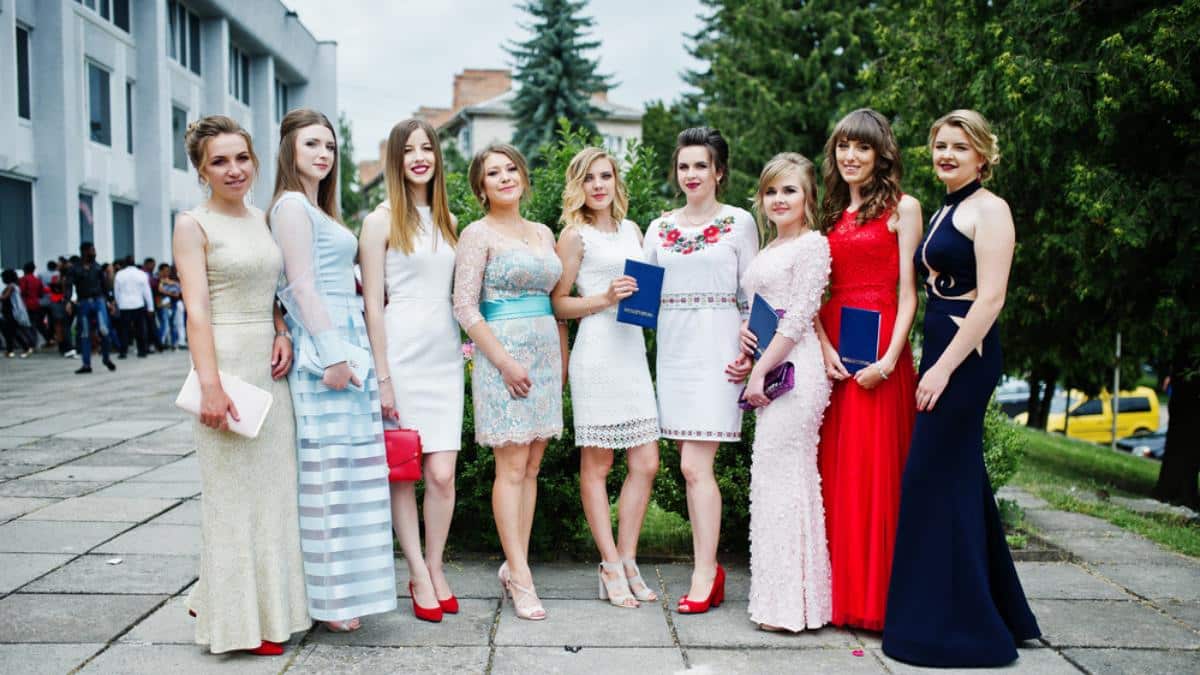 Whether you want to sell your prom dress online or in person, you have many options to choose from. Some offer no fees, while others take a small commission. However, each option will help you sell your dress for top dollar.
Here are the best places to sell used prom dresses.
1. 5miles
5miles was originally developed to help you sell items in your community. Today, the site shares listings from around the United States.
The app focuses on security and requires Facebook identification for users. It also has user reviews so that you can make sure you are transacting with a reputable buyer.
There are no fees for selling clothing on the app. However, you will pay a fee for selling cars and a few other items.
Buyers can pay 5miles directly. Once they pay, you can withdraw your funds. Alternatively, if you're meeting in person to sell your prom dress, the buyer can pay you at that time.
You can include a shipping fee on your listing just in case you get an offer from outside your local area.
Fees: None
2. Consignment Stores
If you have consignment stores near you, you may want to consider using a consignment store to sell your used prom dress.
Consignment shops can be great places for selling used prom dresses quickly. They are also perfect if you don't want to deal with shipping, meeting buyers and taking payments.
That said, you will pay for the convenience of having someone else handle the selling process for you. Expect to pay 30% to 55% of what you get for the dress to the consignment shop for its services.
A consignment shop is one of the best places to sell used prom dresses if you are looking for a local, hands-off approach.
Fees: 30% to 55%
3. Craigslist
Craigslist is one of the oldest and easiest sites to list your used prom dress for sale. Although you won't find much in the way of safety features, the site is extremely popular and easy to post on.
There are no fees for selling clothing on the site. However, you'll have to arrange meetup and payment details.
Beware on this (or any) site if someone asks you to ship your item. There are several scams out there for shipping from sites like Craigslist.
If you find a buyer that wants you to ship, use a site that is known for handling long-distance buyers, such as eBay. For local buyers, be sure to meet in a public place for maximum safety.
Fees: None
4. eBay
eBay is one of the top sites to sell used prom dresses. Keep in mind that it will most likely bring you non-local buyers, which means you'll have to deal with shipping.
You can set a buy-it-now price with eBay or sell your prom dress via auction/bidding. There is a 15% fee for selling clothing on the platform.
Although that may seem high, eBay does offer one of the largest shopping audiences in the online marketplace world.
You can pay for shipping (be sure to include fees in your price if you do) or have the buyer pay for shipping.
If you decide to sell your prom dress on a site like eBay, you may want to add 15% to the price in order to recoup some of the fees.
Fees: 15%
5. Mercari
Mercari is an online marketplace for selling clothes. Although the site started in Japan, it has expanded to the United States and the United Kingdom in order to keep up with competitors in the space.
As with many other buy and sell sites, you'll need to determine your price, the shipping fees you'll charge and how you'll complete the sale.
Your buyer will likely be out of your area and will require shipping. As a result, you'll want to charge for shipping or add shipping costs to your sale price.
Buyers can leave reviews for sellers on Mercari, so be sure to provide great service. Better reviews often result in faster sales.
Fees: 10% plus 2.9% +$0.30 payment processing fee
6. OfferUp
OfferUp is most comparable to Craigslist, but with a little more pizazz. The site recently acquired letgo, making it an even bigger player in the resale marketplace.
It's free to post on the site, and creating a listing takes less than a minute. There are premium per-pay features that can help you boost your post and get more exposure.
Some items, such as vehicles, may incur a selling fee. However, if you're selling your used prom dress, you won't need to worry about that.
Profiles have user reviews, ratings and badges that can help you feel safer as both a buyer and a seller. Better yet, users' identities must be confirmed via Facebook, an ID or other protocols.
Although the site was designed to connect local buyers and sellers, you may end up with a seller that lives further away and requests shipping.
Fees: $0
7. Poshmark
Poshmark is a site that was designed to help people sell name-brand clothing and accessories.
You will pay fees for selling on Poshmark. This includes a straight $2.95 fee for items that sell for under $15 or a flat 20% for items that sell for over $15.
Poshmark is pretty open about what you can sell as long as it is clean and in good condition. They do not allow replicas or fakes.
The platform collects the money you earn from the sale. Then, you can cash out and have it transferred to you or use it to buy other items on the site.
Fees: $2.95 or 20%, whichever is greater
8. ThredUP
ThredUP is an online consignment and thrift store. When you sell used prom dresses on the platform, it does most of the work.
You'll simply send the item to them. They'll list it, photograph it and send you your money once the item sells.
The amount of money you get is based on the sale price of the item. For example, items selling from $50.00 to $99.99 pay you a 30% to 60% commission. Items selling for $100.00 to $199.99 pay you 60% to 80% commission.
Keep in mind that the fee for selling on thredUP is much higher than with other sites. However, similar to when you sell with local consignment shops, the workload for selling your dress is less as well.
Fees: 20% to 40%, depending on the sale price
9. Tradesy
Tradesy is an online marketplace that will help you sell used prom dresses and other items. You're responsible for photographing and listing your item.
The platform will send you a free shipping kit when your item sells. They also provide free customer service.
In exchange for these services, you'll pay a commission when your item sells. There's a flat fee of $7.50 for items that sell for less than $50. If your item sells for more than $50, you'll pay a 19.8% commission.
You can transfer your earnings to PayPal, your debit card or your checking account.
Note that Tradesy can hold your earnings for up to seven days after the sale is complete. In addition, it may take up to five days for your earnings to transfer to your bank or PayPal account.
Tradesy is considered one of the best places to sell clothes online.
Fees: $7.50 or 19.8%, whichever is greater
10. Wedding/Bridal Dress Shops
Local wedding and bridal shops near you may take your prom dress on consignment as well. Like traditional consignment shops, you can expect to pay a large commission if you sell on consignment at a bridal shop.
Although all bridal and wedding shop fees may vary, you can expect to pay 20% to 30% minimum when you sell on consignment.
Check shops near you for more information about placing your prom dress on consignment.
Fees: 20% to 30%
Methodology
When evaluating different places to sell used prom dresses, there were key criteria we analyzed to determine the best options. In-depth research was performed to identify the top ways to sell used prom dresses.
For online options, we focused on the following factors:
Apple App Store rating of 4.0 or higher
Multiple ratings on the Apple App Store
Reputation among industry leaders
Ease of use
Low fees
Potential for decent payouts
For brick-and-mortar options, we focused on the following factors:
Ease of accessibility
Likelihood of purchasing prom dresses
Potential for decent payouts
We chose this methodology in order to ensure we're doing our due diligence as we determine the best places for you to consider when selling a used prom dress.
Summary
The top places to sell used prom dresses offer low fees, great payouts and good customer service. However, the best place for you to use will depend on how much you want to earn and how fast you need to sell your dress.
Fortunately, you can't go wrong with any of the options mentioned above. Pick the one that works best for you and get quick cash for your dress.