Spending time filling out surveys won't earn you enough to be considered a side hustle, but if you're consistent enough, you can make enough points to consistently redeem them for a gift card or two.
The best things about survey sites are that it's free, the sign-up process is super simple, and it's easy to answer questions. All you're doing is giving your opinion — doesn't get any easier than that!
Also, if you tend to shop a lot and are familiar with a variety of products, you're probably a great fit to take surveys.
The biggest challenge with earning money from a survey site is time. If you have enough time to spare and have strong consumer-driven opinions about products, you may want to add Toluna to your list of survey sites.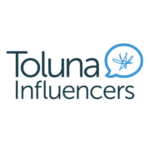 Summary
Filling out surveys to earn gift cards or even money takes a lot of time. However, if you don't mind the low earnings and enjoy taking surveys, try it out.
Pros
Earn extra cash
Free to join
Andriod or IOS friendly
Cons
Low earnings
Min $30 to cash out
What is Toluna?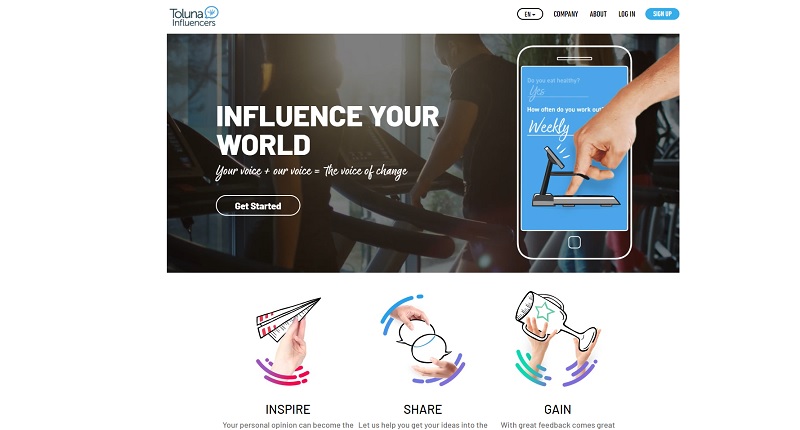 Toluna is a survey site that allows you to take various surveys so you can earn points and redeem them for gift cards or money.
The company is slightly different than its competitors because it focuses heavily on the survey-taking community of 10 million to get you more engaged in the various products and services it connects you with.
Toluna uses the power of social engagement and community to influence others on the platform to participate and give their opinions.
When you join Toluna, you automatically become a part of the community, and you're encouraged to answer questions and you can even earn extra points when you vote on Polls, Topics, Battles, and Thumb its.
The main way to earn points is by taking their surveys, which can take anywhere from 10 to 20 minutes or longer.
Each survey offers a certain amount of points (i.e. 2,500) and you can use your points for a gift card or get paid via PayPal after you reach a certain threshold.
You can even test various products from home and give a review. There's no compensation but you get to keep the product you review.
Note: You have to sign up for this in order to be considered. Then, Toluna puts you in a random drawing in order to be chosen to be a product tester.
Why Do Survey Companies Need Your Help?
We live in a world of reviews and customers have come to the forefront to give their opinions to help other consumers and share their experience.
These insights are also valuable for companies, as they improve their products or launch new ones.
Research companies want to know your thoughts and opinions on certain products, and chiming in helps them understand their consumers better.
2 Types of Surveys on Toluna
There are two types of surveys on Toluna: profile surveys and regular surveys.
Profile surveys, which take just a few minutes and helps gather more information about you — these are worth about 100 points.
I filled out the profile survey about travel (took me about 5 minutes) and I was immediately awarded 100 points that showed up right away on my account.
Filling out profile surveys helps Toluna understand more about you so they can cater surveys to fit your background.
For example: You can let them know you have an Android phone, and therefore they'd show you surveys that involve Android phone users, rather than iOS.
After you sign up, you can use your phone number to accept potential surveys that might be a good fit for your profile.
The regular surveys are what populate in your survey center page, and these can take anywhere from 10 to 20 minutes or longer to complete. These surveys usually take you to a third-party site for you to fill out.
What to Expect When You First Sign Up for Toluna
I decided to sign up for Toluna to understand what the surveys entail and how much I could realistically earn.
Signing up took a few minutes and it was very easy to navigate through their user-friendly site. They asked me for my email, birthdate, ZIP code and even phone number, which was optional. Then they send you an email verification.
1. Fill Out the "About You" Section
The first step is to take your first survey — fill out the "About You" profile page so you can get going on the surveys. These mostly entailed demographic questions, like gender, who shops for groceries at your home, income, and your address,
2. Go to the Survey Center
After my basic profile was done, I was taken to a Survey Center page that showed a list of various surveys I could take, broken down by categories such as travel, lifestyle, and food.
The surveys that seemed to pay the highest in points included health and lifestyle — you can earn up to 2,550 points.
3. Fill Out Your Profile for More Points
On the right side of your Toluna dashboard, you'll see ways to earn points from filling out your surveys about your profile, including the following categories: travel, internet, automotive, and mobile phone.
I filled out the profile survey about travel and received more points for a total of 515 points.
Next, I decided to take an actual survey to see what the process was like.
4. Take Your First Survey
The first survey I chose was from the lifestyle category. I was directed to take the "Survey now."
The time it took for the survey to actually load took longer than anticipated (I was using Safari), but after it opened, I was able to get in and answer a series of questions about cosmetics for 1,600 points.
Before you start, Toluna gives you an estimated time it will take you to complete the survey.
It took me about 15 minutes to complete the survey and when I completed it, I was surprised to find out that my points would take 24 hours to process and reflect on my account.
After finishing, I logged out and didn't log in until the next day. When I did, I saw that they had a new survey for me in the notifications, so I took that one too.
It's been a few weeks since I signed up, and I don't feel bombarded by email requests from Toluna, asking me to take surveys. I received roughly one daily email, or an email every two days.
How to Earn Additional Points
The power of engagement can earn you more points and in order to get there, you need to create certain kinds of content on the site for others to vote on or answer.
These are additional ways to earn more points and are in the form of a quick question. You can earn up to 1,000 points for each type of content you create on Toluna.
This content is vetted by the Toluna team and once they approve your content, so points are manually credited, rather than automatically awarded right after you create it.
Based on Toluna's guidelines, quality content means your poll or topic has a title, personal opinion, and an image or video. Make sure to give your opinion about the product and follow Toluna's terms and conditions.
Here are the different ways to earn more points:
Mini Polls: You can create polls for people to answer with a simple yes or no response. Each poll earns you 100 points
Battles: This is when you write about why you like a particular product over another
Thumb it: This allows other members to give a thumbs up or down on a topic you want to discuss
Friend Referrals: You earn 500 points per referral after your friend signs up and completes their registration. Friend referrals cap out at 10 new friends a month.
Sometimes You'll Be Disqualified from a Survey (It Happens to Everyone)
When I first signed up for Toluna, I didn't realize that there would be certain surveys that I would not qualify for.
The reason for this is because the company that has partnered with Toluna wants opinions and insights from people who fit within a certain profile.
If you are ever disqualified for a particular survey, Toluna will tell you that you didn't match the particular profile the clients were searching for.
As a consolation, Toluna automatically enters you into their monthly sweepstakes. Keep in mind you need 500 points in order to enter.
How Many Rewards Points Do You Need to Cash in?
The biggest complaint from users and reviewers of Toluna had to do with the points-to-dollar conversion rate, which is 3,000 points per $1.
Competitors like Swagbucks and i-Say use a much more lucrative conversion rate, which is 100 points per $1 redeemed.
After I took a few surveys and profile surveys, I racked up about 2,230 points (keep in mind the 1,600 for the survey did not post to my account immediately).
The total time I spent setting up my account and taking the survey was about 45 minutes. This means I made about $0.74. Not much.
I'd need at least 30,000 points to get their cheapest gift card, which is valued at $10.
To get paid in cash you'll need 90,000 points for a minimum of $30 on PayPal. In order to see your points, go to the Community tab and click on Rewards.
Some gift cards have a set amount you can redeem them for, so on their gift card page, you'll see Starbucks listed three times.
For example:
$10 card (for 30,000 points)
$20 gift card (60,000 points)
$50 gift card (for 150,000 points)
I don't know about you, but that's a whole lot of surveys you'd need to take for your caffeine fix!
Also, you have to use your points within 12 months, or else they expire.
What Gift Cards Can You Get from Toluna?
At the time of writing, Toluna offers 28 gift cards you can use your points to redeem, including restaurants, shopping, and other services.
Food
Cheesecake Factory
Chili's
Panera Bread
Papa John's
Starbucks
Shopping
Amazon
Bed Bath & Beyond
CVS
Dell
GameStop
Groupon
Kohl's
Lowe's
Overstock
Petco
Sears
Sephora
Target
TJ Maxx, Marshalls, HomeGoods
Walmart
Yankee Candle
Prepaid Cards/Services
Fandango
Global Hotel
iTunes
Redbox
Rixty
Restaurant.com
How to Best Use Toluna
When signing up, make sure to completely fill out your profile and answer the profile surveys. This will ensure that you can earn extra points.
It will also help Toluna accurately match you to surveys that fit your specific profile.
You also have the option of receiving text messages on your phone. The texts will notify you to take new surveys.
This might be easier if your inbox is cluttered and you want a faster way to respond to new surveys.
Product Testing: You Need to be Chosen
If you like getting free stuff, sign up to be a product tester. You can keep all of the products, all you have to do is create a review for it. In order to sign up, go to the "Community" tab and choose the product you'd like to test.
You'll then be added to a randomized list, so you may or may not be selected. You will automatically receive the product in the mail if you're selected.
Summary
Filling out surveys to earn gift cards or even money takes a lot of time. This won't be a viable way to earn a side hustle. It simply takes too long for you to earn anything significant.
You're much better off picking up an actual side gig such as driving with Lyft, tutoring kids online, or renting out a room in your home with Airbnb.
Or you can check out how to make $100 fast.
However, if you don't mind the low earnings and enjoy taking surveys, try it out.
Toluna's community is also a good way to talk to others and learn what they are doing to max out their points and earn gift cards and cash.