If you invest in individual stocks and funds, you might need a stock research service to help you find high-quality options for your investment strategy.
The American Association of Individual Investors (AAII) is one of the oldest investor communities. It offers free and premium stock research as well as portfolio tracking tools.
This AAII review discusses membership, benefits and more to help you determine if the platform is right for you.
Summary
AAII offers free and premium investment research as well as stock market commentary for stocks, ETFs and mutual funds. An annual subscription provides access to one model portfolio. More expensive plans offer a stock screener, stock ratings and additional model portfolios.
Pros
Rates stocks and funds
Publishes free content
Model investment portfolios
Cons
Can be expensive
No mobile app
No portfolio syncing
What is AAII?
The American Association of Individual Investors (AAII) is a nonprofit investment education company. It boasts over two million members.
This platform offers free commentary about the stock market and individual stocks, ETFs and mutual funds.
AAII's most famous research tool might be its weekly investor sentiment survey. This is where subscribers express if they are bullish, bearish or neutral on the market.
Several premium plans are also available. These provide in-depth investment analysis, screening tools and model portfolios.
Like most stock research tools, you will need a paid subscription to get the best information.
In addition to online resources, there are local AAII chapters across the United States. These chapters give you the opportunity to connect with other subscribers in person.
How Does AAII Work?
AAII is an online stock research service that offers a variety of free and premium content. The platform analyzes individual stocks, ETFs and mutual funds.
Some of the available research tools include:
Model investment portfolios
Market commentary articles
AAII Journal monthly magazine
Financial planning
A stock screener
An education center
A portfolio tracker
Free members only get partial access to these services, so a basic membership may be required if you want better tools.
However, you may decide to upgrade to one of AAII's premium services. These make it easier to research stocks that fit your investment strategy.
How Much is AAII
AAII has several pricing plans. You will need to choose a Basic or A+ Investor membership to unlock the most features at a reasonable cost.
Free
You can read many articles and use the stock screener for free. Unfortunately, you only get partial access to the commentary and screens.
For example, you may only see the first part of an article and some of the analyst rankings.
With the stock screener, you might only see the first five stocks currently meeting your criteria. Unfortunately, the rest of the list is blurry.
While you don't get full access, you don't have to provide your email address or create an account to try AAII. This can protect your privacy.
Basic Membership
An annual membership to AAII costs $49 per year, which is cheaper than many similar investment sites.
Your subscription comes with a 30-day trial period, and you may only pay as little as $1 for your first month.
With the basic membership, you will get full access to the research articles and stock screeners.
Additional member benefits include:
Stock, ETF and mutual fund analysis
Weekly investment ideas
A portfolio tracker
AAII Journal
A Shadow Stock model portfolio (i.e., small-cap value stocks)
Local meetups
Educational tools
This membership tier can be sufficient for subscribers who want access to the full-length research articles and the entry-level model portfolio.
That said, you will need to upgrade to the A+ Investor service or another premium product to access the stock screener or unlock more model portfolios.
A+ Investor
The A+ Investor subscription costs $149 per year. It lets you access several stock research tools to filter the various investment ideas that AAII presents.
Additional benefits include:
A stock and fund screener
Stock ratings
A portfolio tracker
This can be the best subscription plan for most investors as you can access the AAII stock ratings and screening tools that can be essential for researching potential investments.
Premium Services
You can purchase additional services for more ratings and model portfolios.
The various services include:
AAII Dividend Investing ($199/year): Portfolio of 24 dividend-paying stocks
Stock Superstars Report ($199/year): Monthly newsletter, weekly stock alerts
VMQ Stocks ($279/year): Portfolio measuring stocks by value and more
Stock Investor Pro ($299/year): Stock screener to research over 6,000 stocks
These products can be a substitute for investment newsletters since you can access stock research tools that most publications don't offer with a similar annual fee.
Platinum
You may consider an AAII Platinum membership for $498 per year if you want several products. Your first month may only cost $3, and you get a 30-day money-back period.
This membership tier gives you full access to each AAII model portfolio and additional stock screens.
AAII Key Features
These are some of the best AAII membership benefits.
Investment Research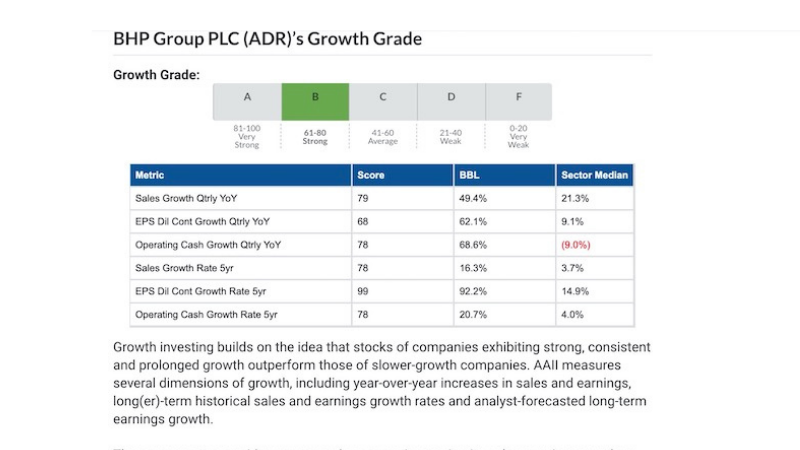 You can read detailed articles and ranking lists for stocks, ETFs and mutual funds. These articles provide commentary on general market trends. They also analyze a specific company or sector.
For example, you will see several articles with the title, "Is ____ a good investment now?"
The articles analyzing a particular stock or fund also show the factor scores. These can help you decide if the security is strong or weak in relation to its competitors.
Model Portfolios
Each paid subscription comes with at least one model portfolio. There are currently seven portfolios available to Platinum subscribers.
If you go with the basic membership or an A+ Investor subscription, you only get access to the AAII Shadow Stock portfolio.
The Shadow Stock portfolio highlights small-cap value stocks AAII believes will outperform the broad market.
Keep in mind that these recommendations can be more volatile than those in an S&P 500 index fund. This is because of their smaller market cap.
Investing in small caps is a different strategy than most entry-level newsletters offer. Most publishers usually reserve these types of stock picks for their more expensive services.
You must purchase a premium service like VMQ stocks or the AAII Dividend Investor if you want access to the additional model portfolios.
Unlike most newsletters that don't publish their lifetime performance, AAII measures its year-to-year performance since inception. It also compares this to the largest index funds that passive investors typically hold.
Investing Ideas
Your paid subscription provides weekly investing ideas for stocks, ETFs and mutual funds.
For example, the platform grades stocks and funds from A to F on several factors, including value, growth and quality.
Once you find a potential investment, you can dig deeper and look at various financial metrics.
Some of the available data includes:
Fundamental financial metrics
Investment ratios (i.e., P/E, z-score, liquidity)
Historical price chart
Insider buys and sells
Recent news headlines
Stock Screener
If you have an A+ Investor subscription, you can access the platform's stock screener to quickly find stocks, ETFs and mutual funds for specific criteria.
There are several different types of screeners:
Factor screens: Filter stocks by fundamental factors (P/E ratios or cash flow)
Guru screens: Over 40 screens modeled after famous investors
Fund screener: Find ETFs and mutual funds with premade screens or filters
In addition to the prebuilt screens, you can run customized searches with fundamental metrics. This customization is similar to the stock screeners for full-service online brokerages.
Since there are many screens to choose from, you can find ones that fit at least one of eight factors that follow a specific investment style.
The screening factors can include:
Value
Growth
Momentum
Size
Earning estimates
Yield
Quality
Industry sector
It's important to note that you won't be able to filter results easily with popular technical screens like the daily moving average (i.e., SMA or EMA) or the relative strength indicator (RSI).
Portfolio Tracker
The portfolio tracking tool requires a bit of upfront work. There isn't an option to sync your brokerage accounts. This means that you must manually input the stock ticker and position size for each asset you hold.
In addition to monitoring your investment performance, the tracker can analyze your portfolio and identify potential risks.
You can see the current factor grades for each asset and any potential warnings.
For example, your portfolio might be under-diversified or you may hold too many positions with a poor grade. This could result in inferior investment performance.
AAII Journal
Your paid subscription gives you access to the AAII Journal. It publishes monthly online, or you can wait for a paper copy to arrive in your mailbox.
Many of the articles are similar to personal finance magazines since they cover topics like tax planning, different investment strategies and more.
You won't find new investment recommendations with this publication. Nevertheless, it can help improve your investing and research skills.
Each issue is in addition to the monthly review of the Shadow Stocks model portfolio.
Planning
You can use the service's on-demand financial planning resources for a hands-on experience.
The newest planning tool is the PRISM Academy, which can help you build wealth and minimize your portfolio risk. You can review almost-daily lessons that can improve your investing skills and money management habits.
Education
New and experienced investors may appreciate the educational articles. These include investment definitions, basic guides to start investing and research stocks.
This content can help you save time since you won't have to conduct a series of web searches to answer your questions. Instead, you can get trustworthy insights from AAII to find investment ideas.
Community
There are several ways to connect with other AAII members online and locally.
Meetup opportunities include:
Online community: Join online forums focusing on various topics
Local chapters: Participate in regional meetings in major cities across the U.S.
Webinars: Attend online webinars or live tutorials about investing topics
These can be an excellent way to learn more about investment strategies and connect with other investors.
What Others Are Saying
While AAII is a well-established and highly recognized investment research service, only a few user reviews are available.
Trustpilot
AAII has a 3.1 out of 5 Trustpilot score with two reviews. One user gave the company an excellent review, while the other rated it as bad.
Here are what the Trustpilot reviewers had to say:
"A gem, but a generally unknown resource for the serious UK investor. Don't expect guidance for what specific investments to make but more the investment approaches which can be used and things to consider." –DKC
"They offer you a 30 days trial for only $2 but even if you opt-out of the "auto-renew" option you will pay $149 for just one year subscription of A+ investor. I sent emails to their customer service and never received an answer." – David
Better Business Bureau
AAII is not accredited by the Better Business Bureau (BBB). It has a B- rating on the platform.
There are no user reviews on the BBB website. The site does list that one complaint pertaining to billing and collections was closed in the last 12 months.
Alternatives to AAII
You may prefer these AAII alternatives that also provide investment recommendations and affordable stock research tools.
Seeking Alpha
Seeking Alpha offers market commentary, stock ratings and portfolio analysis tools. There are more article contributors so that you can get additional insights into your favorite stocks and funds.
The free version lets you read a limited number of articles for free each month and get some access to stock ratings.
However, you must upgrade to Seeking Alpha Premium ($29.99 monthly or $239 upfront) for unlimited access to articles, ratings and stock screens.
Motley Fool
The Motley Fool publishes several daily articles for free to find investment ideas. Several premium products are available as well.
For hands-on guidance, consider the Motley Fool Stock Advisor service. It provides two new stock picks each month and costs $99 for the first year (then $199 for each renewal).
This service provides investment recommendations and a model portfolio of stocks you can hold for at least five years.
Unfortunately, the coverage for ETFs is minimal. You don't get a powerful stock screener either.
Frequently Asked Questions
If you are on the fence about signing up for AAII, these questions can help you determine if it's right for you.
How much does AAII cost?
While you can get a free membership to AAII, a basic membership costs $49 per year. This provides market commentary, weekly investment ideas, planning tools and one model portfolio.

To unlock the screener and rating tools for stocks and funds, you will need to upgrade to A+ Investor. This costs $149 annually.

Additional premium services are available and cost between $149 and $498 per year.
What are AAII's customer service options?
You can call AAII customer support or send them an email. Each feature also includes an online user guide to help you navigate the platform.
How does AAII protect your data?
AAII doesn't connect to your investment brokerages or manage your investments. As a result, they cannot view your sensitive information.

It's important to note that the service might share your name with other companies that offer finance-related products.
Is AAII legitimate?
AAII is a credible platform to research stocks, ETFs and mutual funds. Their research can help you find quality investments.

Regardless, it's still necessary to do your due diligence before acting on their guidance.

Also, AAII doesn't provide individual financial advice. As a result, you will need to adapt their insights to your circumstances.
Summary
AAII can be one of the most affordable ways to find investment research for stocks and funds. Most investors will be happiest with the A+ Investor subscription to view the screens and ratings.
While not having full access to the research tools can be frustrating, the basic annual membership can be a bargain if you only want in-depth market commentary and a model portfolio.