If you are researching checking accounts for teens, Copper Banking is worth considering. The service provides several banking tools that can help parents teach their kids how to manage money.
As a parent, you can effortlessly send money to your child, activate parental controls and monitor their account activity.
Your teen receives a free debit card that can make local or online purchases. They can also make free ATM withdrawals and enroll in direct deposit.
This Copper Banking review can help you decide if this is the best checking account for your teen.

Summary
Get up to five free teen checking accounts with free ATM access and customizable savings goals. Parents can send instant money transfers to their children and monitor their accounts. However, this app doesn't offer chore assignments or merchant blocking.
Pros
Up to five teen accounts
55,000+ free ATMs
No account fees
Cons
Low interest rates
Limited parental controls
Minimal customer service
What is Copper Banking?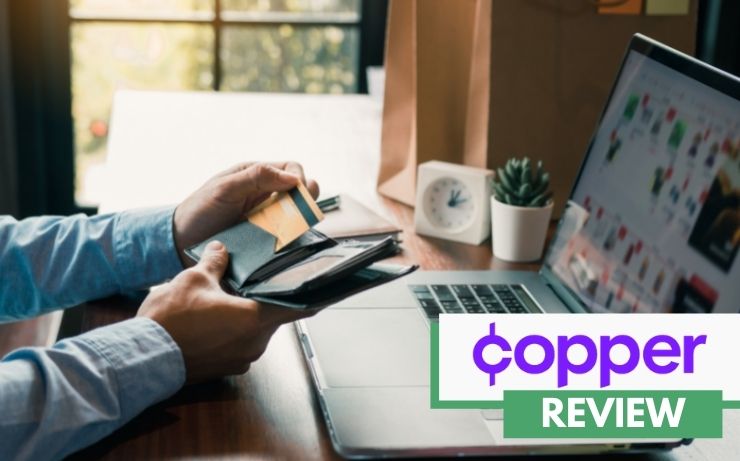 Copper Banking is an online-only banking service that offers free checking accounts for teens. There are no local branches, but you can fund your account using external banks and payment apps.
These checking accounts have up to $250,000 in FDIC Insurance through Evolve Bank & Trust.
Parents can create accounts for up to five kids. Then, they can help their children learn the basics of spending and saving money.
This banking app has four primary missions:
Educate: Teens can take short money-related lessons
Save: Create savings goals that allow you to plan for the future
Spend: Receive a debit card for local or online purchases
Send: Parents can instantly send funds to teens
Parents may appreciate this teen banking app since they can easily send funds to their children and monitor their accounts for safety.
In addition, unlike other teen bank accounts, this platform is currently free.
Teens can benefit from this service as they receive a debit card and have several ways to receive funds.
The service also offers financial literacy tools. These help teens learn more about managing money and saving for future expenses.
How Does Copper Banking Work?
Copper Banking helps teens get their first checking account while avoiding any annoying bank fees.
Some of the key benefits include:
Automating allowance payments
Enrolling in direct deposit
Free debit cards
Access to 55,000+ fee-free ATMs
Creating savings goals
Financial education tools
Up to $250,000 in FDIC insurance
Parents or guardians can download the Copper Banking app from the App Store or Google Play. It's free to join and set up a parent account. Then, you can create up to five child accounts.
Banking laws currently require you to be at least 18 years old to open a bank account. As a result, parents must be the primary member, and they can add children.
Each account must also have its own phone number. This means that your child will need a cell phone plan before they can get a debit card.
After creating an account, each child will receive a free debit card.
Parents can link an existing checking account or digital wallet (i.e., PayPal, Venmo or the Cash App) to fund the account and schedule recurring allowance payments.
Teens can use the debit card for purchases and withdraw cash at over 55,000 surcharge-free ATMs. They can also establish savings goals to set aside money.
How Much Does Copper Banking Cost?
In most cases, you won't pay any fees to use Copper Banking for purchases or send money to your children.
Some of the other typical banking fees you won't pay include:
Monthly service fees
Overdraft fees
Minimum account balance
In-network ATMs (Allpoint Network)
Unfortunately, you will pay fees for less-common services like out-of-network ATMs and instant debit card transfers.
Fees for these optional services include:
Non-network ATM withdrawals: Varies
Cash deposits at Green Dot kiosks: Up to $4.95
Instant debit card transfers: Varies
It's possible to avoid transfer fees when you send funds from a linked bank account or digital wallet. However, it can take up to five business days to complete a transfer from an external account.
Transfers between Copper accounts are free and instant.
Account Limits
This account is best for making small purchases and deposits since there are some account limits to keep in mind.
Copper Banking has the following deposit and withdrawal limits:
$500 daily deposit limit for debit card funding and ACH bank transfers
$2,000 monthly deposit limit for debit card and ACH bank transfers
$2,000 daily spending limit
These limits won't impact most teens and college students. However, parents cannot reduce the daily spending limits or block merchants like some platforms allow.
Copper Banking Features
Here are some of the best perks of using Copper Banking.
Free Teen Accounts
You can create free banking accounts for up to five children. Other teen debit cards may charge account maintenance fees.
This online checking account offers a Mastercard debit card and provides multiple ways to send or receive funds.
When waiting for the physical debit card to arrive, teens and adults have a virtual debit card to make online purchases in the United States. The card also pairs with Apple Pay and Google Pay.
This account offers more bank account linking options than some of the other custodial banking services.
The Copper Banking debit card can link to these digital platforms:
Apple Pay
Google Pay
Cash App
Venmo
PayPal
It's possible to pay for purchases or fund your account with these digital wallets.
Instant Transfers
Parents can instantly transfer funds from their Copper account to their child's account.
Transfers from external bank accounts and wallet apps are free but can take several business days unless you pay a small fee for instant debit card transfers.
Direct Deposit
Teens will receive banking details so they can enroll in direct deposit for their part-time job.
Better yet, depending on their employer's bank, direct deposits can arrive up to two days early.
Savings Goals
While you cannot open a separate savings account, teens can create multiple savings goals to automatically set aside money each month.
The app tracks their savings progress. Parents and teens can also see their spending and savings balance.
Your entire banking account balance earns 0.001% APY interest. This interest rate is meager, so it's better to open a high-yield savings account for long-term cash reserves.
Allowance Payments
Parents can schedule recurring allowance payments or make one-time transfers to each teen account.
Unlike some of the other checking accounts for teens, you cannot assign a chore list in the app. However, it's possible to skip automatic payments when necessary.
Teens can also request money from their parent's account when they need a few extra dollars.
Parental Controls
Parents can track their children's banking and debit card activity via notifications or by logging into the app.
Unlike some banking apps, you cannot disable spending at certain stores or retail categories.
If you want more hands-on control, other apps might be a better fit. However, you may need to pay an account service fee for this additional capability.
Fee-Free ATMs
While most places accept debit card payments, it's also a good idea to have some cash on hand.
Copper Banking works with the 55,000+ Allpoint ATMs that offer surcharge-free withdrawals.
Financial Literacy Lessons
The service strives to teach the importance of saving and learning how to manage money.
The "cheat codes" section has short videos to learn financial literacy basics.
Some of the topics include:
Saving money
Budgeting
Investing
Debt
How bank accounts work
Teens can also take quizzes to test their knowledge. In some cases, the app awards cash rewards for completing financial literacy tasks.
Cash Deposits
Despite being an online-only bank, you can make cash deposits at local Green Dot refill locations.
While Copper Banking doesn't charge a deposit fee, the third-party fee is up to $4.95 per deposit.
Earn Bonus Cash
It's possible to earn a $3 bonus by getting friends to join Copper Banking using your referral link.
The app may also offer additional bonus opportunities. For instance, you might get cash back at participating merchants or by taking financial quizzes.
What Others Are Saying
Many people praise how easy it is to open an account and manage funds with this app. However, you cannot make foreign transactions, and the customer service options are limited.
While the service is still relatively new and has no reviews on Trustpilot or the Better Business Bureau yet, it received great ratings in both of the app stores.
Apple App Store
The Copper Banking app has a 4.8 out of 5 rating with over 9,700 ratings in the Apple App Store.
Here are some of the reviews from app users:
"Banks make it difficult for teenagers to have, manage, use and save money…This app provides an amazing alternative, teaches independence along with financial responsibility, budgeting, saving, planning, tracking." – 0912m
"They say they work with PayPal and Venmo, but it has been nothing but problems trying to get Copper and those two banks connected. When I asked for help via email, the same, unhelpful response was repeated back to me over and over again." – down2earth
"The app is really easy to use. It allows me to monitor [my daughter's] activity and to easily transfer money to her account. She is learning a lot with this app." – DeltaCo52
"This is a great app for a teenager like me, it is easy to use and works very well. I do wish they had foreign transactions in the app so you can buy from a website, but I don't mind that they don't have it." – Ctrow10
Google Play
In Google Play, the Copper Banking app has a 4.7 out of 5 rating with over 2,600 reviews.
Here are some of the reviews users posted in the Google Play store:
"Great starter banking for teens. Love how I can monitor my child's spending and send money to her directly in seconds!" –Ashley F.
"Support does not respond when you need assistance through text message. Also it took 3 weeks to receive a debit card." – Lovely
"Best bank ever. I love Copper, and so does my teen. It's easy to use, and provides freedom for both, my teen and I. It allows my teen to budget, and save. Copper provides financial stability, and awareness." – Shanni Bby
"Bank transfers take longer than they did in the 1900s. Even after setting up and transferring money from my bank several times, the transfers into Copper take several days." -Kathryn Sparks
Alternatives to Copper Banking
Copper Banking is an effective and affordable teen banking app. However, it may lack the customization and benefits of other services.
Greenlight
Greenlight offers up to five child debit cards and two parent cards for $4.99 per month.
Some of the featured benefits include:
Store and ATM parental controls
Apple Pay or Google Pay-compatible
Allowance payments
In-app chores list
Earn up to 2% back on debit card purchases
Banking and investment accounts
You can also pay your child interest on their savings balance as an incentive to spend less.
Consider this service if you want more parental controls and chore management tools.
FamZoo
FamZoo is a great option if you want a customizable budget in addition to banking features.
This platform lets you set parental controls to restrict purchases while also managing chores and allowances.
You can pay $5.99 monthly or $59.99 for a 24-month plan. Each prepaid debit card plan offers a card for each person in your family.
Current
Of these Copper Banking alternatives, Current is the service that is most like a traditional online banking experience.
Teens can have more flexibility with spending and saving, while parents have more robust spending controls.
It's easy for teens to create savings pods or round-up debit card purchases and transfer the difference to their long-term goals.
Better yet, debit card purchases can earn cash back at select stores and restaurants.
Parents can block merchants and set daily spending limits. Assigning chores and scheduling allowance are possible as well.
Each teen account costs $36.
Frequently Asked Questions
Want to learn more about Copper Banking? These answers may help clarify any remaining questions you have.
Is Copper Banking free?
Yes, it's free to open a parent account and receive up to five child debit cards. There are no monthly service fees or minimum balance requirements.

There are also no overdraft fees or in-network ATM fees (Allpoint ATMs).

However, you'll incur charges for instant debit card transfers, out-of-network ATM withdrawals and cash deposits at Green Dot kiosks.
What are the Copper customer service options?
You can reach Copper through the in-app chatbot or by sending an email. There currently isn't a live phone support option.
Is Copper a bank account?
children. The account has up to $250,000 in FDIC insurance through Evolve Bank & Trust.
How do you join Copper?
You can join Copper Banking by downloading the Android or Apple mobile app. Then, the parent registers their name, phone number and Social Security number.

After the parent registers and establishes an account, up to five teens can have a custodial account.

Keep in mind that each account needs a separate phone number.
The platform mails a physical debit card to each new teen account.
Summary
Copper is an excellent free checking account for teens because it's easy to receive funds. The debit card works for most local and online purchases.
Free ATM access at 50,000+ kiosks and the financial literacy tools are valuable as well.
Parents will find it easy to pay an allowance and monitor their children's accounts. However, there are fewer parental controls to block merchants and limit spending.
Overall, if you are looking for a free bank account for your teen, Copper Banking is a fantastic option.