Are you looking for an easier way to research stocks that fit your investment strategy?
Many investors use Finviz since it offers a free and premium stock screener. This platform provides more research tools than most investing apps.
But should you use this service to research stocks? This Finviz stock screener review can help you decide if the platform is right for you.
Summary
Finviz offers free investment research and stock screeners that online brokerages may not provide. Premium subscribers can get real-time price quotes and interactive charting tools.
Pros
Free research tools
Powerful stock screener
Tracks insider trading
Cons
Ads for free version
Cluttered interface
No mobile app
What is Finviz?
Finviz is a stock screener that helps you find potential stocks by fundamental and technical data.
Other platform features include:
Charting tools
Analyst rating changes
Insider trading
Market headlines
Portfolio tracker
Backtesting
Some tools require a paid subscription, but the free version can be sufficient for casual investors.
Finviz doesn't offer a mobile app, which makes researching stocks from a cell phone difficult. It's best to access the platform from a desktop or tablet with a larger screen.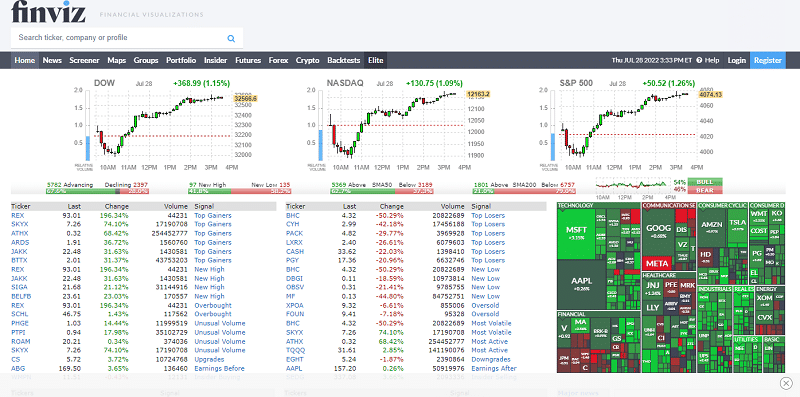 Who is Finviz Good For?
Investors who invest in individual stocks and need research tools their broker doesn't offer can benefit from Finviz. Not every broker offers charting tools, analyst ratings and company leadership trading activity.
The platform's stock screener can be better than the best investing apps because of its numerous secondary investment research features.
Finviz won't be a good fit for investors that prefer buying stock funds. Beginner investors may also find the platform overwhelming because it provides an abundance of information.
The interactive charting tool requires a paid subscription. You may want to see if your broker offers advanced charts for free, but you can still use Finviz as an all-in-one stock screener.
Finviz Plans
There are three different Finviz plans available to investors. Two options are free, while the other is $39.50 per month.
Finviz Free
A surprising amount of the platform is accessible for free. Better yet, you don't need to create an account.
The free plan includes these features:
Stock quotes
Basic technical chart
Heat maps for stocks and commodity groups
Up to three years of income statements
Insider buys and sells
Analyst upgrades and downgrades
Casual investors that trade stocks infrequently or want to guard their privacy may consider this plan for its low cost.
Three negative tradeoffs for the free plan:
Price quote delays up to 20 minutes
Several advertisements per page
No customization options
Free users can enter the stock ticker and see a basic technical chart. It's possible to see the simple moving average, but you cannot add other fundamental or technical indicators.
Interactive charts and advanced technical analysis are only available with a paid plan. However, the basic chart can be sufficient to determine if a stock is in an uptrend or downtrend.
The stock quote delay is 15 minutes for Nasdaq tickers and 20 minutes for the NYSE and Amex exchanges. Only the paid plan offers real-time stock quotes and extended hours data.
Finviz Registered
You also have the option to enroll in a free, mid-tier Registered plan.
This plan includes the Free plan features but lets you personalize your research tools.
Registered benefits include:
Customizable screener layout and trading signals
Up to 50 screener presets
Up to 50 portfolios
Each portfolio can track as many as 50 tickers.
This membership tier displays ads. While ads can be a nuisance, it's important to remember that this is pretty standard for free services.
Finviz Elite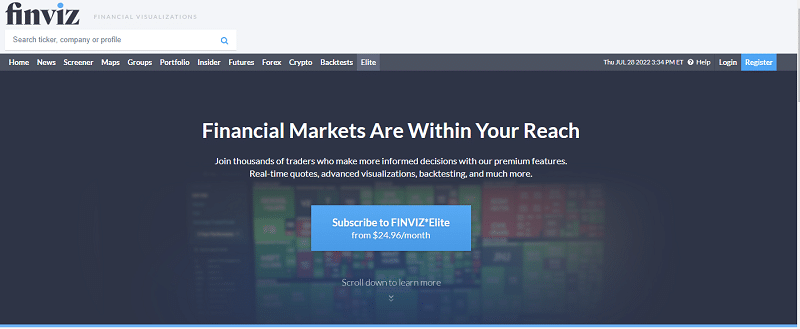 The only paid membership plan is Finviz Elite. You will need this plan to get real-time quote data and interactive charts.
Finviz Elite benefits include:
Real-time and extended hours stock quotes
Interactive charts
Backtesting
Correlations with stocks and ETFs
Email alerts
Up to eight years of financial statements
Up to 100 screener presets
Maximum of 100 portfolios (and up to 100 tickers per portfolio)
Upgrading to Finviz Elite costs $39.50 per month or $299.50 for an annual subscription. New subscribers get a 30-day money-back guarantee.
Key Features
Finviz offers investors helpful tools to research stocks. Here are some of the core tools that the platform provides.
Stock Screener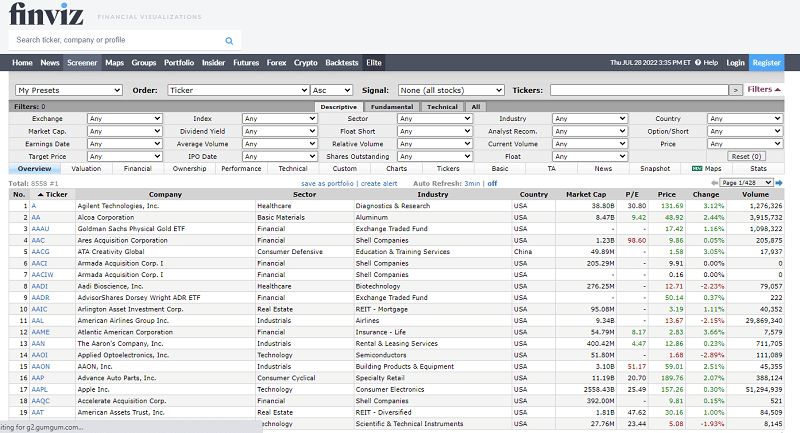 The Finviz stock screener is why most beginner and advanced investors use this service.
It's possible to screen stocks by these indicators:
Descriptive (Dividend yield, sector, industry)
Fundamental (P/E ratio, debt to equity, insider trading)
Technical (Simple moving average, RSI, pattern)
You can select multiple filters from each indicator type. The screener updates the qualifying results in real-time.
Free plan users can view up to 20 tickers per page. Elite users see up to 100 results at once.
Once you find a stock that interests you, clicking the ticker symbol provides in-depth company research.
This screener has a similar appearance to traditional online brokerages. One advantage of using Finviz is the amount of data the platform compiles to make your research easier.
Heat Map
Using the heat map tool makes it easy to visualize which stocks are the best or worst-performing options.
The default setting is to track the one-day price performance by stock or industry sector. Green-colored blocks have positive price action, and red-colored blocks are negative.
It's also possible to use heat maps to track different metrics.
Some of the options include:
Dividend yield
Earnings date
Investment ratios (Price to Earnings, Price to Book, etc.)
Short float (the percentage of shares currently borrowed by short sellers)
Year-to-date performance
Elite members can see their results as bubbles with a scrollable map.
Charting Tools
The Finviz Free and Registered editions only provide a basic chart with limited customization.
Each chart displays these technical indicators:
20-day simple moving average (SMA)
50-day SMA
200-day SMA
Channels (ascending and descending)
You can also see candlesticks on the daily, weekly or monthly interval.
This free charting tool may seem primitive, but it's more robust than what users of other platforms, such as Robinhood, receive.
Elite members can access intraday charts plus add different indicators and drawing tools. Premium membership also lets users compare the investment performance to other stocks or indexes.
Having a screener and interactive charts in one place is convenient.
Market News
It's possible to browse market headlines from investment news sites and blogs when clicking on the "News" tab. Some content may be behind a paywall, like Wall Street Journal articles.
You can see company-specific headlines when researching specific stocks.
These resources can help you gauge market sentiment.
Insider Trading
The insider trading section reports when company executives buy or sell positions. This information is public knowledge but can be time-consuming to find on your own.
Lots of insider buying can indicate share prices are likely to rise soon, while plenty of selling may hint that senior leadership is bearish for now.
The Finviz stock screener can also help you quickly identify stocks with insider trading activity.
Financial Statements
Free and Registered users can see the financial metrics for the last three years. Elite plans see the details from the past eight years.
The metrics come from these company financial statements:
Income statement
Balance sheet
Cash flow
Some brokers show these in-depth details, but barebones micro-investing sites are less likely to provide this information. Investors can also find these details using a search engine but may need to visit several places.
Once again, Finviz compiles most of the information that investors frequently use to research stocks and provides this data for free.
Analyst Ratings
Finviz lists when analysts change their buy or sell rating and the new target share price. The platform doesn't offer third-party research reports like Zacks, Morningstar Premium or traditional online brokerages.
This section can help investors determine the sentiment of institutional investors. However, it should be used as a secondary tool in conjunction with the screener and price chart.
Portfolio Tracker
Registered users can build up to 50 portfolios that each track up to 50 tickers. Elite members can build 100 portfolios, and each one tracks up to 100 symbols.
This investment tracking tool can monitor buy and short positions. You can add the number of shares and purchase price to calculate your investment gains.
Investors can also build a paper trading portfolio using today's market price.
This feature is relatively basic, yet it performs its purpose.
Futures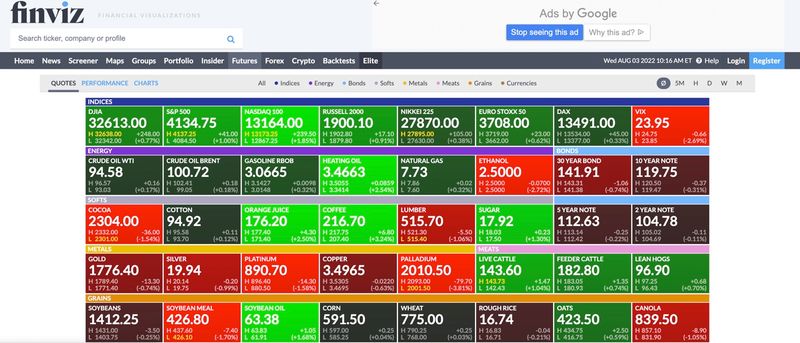 Monitoring commodity and stock index futures can indicate how stocks will perform in the next trading session. You can also track forex for trading currencies.
The platform shows these details:
Real-time price quotes
One-day price performance
Charts
These displays are easy to read. They use green and red colors to show strength or weakness.
Cryptocurrency
Finviz tracks the prices of popular cryptocurrencies. Most price quotes are for Bitcoin, Ethereum and Litecoin.
Quotes for newer "altcoins" may not be available, which might be a drawback for some investors.
Backtests
Elite members can perform technical analysis backtests. You may use this tool to test a trading strategy before you make an investment.
Most online brokers with impressive charting tools don't offer backtesting. This feature can be worth the subscription fee for frequent traders.
Email Alerts
The platform doesn't necessarily offer a watchlist, but you can save screens as a portfolio.
Elite members can receive email alerts for these events:
Price points
Insider trades
Rating changes
News headlines
Users can use this information to conduct new research or submit a trade order with an online brokerage.
Correlation
Advanced investors wanting to engage in a pairs trading strategy can benefit from the Elite-only correlation function. It's possible to find stocks and funds with a positive or negative correlation.
You may then decide to buy shares of one stock for a long position that makes money when the share price rises. The second half of the pairs trade is selling short shares of stock you anticipate will decrease in value.
If you don't want to short a stock, the correlation tool can help you find two investments that perform similarly (positive correlation) to increase your income potential.
Is Finviz Easy to Use?
Finviz can be easy to use for new and advanced investors. Its stock screener can help any investor find new investments matching their criteria.
You can also quickly track insider trading and scan market headlines.
However, it doesn't have the cleanest interface compared to other tools. It can be difficult for users to find the information they want most because it may feel outdated and cluttered.
For example, Finviz doesn't have a mobile app like the TD Ameritrade thinkorswim platform that offers many of the same features.
At the same time, Finviz is web-based and doesn't require a desktop download to access certain features. The platform provides ample information without having to create an account or download special software.
What Others Are Saying About Finviz
Every financial product has some advantages and disadvantages. So, reading the reviews can help you see what people like and don't like about the platform.
Here's what some real users think of their Finviz experience:
"Easy stock screening & interesting choice of news" – Stelios Michael
"What I like most about this website is that it offer free "Screener" service to scan the stocks based on technical and fundmentals. The website is very responsive and from my experience, there are no lag or issue at all." – Shawn
"I have sent several emails requesting my subscription be canceled and got no response. A year passed and it was auto-renewed. Kindly cancel my subscription this is the 2nd year you are charging me. No one responds to emails here??? user account starts with." – Harry Sawh
In general, the complaints are centered on refund issues.
Is Finviz Worth It?
Finviz can be a valuable resource for fundamental and technical investors that buy individual stocks. It can be an excellent secondary tool even if your broker has a full research suite.
The free and registered versions are worth a try as there isn't a financial commitment. The price quote delays are a downside if you research stocks during market hours.
However, upgrading to Finviz Elite is best for active traders who rely on technical data. The stock screener and interactive charts can make Finviz an all-in-one stock research tool.
Unfortunately, paid membership doesn't offer third-party research reports that appeal to some investors.
Positives and Negatives
As with any platform you consider using, it's important to know the pros and cons. Here are some of the benefits and downsides of Finviz.
Pros
Free stock screener with fundamental and technical filters
Tracks insider buying and selling
Portfolio tracking tool
Charting tools
Cons
No third-party analyst reports
Delayed price quotes for free memberships
Cluttered interface
Free editions display ads
Frequently Asked Questions
Chances are you have some questions about Finviz you'd like answered before using the service. Here are some frequently asked questions that can help.
Does Finviz provide real-time quotes?
Yes. However, Finviz only provides real-time stock quotes to paid subscribers with the Elite plan.

The Free and Registered membership tiers can have price quote delays of 15 minutes for Nasdaq listings. Delays are 20 minutes for the NYSE and AMEX stock exchanges.
Does Finviz show premarket quotes?
Yes. Elite members can see premarket and aftermarket quotes for extended-hours trading.

The premarket data begins populating at 8:00 AM Eastern in the homepage, stock quotes, charts, maps and stock screener sections.
Can you trade on Finviz?
No. Finviz doesn't partner with brokers to execute trades. Investors can add stock buys to the portfolio tracker after executing a trade.

The platform is specifically for researching potential investments and testing trading strategies.
Is there an app for Finviz?
No. Finviz only offers a web platform. It is accessible from any computer, tablet or phone with a web browser.

This website is mobile-friendly, but the data is small because of screen size limitations. Mobile visitors must zoom in to see the stock research.

There also isn't a downloadable desktop version as some research platforms require. Purchasing a paid subscription gives you full access to Finviz on any device.
Finviz Review – Summary
Finviz is one of the best free stock screeners and can help most investors despite the delayed price quotes. Its premium Elite platform can assist active traders in finding and researching investment ideas.
Additionally, this screener can pair with stock newsletters and free investing apps that don't offer in-depth research options.