​​Mercari is a digital marketplace that is quickly gaining traction in the United States. However, there are Mercari alternatives that might be a better fit for your buying or selling needs.
We found the top sites and apps like Mercari that can help you buy items for less or make quick cash if you have things you want to sell.
Alternatives to Mercari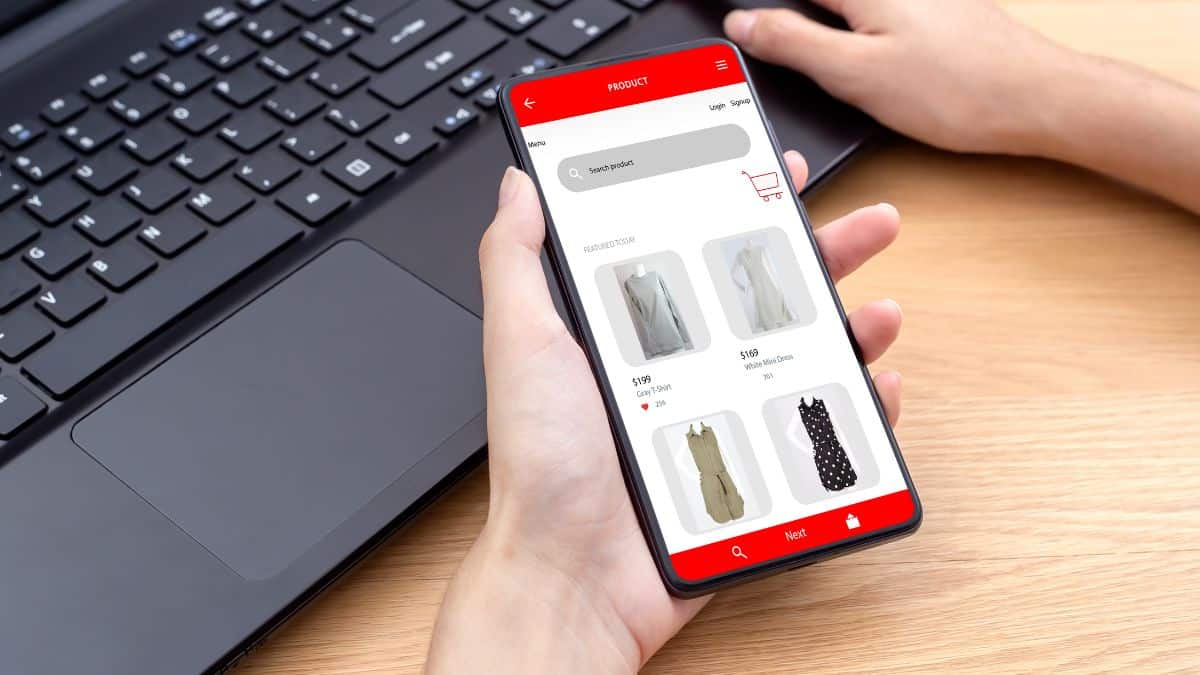 No matter what you want to buy or sell, there's a Mercari alternative to simplify the process. In order of Apple App Store ratings, here are the top sites and apps like Mercari.
1. eBay
eBay is a household name when buying or selling things online, but did you know how easy it is to use the site?
For buyers, eBay is great for hard-to-find items, collectibles or deals on things like clothing and shoes.
Some sellers have entire stores with the items they sell, and others sell individual items as they have them to sell.
When selling on eBay, keep in mind that only sellers pay fees to use the site. eBay will take a fee for each sale you make, and you might incur listing and other payout fees as well.
Related Article: Make Money Selling Things On eBay
2. Chairish
If you want to buy or sell used furniture or art, Chairish is one of the best sites to use.
The items available for sale on the platform tend to be high-quality, which benefits buyers and sellers alike.
Buyers can shop with confidence knowing the items they are buying will be in great condition and look fabulous in their homes.
Sellers can rest easy knowing they will sell their items at a great price.
The site is easy to navigate, making it easy to find what you are looking for. It's also simple to list items for sale, and Chairish will help facilitate shipping when your item sells.
3. Tradesy
Tradesy is a resale marketplace that is primarily for name-brand items like Alexander McQueen and Louis Vuitton. However, they also have items from brands like Zara and Nike.
This platform ensures all items listed are exactly what you receive. If you aren't sure about a product's authenticity, you can send it back for an authenticity check.
It's easy to sell items on the site since it offers the ability to list products in minutes, provides shipping kits and charges a reasonable commission based on how much you sell your item for.
4. Craigslist
Craigslist is a catch-all site where you can buy or sell just about anything, from clothes to household goods and more.
The site is best for local sales, and you should always use caution when buying or selling on the app.
Make sure to meet anyone you transact with in a well-lit public space, preferably during the day, to ensure your safety.
Related Article: How To Sell Stuff On Craigslist Extremely Fast
5. Etsy
Etsy is a global marketplace where you can buy or sell handmade items, antiques and other unique products.
You'll find one-of-a-kind items on Etsy and dupes for more expensive brands.
In addition, many sellers offer customized products, allowing you to choose specific colors or other details about the products you order.
This also allows sellers to earn more money by upselling customization options.
Buyers should be aware that, since items are made-to-order in most cases, it can take a while to receive your order. As a result, you'll want to order early enough for the occasion when buying on Etsy.
Related Article: 4 Best Ways to Make Money Selling on Etsy
6. Curtsy
Curtsy is like your favorite thrift store for women, but online. Buyers don't get the same thrill of digging through clothing racks, but they can get amazing prices and recycle clothing.
On Curtsy, you'll find the trendiest clothing at prices you'll love. If you aren't sure what you want, you can take the site's style quiz to learn which clothes suit you best.
Selling through Curtsy is straightforward. You can quickly list your item, and the app will send you a shipping label once it sells.
You'll get paid as soon as the post office scans the shipment.
7. Depop
Depop is a fashion marketplace for men and women. They cater to urban and trendy styles by selling brands like Urban Outfitters, Jordan, Trapstar and more.
The site started as a social network where followers of PIG magazine could find the products they loved in the magazine.
Today, it's a subsidiary of Etsy and makes it easy to buy or sell various styles of clothing for men as well as women.
8. OfferUp
OfferUp is for local sales as well as shipping. Buyers can find deals on products from household goods to clothing and everything in between. It is a great way to get amazing deals and buy secondhand items.
All communication goes through the app, and you can see other users' reviews, ratings and transaction histories.
Sellers may appreciate how easy it is to list items on OfferUp as well as the fact that there are no fees to sell items locally using the platform.
Learn More: OfferUp Review: Is It Worth It To Sell Your Stuff?
9. Poshmark
Poshmark is an online marketplace for brand names. Most people buy and sell top brands on Poshmark, including Lululemon, Urban Outfitters and American Eagle.
Buyers should pay close attention to the listings since some are new with tags, while others are used. You can also negotiate pricing by sending an offer.
Sellers will appreciate how easy it is to use the site.
Simply list your items, share them with prospective buyers and earn cash after your item gets to the buyer using Poshmark's shipping label.
Learn More: Poshmark Review: Is It Worth It to Buy and Sell Used Clothes?
10. Vinted
Vinted is another online resale shop for men, women and children's fashion. You'll even find a large selection of home goods.
It's easy to sort through the app, look for your favorite items, ask the seller questions via the app and pay.
When you checkout, you'll see the estimated delivery date and can track the delivery until it arrives. Buyers pay a Buyer Protection fee of 5% of the sales price plus $0.70.
This protects your money should something fall through with the purchase.
Sellers should be aware that it could take up to five days after buyers receive the item to get payment.
You can track your package to ensure it makes it to the buyer and have a more solid idea of when you will get paid.
11. 5miles
5miles is one of the best apps like Mercari that helps you find products for sale within your area. It's one of the easiest apps to use since you just search for what you want, comment on it and make an offer.
The app uses your location to show you what's available in your area and implements various safety methods to verify sellers so that you know you aren't getting scammed.
It's easy for sellers to list items as well. Just add a few photos, a description and a price to share your item with the numerous buyers on the app.
12. ThredUP
ThredUP was launched to change the way the world shops for clothing.
Not only did they want to offer thrifting online, but they also wanted to give everyone a chance to reuse clothing and do their part to save the environment.
You help the environment with the ThredUP app, but you can also save a lot of money. They run great deals, sometimes marking items down as much as 90%.
The platform makes it incredibly easy for sellers to earn money. Simply request a kit, send in the clothes you want to sell and then wait to get your money once the items sell.
You can redeem your earnings for cash or get credits for ThredUP.
Learn More: ThredUp Review: Is It A Good Option To Sell Clothes?
13. The Real Real
The RealReal is a luxury consignment app. You'll find amazing deals on this app if you're in the market for high-end clothing, accessories or jewelry.
Buyers can save as much as 90% off the retail price of name-brand clothing and accessories.
All products are authenticated, so you know you aren't getting taken advantage of. Plus, they ship to over 61 countries.
Sellers will appreciate that most items on the site are purchased within 30 days, on average. You can even earn up to 85% of the sales price on your items.
14. Letgo
Letgo is an app people use when they want to declutter. You'll find secondhand items in almost any category, including cars.
Buyers like the app because they can often find great deals, but you probably won't find collectibles or hard-to-find items on the app.
Sellers will appreciate how easy the app makes it to list their items and communicate with buyers.
15. StockX
StockX is a marketplace for sneaker and apparel lovers. All products go through an authentication process to ensure you're getting the real deal, and you can save a ton of money on top brands.
The platform sells items at the current market price and is fully transparent with its pricing. It's the go-to app for hard-to-find sneakers and apparel that is sold out or limited in your area.
Sellers can list their items at a buy-now price or sell them to the highest bidder. Once the item sells, you have two days to ship it to StockX for authentication. After your item passes the authentication process, you can get paid.
Learn More: StockX Review: Is It Legit or a Scam?
How Do These Apps Like Mercari Compare?
| | | |
| --- | --- | --- |
| App | Apple App Store Rating | Best for |
| Chairish | 4.9 out of 5 | Furniture |
| Etsy | 4.9 out of 5 | Handmade goods and antiques |
| Tradesy | 4.9 out of 5 | Luxury goods |
| Craigslist | 4.8 out of 5 | Local sales of larger items |
| Curtsy | 4.8 out of 5 | Affordable women's fashion |
| eBay | 4.8 out of 5 | Anything unique, in-demand or difficult to find |
| Depop | 4.8 out of 5 | Trendy clothing and shoes |
| OfferUp | 4.8 out of 5 | Local pick-ups |
| Poshmark | 4.8 out of 5 | Designer clothes, shoes and accessories |
| Vinted | 4.8 out of 5 | Everyday clothing for the family |
| 5miles | 4.7 out of 5 | Any secondhand items sold within five miles |
| ThredUp | 4.7 out of 5 | Great prices on clothing for the family |
| The Real Real | 4.6 out of 5 | Luxury clothing |
| Stock X | 4.6 out of 5 | Trending sneakers and apparel |
| LetGo | 4.3 out of 5 | Household goods |
Methodology
When evaluating different apps and sites like Mercari, we evaluated key factors to determine the best options in the space. In addition, in-depth research was performed to identify the top competitors that can help you buy and sell items online.
We focused on the following criteria:
Apple App Store rating of 4.0 or higher
Reputation among industry leaders
Ease of use
Simple registration process
Quality of listings
Low (or no) fees
Available in the United States
Frequently Asked Questions
Do you still have questions about the different sites and apps like Mercari? These answers might be able to help.
Summary
Shopping on apps like Mercari is a great way to stretch your dollar or earn some quick cash. However, it's not the only option for your buying and selling needs.
Choose the platform that is best for the products you are interested in. This way, you can either save money on your purchases or sell your items faster.