Did you know you can get paid to drive your car? There are actually several companies that will pay you for driving your car.
This can be a great way to help cover car ownership expenses, like car payments, insurance, maintenance costs, and more.
Getting paid to drive your car usually comes with certain requirements.
Most venues that will pay you to drive your car have certain requirements. They want your car to be clean and in good shape. They expect you to have a valid driver's license.
You have to have car insurance, and you need a clean driving record too.
Do you fit into the parameters above? If so, you can start getting paid to drive your car with the options below.
Get Paid to Deliver Groceries
The world's on a never-ending chase for modern convenience. To meet that need, there are many apps that will pay you to deliver groceries and other goods to people.
They help people who can't or don't want to leave their homes to do the shopping themselves. And they help people who are too busy to run errands.
People's busy schedules provide a great benefit for side hustlers. It's the ability to earn money driving their cars.
Here is some information about a couple of companies that will pay you to deliver packages or other goods. Use this information to help other people while using your car.
1. Instacart
Instacart is an "on-demand grocery delivery service". This means that customers order groceries through Instacart. Instacart sends independent contractors to deliver the groceries.
You'll start by applying to be a driver with Instacart. After that, you'll meet with a local Instacart employee who will interview you. In addition, they'll explain how the process works.
Basically, Instacart shoppers do the shopping, and independent contractors do the delivering.
To qualify as an independent driver for Instacart, you need to:
Have a valid U.S. driver's license and current auto insurance policy
Have a newer smartphone
Submit to a criminal background check
Be able to lift at least 30 pounds
Be at least 21 years of age (18 in Boston)
You need to be eligible to work in the U.S.
Instacart says their drivers make "up to" $25 an hour. However, that wage can vary based on a number of factors.
Instacart has dozens of locations all over the United States. However, they have more locations in the Eastern half of the U.S.
2. DoorDash
You can deliver food from almost anywhere by becoming a Dasher with DoorDash.
Some Dashers use the extra money to pay for vacations, their wedding, or other large purchases. It's a great side hustle that can fit into any busy schedule. This is because you can choose when you want to work.
Know that you'll make more money with these types of side hustles if you have a fuel-efficient vehicle. The less you are paying out for fuel purchases, the more profit you'll earn by driving your car.
3. Postmates
Similar to DoorDash, Postmates is an on-demand delivery service looking for delivery partners with a great attitudes. As a Postmate, you may deliver a meal, grocery order or liquor order. Their website says that their drivers can earn up to $25 per hour!
It is free to sign-up and fast to get started. To become a Postmate, all you need to do is download the fleet app onto your phone, create an account, and once you are verified, set-up direct deposit.
It is fast, simple and gets you making money on your own time. The best part is that their are no commitments and you can cash out instantly anytime you want!
4. Shipt
Similar to Instacart, Shipt is also an on-demand grocery delivery service. Independent contractors that work for Shipt need to shop for a client's groceries. Then they deliver them to their specified home or business address.
After downloading the Shipt app, drivers get notifications of grocery orders. They get to see the total dollar amount of the order.
Then they decide whether or not they want the order. After accepting an order, the driver heads to the grocery store and shops for the customer.
They then deliver the grocery order to the customer. They get paid a base pay of $5, plus a 7.5% commission of the total grocery order. In addition, they get to keep any tips they earn.
Shipt claims its drivers make between $15-$25 per hour on average for deliveries. Shipt isn't available in all U.S. states.
They operate in 16 states including Arizona, Alabama, Washington and Illinois. And they're working to expand.
5. Amazon Flex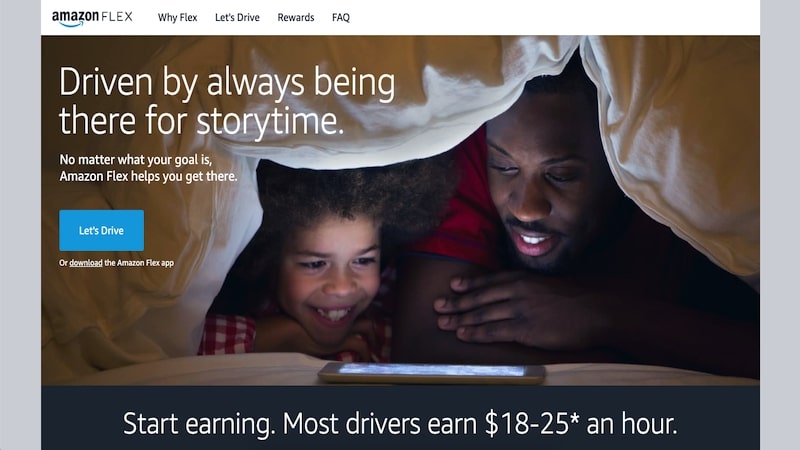 Amazon Flex hires drivers as independent contractors to deliver local packages. You'll deliver primarily for Amazon Prime customers. The Amazon Flex website says they'll pay drivers between $18 and $25 per hour for delivering goods.
As with companies like Lyft and Uber, you download the Amazon Flex app onto your smartphone.
You can use the app to let them know which days and hours you are available for work. Turn it on when you can drive and off when you can't.
Amazon Flex jobs are available in over fifty major cities around the United States. Note that they aren't hiring in all of the cities available right now.
If you head over to their website, they will tell you which cities currently have Amazon Flex openings. That page will lead you to an application page.
For cities that do not currently have openings, you can apply to be on a waitlist. Amazon will contact you when openings arise.
6. Uber Eats
With Uber Eats, you can earn extra money by delivering food orders, and you can be paid with Instant Pay. *Terms Apply*
When you sign up to deliver with Uber Eats, you'll deliver food from restaurants to people's doorsteps. This is how you get paid to drive your own car.
You can make your own schedule and deliver when you want. It's like driving with Uber, but for restaurant food.
You don't drive customers around. Instead, you bring them their food orders. This could be a good earning opportunity if you don't like the idea of driving people around.
Drive Others Around
Do you enjoy spending time with people? Is it fun for you to drive your car around? If so, you might want to check out ways you could get paid by driving others around.
7. Driving with Lyft
Each rideshare company works differently. Here is some basic information about driving with Lyft.
Qualifications for driving with Lyft:
You must be at least 21 years of age
It's required to own an iPhone or Android phone
You must have a Social Security number.
You must have a state-issued driver's license that is at least one year old
Your car must have four external door handles and at least five seat belts
You must also carry in-state car insurance on your vehicle
Related Post: How to Shop for Car Insurance
How does driving with Lyft work?
When people contact Lyft for a ride, Lyft searches their database of drivers in that particular city. The driver closest to the rider will have the first opportunity to pick up the rider.
If that driver isn't available, Lyft will contact the next closest driver. You get to choose which rides you take and which you don't.
How does Lyft pay me?
When you pick up a passenger as a Lyft driver, you tap a "pick up" button on your Lyft driver app. Lyft begins calculating the miles and minutes you carry the passenger. When you drop the passenger off you let Lyft know by using your app again.
Lyft keeps track of the rides you give each week. They pay out on a weekly basis after deducting a percentage of the fare for their commission. Lyft drivers get to keep any tips for themselves. They never pay commissions on a tip.
8. Driving With Uber
Uber is another ride-request app that helps connect riders and drivers. Driving with the Uber platform is a flexible way to earn money. Here are some quick facts about driving with Uber.
What are the qualifications for driving with Uber?
Be 21 years of age or older
Have a valid U.S. driver's license
Have at least one year of licensed driving experience. If you're under twenty-three years of age, you need to have at least three years of licensed driving experience.
Have an eligible four-door vehicle
Carry insurance on the vehicle
Uber also performs background checks and driving record checks on potential drivers.
How does driving with Uber work?
Once you have been cleared to drive with Uber, you can get started on the Uber app. You can make your own schedule and drive on your own time. As user request rides, the Uber app will notify you. You'll pick them up and get paid for each ride.
How do I get paid?
Fares are paid weekly. You can also get paid when you register for Instant Pay with your debit card. In the past, Uber did not allow drivers to accept tips. However, that has changed as Riders now have the option to tip drivers.
How can I maximize my earnings with Lyft or Uber?
There are lots of variables to consider when it comes to maximizing your earnings. You'd be surprised what you can make when driving other people around with companies like Lyft and Uber.
The link above has tips to help you earn more as you drive.
Giving rides to passengers is just one way you can get paid to drive your car. Here is some information on other ways you can make money with your car.
Rent Your Car Out
Alright, you won't technically be driving your car to make money with this one. However, you can get paid by letting others drive your car.
9. Hyrecar
Companies like Hyrecar match those willing to rent out their car with those needing a car to drive. How much people pay you to rent your car depends on a number of factors. Factors include the year, make and model of your car and how long a driver rents it out for.
Location of your vehicle and time of the year impact how much you can make with Hyrecar too. Hyrecar sets the rental prices for you when you list your car. If you want, you do have the ability to set the list price yourself.
Customers rent cars with Hyrecar for a variety of reasons. For instance, they may want to take a vacation, for instance. Or they may need a car to drive while in your town as they travel for work purposes.
Maybe their car is in the shop and they need a car to use in the interim.
Car owners get between 65% and 85% of the total trip price. Pay depends on which protection package they choose.
This could be a great way to make money with your car if you don't use it very often. Or you could use Hyrecar if you have an extra vehicle available.
Advertise on Your Car
There are legit companies out there that will pay you for placing advertisements on your vehicle. Sometimes those advertisements might consist of a simple magnetic placard. Other companies may want to install an entire vehicle wrap on your car.
However, it's important to know that there are some scams out there. They'll say they pay you for placing advertisements on your car, but they won't. Let's go through the details about how you can get paid for advertising on your car.
After that, we'll talk about which car advertising companies are legit.
How does getting paid to advertise on your car work?
Many companies feel that advertising via car wraps and placards is a great way to have a mobile advertisement for their business.
Think about it: let's say a company is using a billboard to advertise. People must drive by that particular billboard if they're going to see the ad. Similarly, let's say a company advertises in a newspaper. The only people who will see the ad are those who read that newspaper.
With mobile advertising such as car wrapping, a company's ad gets further reach. Companies get information about their services spread all over major metropolitan areas.
All it takes is having people drive their cars with the company wraps on them. Companies can reach a much bigger audience, and for a much lower price.
As a potential car wrap driver, you submit an application to a legit car advertising company. Once your application is approved, the wrap is placed on your car. And you get sent a monthly check for doing your normal, everyday driving.
Are there certain qualifications drivers must meet?
Most legit car advertising companies have certain qualifications for drivers. Generally, they are looking for drivers of newer vehicles that are in great shape. Body damage and rust must be virtually non-existent.
This is because those types of problems can hinder the process for placing wraps on vehicles.
Also, drivers have to drive a specific number of hours each week in order to qualify. Companies want to hire frequent drivers for advertising with their cars.
In addition, legit car wrap companies want drivers who live in bigger cities. Ad companies are looking for drivers who spend a lot of time on the road and spend a lot of time driving in major metropolitan areas.
This way the company paying for the advertising gets maximum exposure.
Car wrap companies also prefer drivers with decent driving records. It wouldn't reflect well on a company if a driver is driving irresponsibly. Their bad habits will reflect on the company they're advertising.
Do you think your driving habits and your vehicle specs might fit in with what car advertising companies want? If so, you can check out some online car advertising companies. If you fit the criteria, you can begin the process for driver credentials.
However, as with any type of business there are legit car advertising companies and scammers. Here are some of the signs you can look for. They'll help you determine the difference between a legit car advertising company and a scammer company.
Legit Companies Won't Ask for Money up Front
If a car advertising company is on the level, they won't ask you to pay them money. Some companies request money at the time of application. If a company is asking for money up front, you'll want to avoid it.
They Will Ask About Your Driving Habits
If a company doesn't seem to care about your driving habits, they might be a scam. Legit companies care how much you drive. They care whether you're a responsible driver. If those things don't matter, there's a good chance that the company is not legit.
Legit car wrap companies work to maintain integrity. One way they do that is by hiring drivers that will make their clients look good.
They Display Detailed Contact Information
You may want to take pause if a car advertising company you're checking out doesn't have detailed contact information. By "detailed" I mean that they have an address and phone number listed on their site. They should have an email or other contact form too.
Another way to spot a legit car advertising company is to do an Internet search. Google search the company name. Legit companies will often have interviews on major news media outlets. Non-legit ones will have scam alert articles posted about them.
We've talked a bit about what to look out for in order to not get scammed. Next, I'll share information about a couple of car advertising companies that are legit.
10. Carvertise
Carvertise specializes in side wraps and rear window wraps. They essentially pay you advertise for companies on your vehicle.
Here is a list of some of their driver credentials:
Carvertise drivers must be at least 21 years of age
They must drive at least 25 miles per day (800 miles per month)
Drivers must have a clean driving record
They must own a 2005 or newer vehicle
The car they own must have a factory finish paint job
With Carvertise drivers do get to approve the wraps that are placed on their cars. The company pays $100 per month for the duration of the ad wrap campaign. Typical ad campaigns last three to six months.
The wraps that Carvertise uses on your car are made of vinyl. They are deemed safe by the company. In fact, the company says they will protect the paint on your car.
11. Wrapify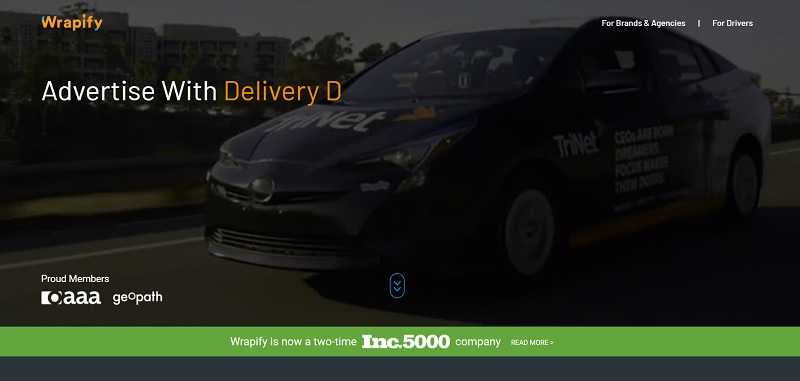 Wrapify works a bit differently than Carvertise. In order to be determined eligible to drive for Wrapify, you need to share your driving habits first. You'll download the Wrapify app from the Apple App Store or the Google Play Store.
After you have downloaded the app, you need to activate it to track each day's commuting miles.
Once you have reached fifty commuting miles, you become eligible for campaign offers. They'll send you offers that are in your area provided you meet the advertiser's driving criteria. Each advertiser will have different criteria for qualifying.
Other things you may want to know about Wrapify:
Wrapify drivers must be at least 21 years old
They must have a clean driving record and criminal record
They must own a vehicle that is 2008 or newer
The body of the vehicle must be free of rust and body damage
What would you get paid driving with a Wrapify wrap? That depends on a number of factors. Some include how many miles you drive, what times of the day you are driving and how extensively the wrap covers your car.
The Reviews are Good
From what reviews are saying, Wrapify does sound like it will pay out more than Carvertise's $100 per month. That is, if the driver's driving habits qualify them to earn more. However, the company website is not specific about exactly how much they'll pay.
This does make some sense. The pay varies based on the driver's location and driving habits. So it makes sense that Wrapify wouldn't be able to give an exact payment amount per month. And the reviews we found were positive overall.
Driving with legit companies like Wrapify and Carvertise can be a great way to get paid to drive your car. If you're okay with driving around with company ads on your vehicle, contact them.
Make Money by Carpooling
In some cities, you can get paid to carpool. Certain cities will pay carpoolers to help reduce traffic and pollution.
12. Pool Rewards
If you live in the Washington D.C. area you can earn what's called Pool Rewards.
Pool Rewards offers incentives to new carpoolers in the D.C. area. Visit their website for information on pay and other benefits.
Other states or metro areas may offer similar rewards. Check on your state's government website or google search "get paid to carpool". Note that programs like Pool Rewards won't pay you as much as you'd earn using the other ways mentioned here.
However, carpooling in general does pay. If you drive for a carpool, riders will contribute for gas. If you get enough riders you could earn money in the process. When you're driving to work, you buy roughly the same amount of gas whether there's one or five people in the car.
Charge each rider a set amount of money per month to drive with you. Make it a reasonable price. After all, they want to save money too. That's why they're considering carpooling.
The money you earn can help offset gas and maintenance costs. Put up notices at work or in public places near work to find riders. Try to find readers who are personable to make the ride enjoyable. Be a gracious and timely rideshare driver too.
Summary
As you can see, there are several ways you can earn money with your car. Why not use it to bring in some extra cash? You can use the cash to offset car costs or to earn money for your financial goals.
If you choose to put a wrap on your car, you'll earn true passive income.