If you're trying to find ways to save money on bills this year, your cell phone bill is a smart place to start since there are plenty of cheap cell phone plans available.
Gone are the days of limited plans from the big three cell phone carriers — AT&T, Verizon Wireless and T-Mobile.
These days you'll find plenty of smaller providers using the big carrier networks in order to give you an option for cheaper service.
With so many options, it's just a matter of finding the plan that works for your lifestyle and budget.
Cheap Cell Phone Plans
It may come as a surprise for you, but you can find cell phone plans in all price ranges. In fact, some plans cost $10 or less. Don't expect a whole lot for that price, though.
Here's a sample of some of least expensive plans we found as we were shopping for cheap cell phone plans. Below that, you'll get details on each plan.
Freedom Pop: Free, but $20 for activation & $10 to move your phone number over
Mint Mobile: $15 a month (3 month service minimum). *Watch for current specials*
Now, onto the details.
1. Visible by Verizon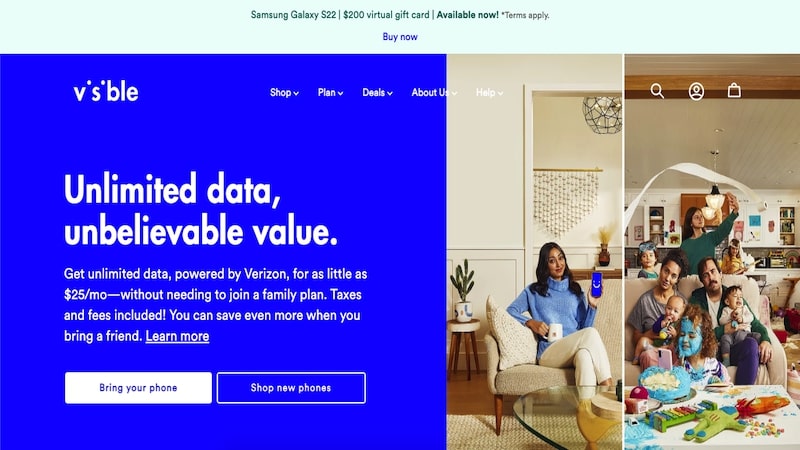 Visible is a Verizon-launched cellular service that started with a goal to make cell phone service simple and affordable for everyone.
They've got one plan and one plan only. You'll pay $25 per month for unlimited talk, text, and data with no hidden fees (not including taxes, etc.).
There's no data limits for hotspot usage either when you use your service as hotspot service.
Another cool benefit: Calls to Canada and Mexico are included and you won't pay extra for them.
You can bring your own phone or buy a new one with Visible.
Learn More: Visible Review: Is This $25 Per Month Cell Phone Plan Worth it?
2. FreedomPop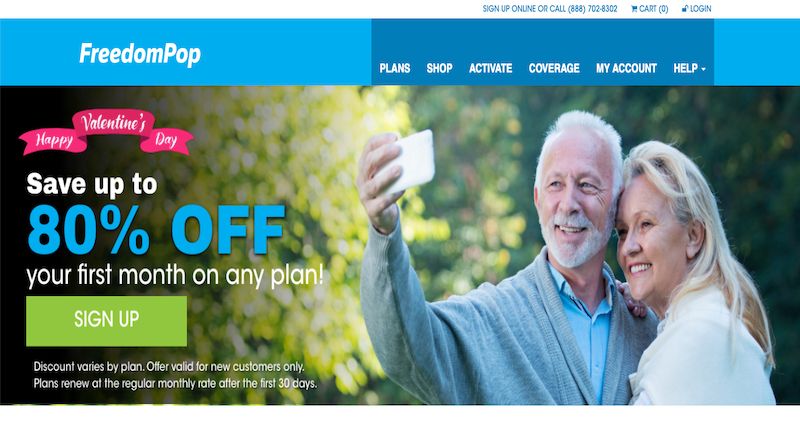 FreedomPop's Freemium plan is 100% free, meaning you don't pay anything for talk, text and data.
But, with unlimited WiFi calling and text messages, 10 cellular voice minutes, 10 cellular texts and 25 MB data each month, the trade-off is pretty limited.
They charge $20 to activate your phone and another $10 to transfer your phone number to the carrier.
FreedomPop also has what's called the Essential Plan. The Essential Plan offers 350MB of data, 200 cellular texts, 200 cellular minutes, unlimited WiFi for $3.99 per month.
This is a great step-up plan if the Freemium Plan doesn't quite fit.
FreedomPop is compatible with most unlocked AT&T or T-Mobile phones. You also have the option to purchase some phones (mostly older models) directly from them.
Keep in mind you have to buy the phone and pay in full. There are no monthly installments to pay for your phone as larger phone carriers offer.
Before you sign up, their site asks for your ZIP code and email address to check availability in your area.
It also allows you to activate your phone online if you already own a device by entering your MEID or ICCID number and an email address.
This plan is suitable if you're very disciplined about using your phone when you're tethered to WiFi since it supports WiFi Calling, a feature that lets you make calls and send texts when you're connected to WiFi.
3. Republic Wireless
Republic Wireless has several plans to fit a wide range of needs. The company is known for its awesome customer service, and a popular deal is its $20 plan.
It includes unlimited talk, text and 1 GB of data on Sprint or T-Mobile networks.
Their cheapest plan offers unlimited talk and text for $15 and high speed LTE cell data for $5 per GB.
When you are reaching your limit for cell data usage, you can always add 1GB at a time for $5 through the app, which is pretty convenient.
This plan is great for people who may need various degrees of data, from month to month, because you can adjust how much data you need from the app.
When you get to the site, you can check to see if Republic Wireless is covered in your area.
The site even offers a handy tool that gives you an estimate of how much you'd pay, given the amount of data you want to purchase.
4. Mint Mobile
Mint Mobile works slightly different than the other plans because you are allowed to prepay for up to three months in advance — they call it buying "wireless in bulk."
Their current deals start with unlimited talk and text with 4GB of 4G LTE data (uses 5G if it's strongest) for $15, as long as you purchase three months in advance.
Prices increase to $20 for 10GB and $25 for 15GB. They offer 0% financing and free shipping on the newest phones.
You have the option of customizing your plan in advance for 3 to 12 months.
5. Ting
Ting is another inexpensive option. They've got several plans that might work for you.
Ting's Flex plan costs you $10 per month for unlimited talk and texts. You can pay $5 extra each month and get 1GB of data. You can add more GBs at that price if need be.
If you have multiple lines on the Flex plan, this 1GB of data is shared across all lines.
The $25 per month plan gets you unlimited talk and text and 5GB of data each month. All data with Ting can be used as a hotspot, which is nice.
You can use your existing phone or buy a phone from them. Plus, they offer nationwide coverage and don't have contracts either.
6. Scratch Wireless
Scratch Wireless has a $10 plan that gives you 100 minutes of talk, unlimited texting, and no data.
If you need additional talk minutes, you'll pay just $1.50 for 100 more or $3.75 for 350 more minutes of talk. Unlimited talk and texting is just $20 per month.
Data is free when you have a WiFi connection. If you don't, you'll pay $10 per month for 1GB of data. That's a little steep compared to other plans.
Because the price is so cheap, there's a catch. The service only works on their own phone, which is a $199 Samsung A10e as of this writing.
7. Red Pocket
If you want a plan that has options outside of just talking, check out Red Pocket's $10 Essentials Plan that works with any of the four major U.S. networks and offers 500 minutes, 500 texts and 500 MB of LTE data each month.
For $20 per month you can get unlimited talk and text and 3GB of data. Red Pocket has other more expensive plans as well that can help you accommodate higher data needs.
And you can keep your own phone or buy a new one from Red Pocket.
8. Google Fi
Google Fi is operated by Google and uses the following big carriers: Sprint, T-Mobile, and U.S. Cellular.
This plan costs $20 for unlimited domestic talk and text, unlimited international texts, WiFi tethering to use your phone as a hotspot and more.
This plan is ideal for someone who needs to text international numbers or travels frequently, since Project Fi offers cellular coverage in 135 countries.
You can add up to 5 more people to your plan for $15 per month, per person. Data costs $10 per GB until Bill Protection kicks in.
Bill Protection is a feature that helps customers save money by allowing customers to pay for only the data they use.
9. Consumer Cellular
Consumer Cellular, which targets senior citizens, runs on AT&T's network and has a plan that offers unlimited talk and text and 500MB for about $25 per month.
You can pay $30.00 per month and bump your data up to 3GB per month. If you add a second line you'll get discounts on these rates.
The plan makes it easy for seniors to use their phones and gives a 5 percent discount for AARP members.
According to their site, the average customer pays around $25 a month. Their straightforward plan allows you to share your minutes, text and data when you add a line.
You can change your plan at any time, since there are no additional fees for switching.
10. Total Wireless
Total Wireless has a no-worry 30-day plan that costs $23.70 a month and has unlimited talk and text for one line. It also comes with 1GB of data. This price comes with auto-renew.
If you don't want auto-renew, you'll pay $25 per month.
Or you can sign up for the next plan up, which is $33.20 a month and has unlimited talk and text and 5GB of data. Again, without auto-renew you'll pay $35 per month.
Total Wireless uses Verizon's network, so the coverage is solid. Note that the data consists of a hybrid plan of high-speed internet and 2G.
11. h2O Wireless
h2O Wireless is a prepaid option that offers unlimited talk and text for $20 a month. This option gives you 2GB of data. You can save 10% each month if you sign up for auto-pay.
For $45 a month, you get unlimited data, talk and text with unlimited LTE data.
Check the h20 Wireless site for special ongoing deals.
Bonus: They also offer unlimited calling and texting to 50 international destinations.
12. Cricket
Cricket uses AT&T's network, and for $30 a month, you get unlimited talk and text, 2GB and 4G LTE data. For $40 a month, you can get 10GB of data.
You can bring your own phone to Cricket or buy one of theirs using their special financing offers. And Cricket offers specials if you're getting more than one line.
How much data do you need?
You're on the train and scrolling through Facebook, you're waiting in line at Starbucks and watching a YouTube video someone sent you.
You check emails obsessively – these are all things that use up a lot of data from your phone. Data is one of the main reasons cell phone plans can be so pricey.
Everyone's cell phone usage is different. The cell phone service provider and plan that best fits you will depend on how much data you/your family use.
This is information you can track on your own.
Know how much data you use
If you're unsure how much data you're using, go to your phone's settings and tap the network and Internet data usage to see what the total is.
When in doubt, just call up your cell phone carrier and ask, so you have an idea of how much data you and your family are using.
See if you can scale back your data usage by 25 percent or more, and then find a plan that fits accordingly.
Verizon Wireless has a useful tool that allows you to estimate how much data you're using each month.
How to use less cellular data
If you don't go with one of the unlimited plans, you'll most likely need to scale back on your data usage.
Just imagine you're traveling abroad and can't access data unless you're connected to WiFi.
Get into the habit of doing the following:
Connect to WiFi every chance you get.

Limit browsing time to when you're on WiFi.

For apps that constantly refresh using data (i.e., emails), change your settings on your phone, so it only updates when you're on WiFi, or set it, so it refreshes less frequently.

For less important apps, set it so that you can only access them when you're on WiFi.
Examples of phone activities that should be done when you're on WiFi:
Streaming video, music or podcasts
Posting photos to Facebook, Instagram
Sending photos via text message or texting apps
Streaming music or podcasts
Download your music playlist or your podcast subscriptions directly to your phone, rather than streaming them.
However, if your phone doesn't have a lot of gigs, you won't be able to store a lot of songs or podcasts.
Apps like Spotify and Soundcloud let you download music in an offline mode (if you're paying for the subscription), which means when you're connected to WiFi, you can download your favorite playlists directly to your device.
Google Maps
If you need to use Google maps, all you need to do is put in the destination while you're on WiFi, and it'll navigate you all the way there (even after you're not on WiFi anymore).
Keep in mind if you decide to take a detour or reroute, it won't automatically sync to the final destination. However, both Android and iPhones are capable of doing this.
Check the coverage
Having terrible reception in your own home is like death by 1,000 paper cuts, and you don't want to turn into the "Can you hear me now?" guy.
Before switching plans, make sure the cell phone carrier has great coverage in your area.
Many of the carriers allow you to easily check their site to see if your area is covered by asking you to type in your ZIP code.
Summary
No matter what kind of plan you decide to choose, make sure it's realistic to your habits and lifestyle.
Don't fool yourself into thinking you can hang with a $10 plan, but end up going over the data. Or you'll keep adding more gigs, which ultimately adds to the cost of your bill.
The good thing is, there are plenty of plans available. So, if one doesn't work out, you can always try out another to see if it's to your liking.